And yes, it is a holiday and NOT a staycation- I was not staying at home, I was travelling around, on holiday, paying for accommodation etc etc. It was a holiday.
Our holiday was split into roughly 3 sections, plus travel there and back. On the way up we stopped in York for the night (see my Heslington parkrun post) and on the way back we stopped in Edinburgh for one night, and then stayed in Alnwick (for The Pastures parkrun).
Part 1: Edinburgh
Part 2: Loch Ness
Part 3: Glencoe
I'll try to keep each part brief!
Part 1:
We had booked a few days in Edinburgh, originally because Travis were going to be doing an outdoor concert there, but that was then cancelled. But of course we are happy to go to Edinburgh any time. We got there in the afternoon, after driving up from York, and spent a lovely few hours wandering. Being in a city meant taking full advantage of delivery options for food (as we don't really have anything that we like near us)- delicious vegan burger/ Wagamama and vegan pizzas were consumed over the few days.  I recently got the Happy Cow app, which is a bit like Trip Advisor for veggie and vegan places, so we found some excellent food (it lists chains or places with vegan options too, but we mainly used it for finding independent places)- mentions go to Orinoco Vegan, a fab place in York, Holy Cow in Edinburgh did some amazing cakes, as did the Black Rabbit.  The following day we had a lovely walk around Leith river- it was forecast to rain but we had beautiful blue skies. The day after we went to the Botanical Gardens and it poured once we were there- we got soaked! But this was probably the worst weather of the holiday. I ran towards Arthur's Seat one of the mornings, and popped into a Pret on my way back to pick us up some breakfast- it's almost like a traditional weekend away once again.
I loved the Rapunzel style waterfall of flowers on the side of this tower- I think it was actually a bar but to me it seemed very Disney.
Of course we had to get breakfast from the Hula Juice Bar one day as they do amazing acai bowls- check out all the toppings!
Part 2:
We then had a few days staying by Loch Ness.  We took our time driving there, stopping in a few places to stretch our legs as it was a fairly long drive. We had a little apartment on the shores of the loch, and it was also close by to a canal (with one of those stair cases of gates) so we would often walk along there, and I had an easy running route for several mornings.
Loch Ness scenes
Having an apartment meant that we could self cater, but we did actually brave lunch out in Fort William. We saw a café and while perusing the menu  realised it was 100% vegan- how exciting! Originally we were going to get food to take away, but looking inside we could see there were only a few tables,  they were well spaced apart, and everyone had masks on unless they were eating (sensible Scotland has kept the mask rules when they have been abandoned in England…), so we had a lovely lunch inside- a big deal for us as the only place we've been out to eat has been the afternoon tea we went to on my birthday, which was outside. Andy had a pasty and I had toast with "avoca-no"- a green hummus made with peas and beans (really tasty)- we shared them both, alongside a chai latte (me) and matcha latte  (Andy).
Lunch out and lattes
We were well-placed to visit lots of woods, waterfalls and of course the lake for walks and views. We had mostly overcast weather with some sunshine, but perfect weather for walking as you didn't get too hot, and no worries about sunburn (and yes I know you can get burnt when it's cloudy, and yes I had sun-cream on my face, but nothing compared to a hot sunny day).
Alongside Loch Ness and a vegan cinnamon roll for breakfast one day
One day we drove up to Inverness, stopping at various places on the way, and having a lovely walk through the centre of Inverness (there are some lovely bridges over the river near the centre), and then stopped in a few places on the way back. Andy actually saw a red squirrel on that day, as it ran out in front of the car in front of us, but I didn't see it.
One day we visited the ruins of a castle on the edge of the loch, and when we arrived it pelted down with rain! We sheltered in one of the buildings and thankfully it cleared up fairly soon.
I was really hoping to do a parkrun in Scotland, as the middle Saturday was the date of it returning. We were moving from Loch Ness to Glencoe on that day, so the plan was to check out, drive to a parkrun, I'd run it and then we'd head to our new place. Sadly, the two that were realistically in driving distance (eg under an hour) didn't start on that day. I looked into Aviemore as I would love to do that one, but it was nearly 2 hours from where we were (small twisty roads, no direct routes) so in the end I had to accept defeat, and do a (not)parkrun along the canal before we checked out.
It was still exciting to think that all over the land people were returning though- welcome back Scotland!
Part 3:
Vegan cake and the imitation Canada
On the way to our new place we stopped at the café in Fort William to get some cake for later- we were staying in another self-catering place, so of course we can make a pot of tea in the evening to go alongside the cake. Their lemon cake was amazing. We also stopped for a walk through some woods (I got a bit obsessed with trying to see a red squirrel, and we thought it looked like a good place to see one). It reminded me so much of Canada, with the tall pine trees and views of the mountains reflecting in the lake. When we got to our cottage, we looked in the guidebook and it turned out that the land had been created by a man for his wife, who was from Canada and was homesick. I must say that they replicated it perfectly.
Our cottage was close to a little village, so one day we drove down to the centre and then followed a walk to a waterfall, up along the edge of the hills and then back down following part of the West Highland Way (a path which links Glasgow to Fort William). There was a deer just walking through the village- again, a bit like the elk that just wander about in Canada. We also saw a couple of deer in the grass in front of the cottage on a couple of occasions.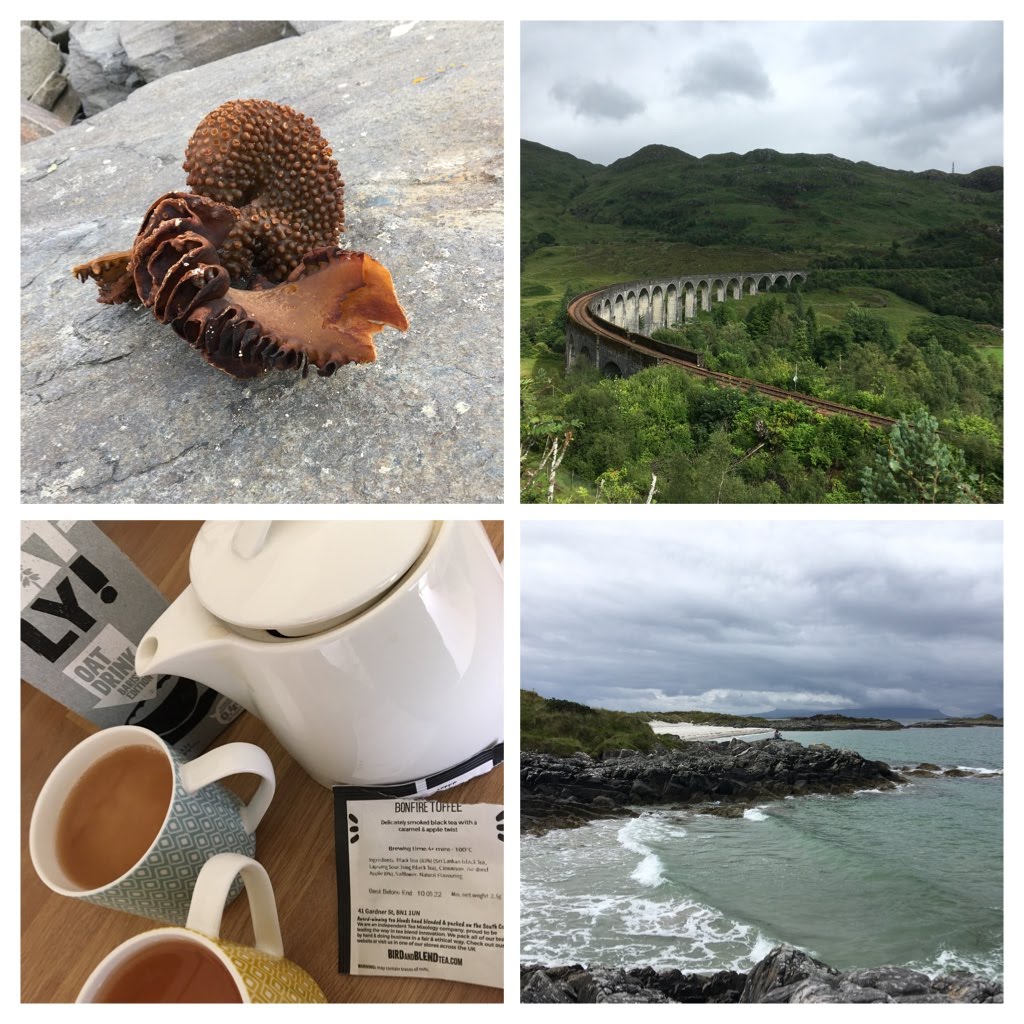 Seaweed sculpture, curved train tracks on Glenfinnan Viaduct, coast.
One day we drove out to the coast, looking across the waters to Skye, and reminisced about our holiday last summer. I saw that piece of seaweed and from a distance thought it was a red squirrel! I really wanted to see one! On the way back we stopped at the viaduct, and happened to be there as the steam train went over. We walked along the path under it and then up into the hills surrounding it to get a better view, as you could see the curve much better from that angle.
Another day we drove to Oban and had a walk along the sea- the tide was coming in so fast in the afternoon and there were so many jellyfish. At times it looked as if the beach was covered in bubble wrap as it was covered in hundreds of tiny clear jellyfish, but among them were larger colourful ones.
And one day we headed to Fort William to walk to the fort- it was a gorgeous walk alongside the waters, through some woods and through fields.
My final request was to go back to the "Canadian woods" for a final walk around, and we also went to get a takeaway from the vegan café because their cakes were delicious. Sadly I didn't spot a red squirrel, but of course that means that I'll have to go back.
We had to check out fairly early, and so were in Edinburgh by lunch time. Picking up lunch (from Pret obviously) we walked back to the botanical gardens, as the weather was beautiful compared to our last visit.
Later in the afternoon we walked to the top of the park next to the city where you get amazing views of the city on one side and the coast on the other.
Acai bowl, scenes from my run
I decided to have a run in the morning, so met Andy by the Hula Juice Bar to get an acai bowl for breakfast. We walked the long way back to the hotel, via Black Rabbit, as they did amazing looking vegan bakes goods- we got a biscoff cruffin for later.
We were only driving as far as Alnwick, so we stopped at a couple of beaches on the way down. One thing we both really noticed was the lack of masks and social distancing once across the border. I used some public toilets and not one other person had a mask on in there. It was quite jarring to experience.
Northumberland beaches and delicious cruffin
The cruffin was delicious but oh so messy to eat! All that was left was for me to do the parkrun in Alnwick the next morning, and I'll save that for another post as this one is long enough.
What type of holiday do you enjoy?