I was not even looking forward to this until we were actually there for fear of being disappointed again. We have had to cancel quite a few trips in the last year and a bit, and with travel traffic lights changing, test requirements and so on, it all felt uncertain.
But all went well and on Friday lunchtime we drove through the gates into Disneyland Paris!
As we walked down Main Street I did feel a bit teary- I think I was so stressed about all the testing and paperwork needed, and so getting there was a huge relief. I could start to enjoy myself!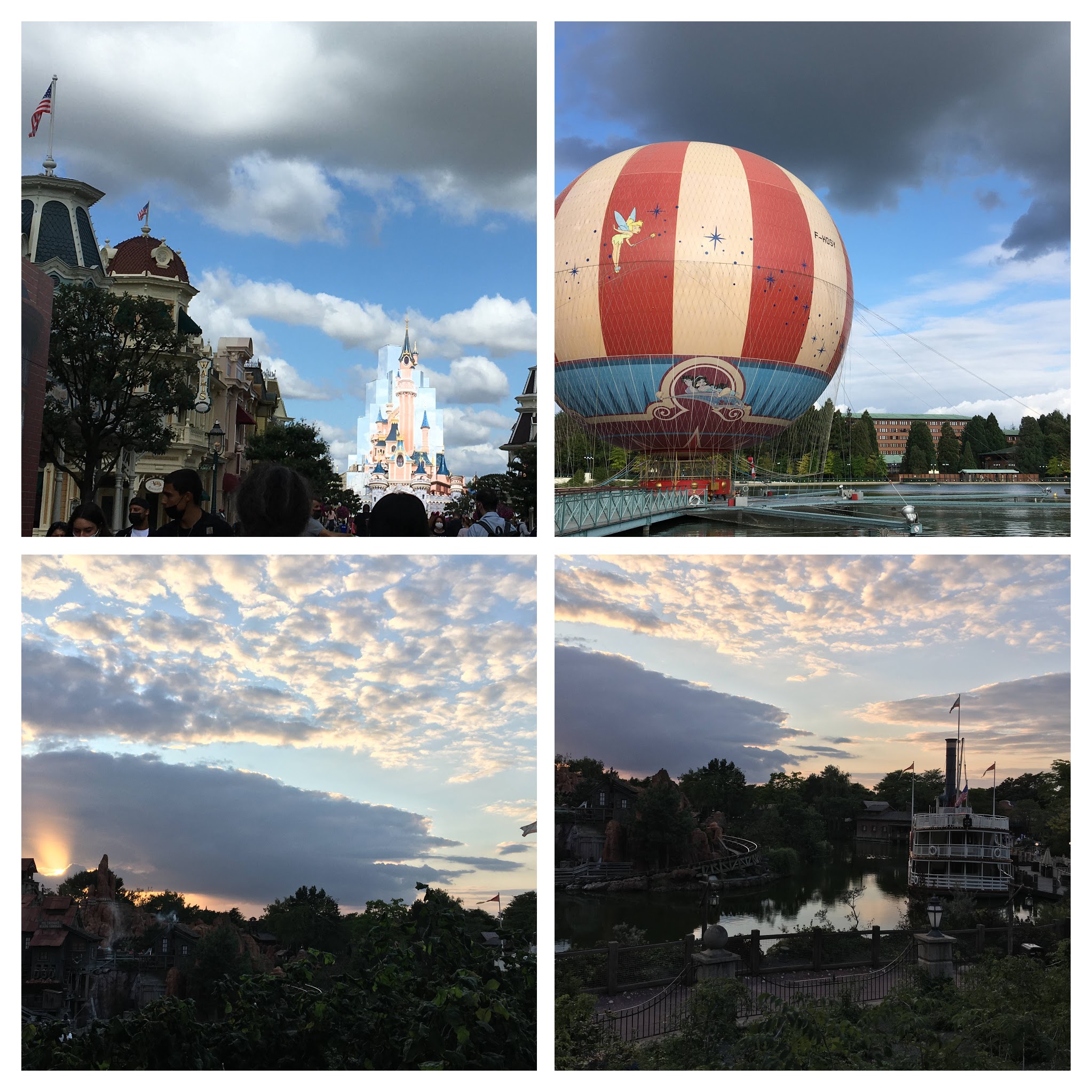 The castle is undergoing maintenance but the covering was very clever. We could see parts of the towers poking out of the top. There were no parades or fireworks, but it still felt very magical. They had sort of mini parades, so you would hear the Frozen music and suddenly an amazing float would appear with the characters on them (and Olaf spinning around)-it was like a flash mob where suddenly lots of people would appear and follow the float. We saw a Stitch one, Cruella Deville, some Jungle Book characters and Alice in Wonderland.
We ended up being in the park until nearly closing time on the Friday, and then got up early on the Saturday and Sunday to make the most of it (and to charge the car, as there were only 4 charging points in the entire car park). The queues were not too bad- there were no paper maps so you just looked on the app to see wait times- I think the longest we did was 30 minutes. I'd imagine a normal August weekend would be busier.
They have just changed over from the fastpass system, so now if you want to skip the queue you have to pay, which I think is a bit cheeky (12 Euros for Peter Pan- I mean what???). I am not sure if this kept the queues shorter because they were not letting fastpass people on, but we saw lots of people paying so those fast track people were still holding up the normal queues.
This is me getting excited with the Frozen parade going past, and then Stitch going past in his car, plus some fun photo points in the studios.
Philharmagic, one of my favourite rides/ shows, had a new section added from Coco, and I really enjoyed that part. The only other new ride was the Cars ride (basically upcycling Catastrophe Canyon) but this wasn't great- I feel like they could have upped the theming a bit. I think you can tell that Disney has now taken over the running of the park, as a few years ago some of it was looking quite run down and it looks much better now, but compared to the Frozen ride in Epcot (where they basically changed the Norway log flume ride to a Frozen one, and it works really well) it wasn't anywhere near as good.
I took a photo of the goodbye sign, hoping it would mean good luck and that we can see them again real soon.
I did treat myself to a few items. I'd seen these Stitch tops online, previously in the AP shop (which we didn't go in in the end) but when we got there they were in all the main shops.
I can't resist new mugs either, especially if there is a Christmas one! I did however resist new ears. I'd packed 3 pairs, one for each day, and had said that if they had the deep green ones that I'd seen online, then I would get them, but they didn't have them.  Before our cancelled trip last year I'd persuaded Andy to get matching t-shirts (same design but different colours- the monorail with "please stand clear of the closing doors" plus the Spanish version) and we actually wore them together on the Saturday! The first time I went to Florida was with Andy's family and we saw so man groups of people with matching tops so it has been a goal of mine for nearly 20 years!
A Starbucks from Disney Village and of course my Minnie cup cosy had to come along- from Enchanted Cosy Co.
We didn't do any of the characters meets (if we ever get to go with our niece and nephew then I imagine it will be top of the list) but they had quite a lot of that, you just had to stand on a spot so you were not too close to the character.
On the Sunday we had to drive back to the tunnel, so left the parks in the afternoon. We could charge the car at the tunnel before driving onto the train, and that was enough to get us home. A busy but really enjoyable weekend- hopefully it won't be another 20 months until the next visit.
Testing etc.
We drove down to Kent the night before, then in the morning took our LF tests, emailed the results and then drove onto the tunnel. You can take your return test 72 hours before, and on the Gov website it states that this can be in England, so this was the only way I was going as I did not want to risk testing positive while out there.  This was simple enough, but the small window of waiting to see the line appear on the LF kit was a bit stressful (plus the wait for the email, although that took only a few hours to come through).
The Day 2 test (on return) was ridiculous as we both posted ours at the same time, but mine arrived a day later than Andy's and took ages to be processed. Thankfully both negative but it was a bit frustrating to have to wait.
I wasn't sure how Disney would feel with all of the extra precautions in place, but it was fine. You always have to go through security/ bag check to get into the Disney Village and parks, and so here someone stood at the front of the queue and checked your vaccine passport before you could go on. France were very strict on this. We stayed in a hotel close to a shopping centre, and you had to show your vaccine passport to get into the shopping centre, and they were scanning them to check they were valid.  In Disney, if you wanted to buy food from an indoor place (even counter service) someone would check you scanning your phone on the French Anti Covid app. You had to wear masks all the time, inside and outside once in Disney, unless eating. We would try to find a quiet space to stand to the side to have a drink, but we both noticed that we probably didn't drink enough water as usually if in a queue you might have a quick sip but it didn't seem right to do that. Lots of the queues had been moved outdoors, and they all had these stickers with "do not stand here" on them. Some people paid attention to this, and others didn't. We always left space in front of it, and some people behind would leave space too, but as they were mainly outside and everyone had masks (including children over 6) it felt OK. They had put up perspex barriers between the rows so if the rows double back you had a barrier too, and when getting on the rides they would leave spaces/ rows. Some of them had plastic screens between rows too.  If there was a pre-show waiting area (eg Haunted Mansion) you were directed to a taped box on the floor so you were kept away from other groups, and there was no queue inside once you were past that. There was hand sanitiser everywhere- all the way through ride queues, in the shops and all around. If you were buying something you could ask for the same item from the back if you wanted something that other people hadn't handled. We saw a few people with masks under their chins, but then you always see a few people breaking other rules (eg smoking in the queues) so overall it was good, and as someone who has not really been in many crowded places, I felt comfortable with all of the things in place.
Don't stand here signs, taped squares to stand in, and the perspex screens.