At least this year we are actually celebrating at parkrun!
But before that, the week was fairly standard after the busy weekend. Bake Off and cosy evenings with my autumn leaves fairy lights and scented candles. Early runs pretty much all in the dark. Yoga in the living room and yoga nidra under a blanket on the sofa.
I was feeling pretty pleased with our decision to get an electric car when everyone started going mad at the petrol pumps- plugging it in at home is just so easy. I hated going to petrol stations anyway (and only had a few I'd go to) plus as the ones I liked were not that near it would always add miles to my commute.
Morning run skies, online course essentials and plugging in the car at home
On Friday my wellbeing buddy at work got me one of these amazing Rhythm 108 chocolate bars- they are honestly just the best. I went after work to have a shoulder and back massage- the person I see has set up her own treatment room next to her house and it's way easier (as before I had to park in town, now I can just park outside and it's more on my way home). I did get a bit of a telling off about how bad my shoulders are- I've been trying to do shoulder rolls/ arm circles whenever I remember to try and stop it getting worse.
Haircut and parkrun
Saturday was of course parkrun's 17th birthday! I really like these celebrations as it gives you a chance to think back about all the past events that have been enjoyed. I am so glad that my dad persuaded me to go to my first parkrun (in St Albans, in the pouring rain) as I really thought "well, I can just run a 5k from home and be back much earlier". Little did I realise how much I would love it and how much of my life it would become. I know that if it wasn't for parkrun, I wouldn't see my parents as much, despite them living so close, because when you are busy it just gets harder to fit things in. The fact that we have this constant every week has meant that we see each other for that. I love that he is keen to do parkrun tourism and that we travel about a bit together too, and my mum is involved in the milestones (making us cakes) and of course breakfast once we have finished running.
Dad and I went to Jersey Farm and enjoyed it as usual, although I couldn't hang about too long as I was off to get my hair cut. I was quite pleased to see that they required masks, and in fact someone turned up without one and so they were given one to wear during their appointment. It poured with rain so I got soaked on my walk back to the car!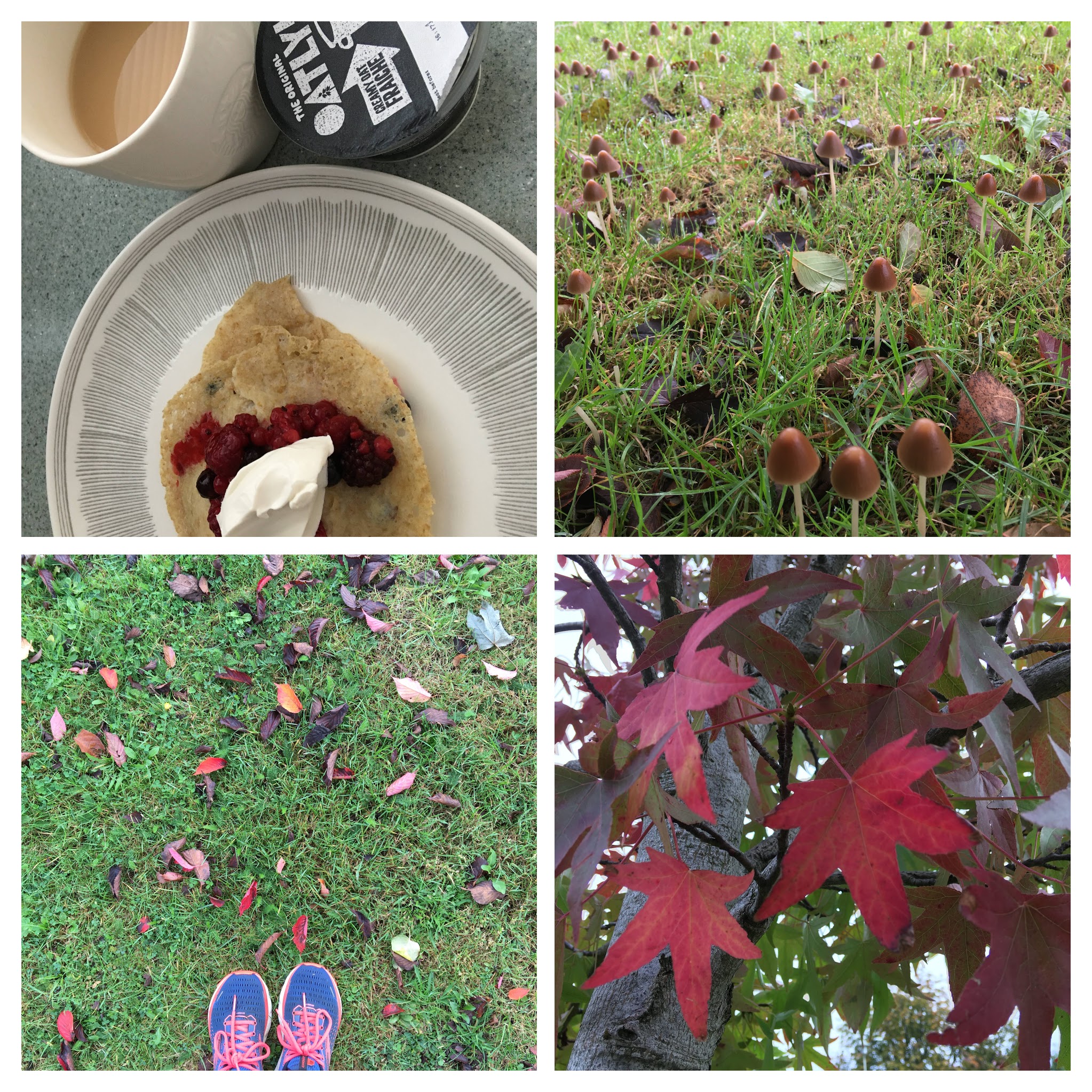 Pancakes following my long run- and lots of autumn scenes on my run including a field of mini mushrooms
Sunday runday was time for a final long run before Brighton half- I decided to run into town and then do some loops (of the Festive 5 route) and then head home, to total 11 miles. That gave me confidence that I would be OK running the distance the following weekend.
We had ordered some buns from Random Buns of Kindness, and so enjoyed them over the weekend. There was a pumpkin spiced one (a spicy souped up cinnamon bun), almond cream (amazing almond croissant type bun), chocolate peanut butter (need I say more?) and a pistachio caramel one. All totally amazing, all vegan, and perfect with a cup of tea.
Did you celebrate parkrun's birthday? What got you to go to your first parkrun?
Did you have trouble getting petrol the other week?