And this felt super busy! On Friday Andy and I went to the Alban Arena to see Prof Brian Cox do a talk on space. It was so interesting, with a bit of comedy thrown in every now and then (Robin Ince who does the IMC podcast kept coming onto the stage too). I was again a bit apprehensive about going as they were not checking vaccine status, and although you had to wear a mask when walking about, you didn't have to at your seat. Anyway, I kept mine on, and it was OK. In the interval you could go outside and get some fresh air, and having that break helped. I do know that I have to have some sort of trust in the vaccine- yes I know it does not mean I won't catch it, but it is less likely, and if I do catch it, the illness should be less severe. But still, I am cautious anyway and these past two years have not helped that at all.
Back to the busy weekend! On Saturday I wanted to do a long run (as I would not fit it in on Sunday), so I ran around near home for a bit, met Dad in a car park and then we ran/walked to Panshanger to do their new course. We'd not been there since the restart, although I have run it on several occasions as it's so close to home.
We both loved the new route, although I do think part of it will be very slippery once it has rained for a bit as it's a long steep downhill. We met a few club members too, including Donna (my OH run leader) and again it was so nice to chat to people at the start and end. I'll be back tail-walking in a couple of weeks so I thought it would be good to have done the new route before volunteering just to check I 100% know the course.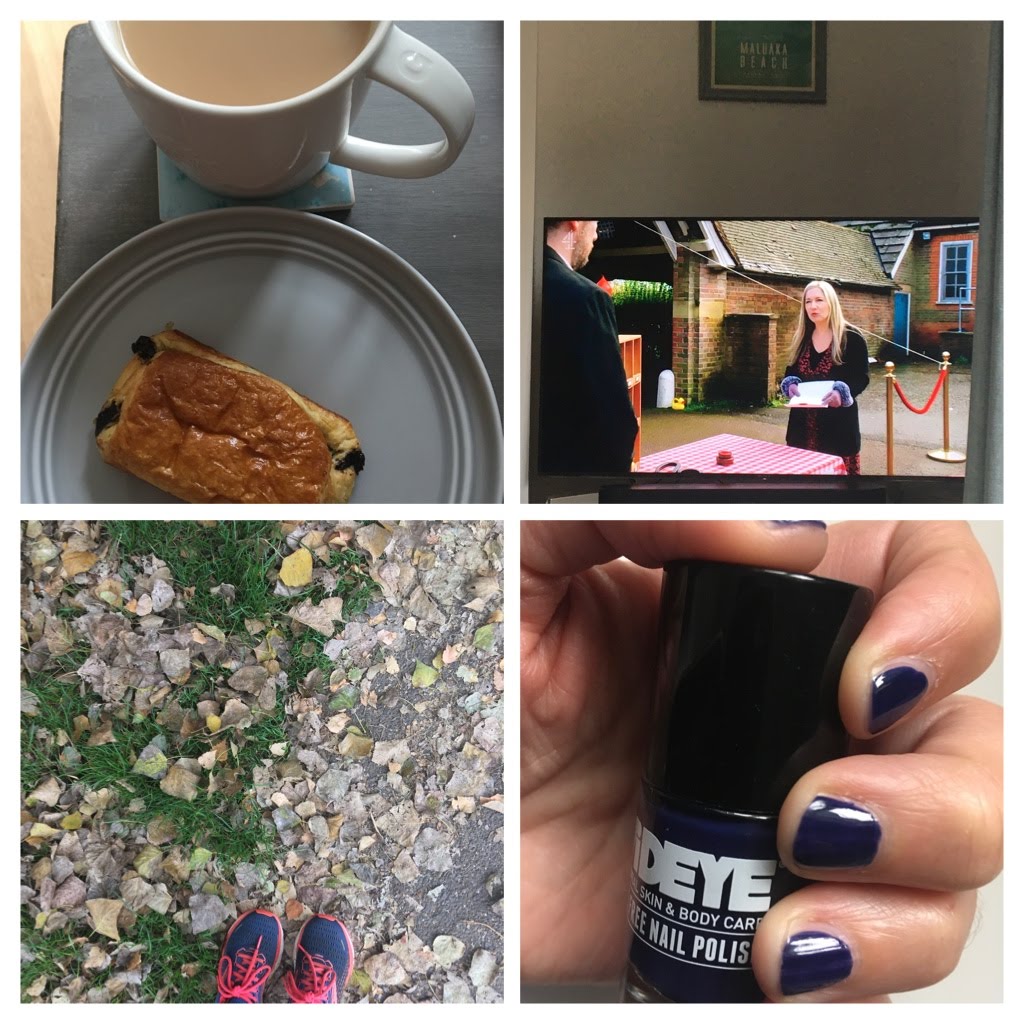 Breakfast/ Taskmaster/ autumn running scenes and painted nails
Once home I'd run/walked 9 miles, so that was OK by me. I didn't have long at home to sort bits out (plus boring jobs like cleaning) as we were off to London. Ash are one of our favourite bands, and we were meant to see them in March 2020. Since then the gig has been rescheduled so many times (I think it went June 2020, September 2020, Feb 2021, possibly another date, and then finally September 2021). They were at the Roundhouse in Camden, a very cool venue (it used to be a turn table for the trains), so we drove to High Barnet and got the tube in. I could not remember the last time I went on the tube. The last time I went to London was at the start of March 2020 when we saw Reasons To Be Cheerful, but that was right by Kings Cross so we got the overground in. Anyway, it wasn't too busy and most people had masks (even though it's a TFL requirement so you would think that everyone would have one on).
We walked around London, popped to Leon to get some dinner, and then walked to the vegan Crosstown. Sadly they had run out of doughnuts- what? So I got a consolation cookie. It was good but I was looking forward to trying a new doughnut. We waited outside the venue for a bit, watching the Stormtroopers (Ash are big Star Wars fans and seemed to have some as security guards!) before I plucked up the courage to go inside. We found a space near the sound desk, I kept my mask on and felt fine. I think people saw me with the mask on and gave me a bit more space which was nice. Before they started playing they had a DJ who totally knew his audience (eg playing songs from late 90's ad early 2000's) and then once Ash came out and started playing it was just brilliant. I love live music and I was so happy to be there, singing along and enjoying the music. They even had a special guest in their encore; Charlotte, who was a member of the band for a bit. By the time I got home I'd walked over 42,000 steps- not bad!
Then there was no rest as on Sunday I was getting the train down to Haywards Heath to visit and friend and her new baby. Another friend got on the same train as me at an earlier stop, so we had a fab journey catching up, and then spent ages at our friends' house. It was so lovely, but by the time I got home I felt like I needed another weekend to recover from the busy weekend!
Are you still wearing masks at all? I don't tend to go inside many places (eg I might do a click and collect order but I'm not browsing and not eating out anywhere).
When is the last time you went into London or a busy city?