Hooray! In case you didn't guess, our trip to DLP went ahead!
The original plan was that Andy would get the Eurostar on the Thursday (as he could book Friday off) and I would travel on Friday after work. This is because we were going as a big group with Andy's family (his parents, his 2 brothers and their wives, plus our niece and nephew- they were all travelling on the Friday as they didn't have school that day/ can book a day off work). However, we had a bit of a hiccup with a passport, which meant that with a week to go the trains were changed to later in the year, hotels were cancelled etc. Then, when the passport was sorted (eg arriving) the Eurotunnel was booked (Eurostar prices were crazy high to book last minute). Everyone else travelled on Friday, and we drove down to Kent on Friday night and then got the Eurotunnel early on the Saturday morning (eg we got up at 4.50am).  There were delays (a train was stuck in one of the tunnels so they were having to run batches of trains in one direction, then batches in the other)- so it was frustrating to be waiting around for a train, thinking we could have got up later, but of course the reality is that if we got up later we would have been further delayed. The drive down there was fine, and thankfully we weren't as delayed as originally told. When we drove through the gates at around lunch time it was such a welcome sight.
As you can imagine, a trip with a big group is very different to when the two of us go. My first Disney trip was a trip to Florida with Andy's family (probably 18 years ago?)- his aunt, uncle and cousin also stayed in the villa with us, and ever since then (when we did not have matching t-shirts) I have loved seeing the big family groups in Florida with their matching tops, telling us "Smith Family Vacation 2005" or whatever. One day we will do that! I did look into matching tops but as the weather was going to be cold and they'd be hidden under coats it seemed a  bit of a waste.
Anyway, we had booked (with our annual passes) the Saturday, Sunday and Monday. Everyone else had 3 day tickets (we had planned to use our AP discount as you can buy discounted tickets, and had reserved them, but Andy had cancelled his when the trip was postponed, and even though they still had mine, the 3 day ticket worked out cheaper than a 2 day ticket plus the discounted one through me).
Vegan burrito, Starbucks, tea in the room and vegan breakfast sorted
I was prepared with some food- I bought along a pack of vegan croissants and we always take lots of tea with us. There were some vegan options- the place that did the falafels in the summer now did a vegan burrito which was really tasty- and huge! I had it for lunch one day and was so full for the rest of the day. Of course we popped to Starbucks a few times. My sister in law bought a (quite expensive) tea in one of the Disney restaurants and it was in a teeny cup, only half full of water. Honestly, go to Starbucks as you get a huge one (plus they will add soya milk, not something I think is available in the parks).
The three days were super busy, often going between parks. We did some things as a big group (Buzz Lightyear was a particular favourite of the kids) and then other times would break into smaller groups- it was nice for Andy to have company on the rollercoasters as I don't go on them.
I was very keen to go to the Frozen show- I love it anyway but also knew my niece was love it (she's 5 and was loving all the princess things). The first time we didn't manage to get there (there are only a few shows each day and it has a small capacity), so on the Monday we queued for over an hour to be let in. We had one of those magic moments though, as she thought she would be watching it on a screen (like Philharmagic) so when she saw an actual person (Elsa) she gasped "Elsa 's real!" Perfection.
Plus Andy actually "got" it this time- when we went at Christmas in 2019 he thought the reindeer model was broken as Kristoff "speaks" for Sven- now he's seen the film a few more times he realised it's meant to be like that.
I loved all of the autumn/Halloween decorations that were out and we had fun at some of the photo spots. Frontier land was decorated for the day of the dead (like the film Coco)- at night it was even better as all of the lanterns were lit up.
There were also little mini parades (an amazing steam punk dragon that breathed fire, a princess float) plus a little autumn/ Halloween parade with a very catchy tune. Lots of cheerful Disney magic touches.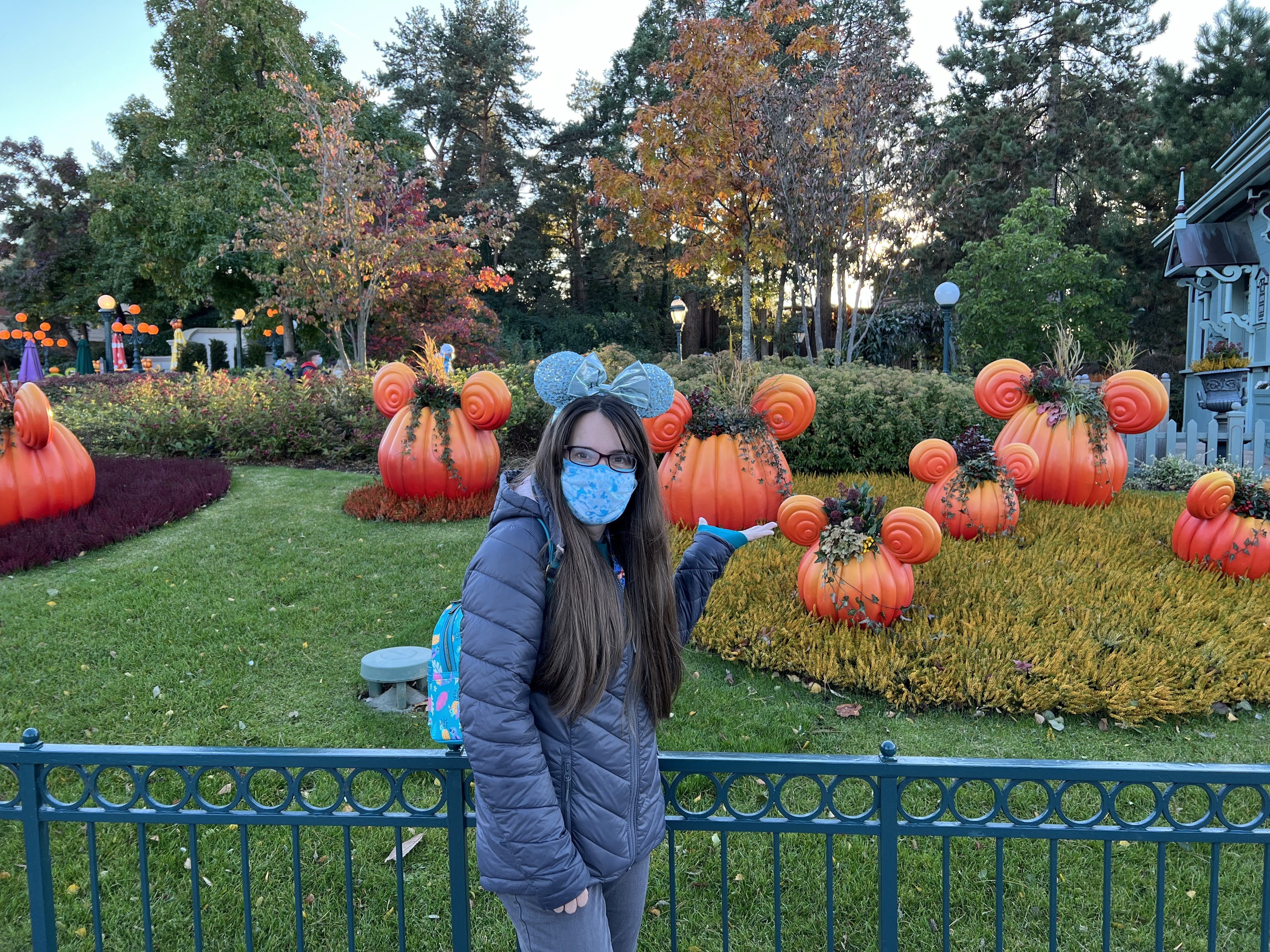 Over the 3 days we managed to go on most rides a couple of times (especially Phantom Manor for the spooky season)- I had wanted to go on Philharmagic again but only thought about it on the final day and by that time it had closed (it shut at 5pm). We went to see the Lion King show which was amazing- different to the Florida version and with a real Cirque du Soleil feel.
I was also really pleased to manage the drawing class. We had to queue for a bit and ended up watching a group draw Mickey and then Olaf (I would have loved to draw Olaf). We did Donald and Andy, who says he is terrible at art, joined in with me too. I think we both did pretty well- the instructors tell you in English and French and they do it step by step so everyone can manage it.
Our art of animation class drawings, plaits (as hair down was not working for the first day) and the animation academy.
After everyone else left, we were due to head further north in France, but Andy happened to look on the annual pass website and saw that we could reserve the Tuesday, so we quickly booked a hotel, and after charging the car for a bit headed back to the parks for a final bonus day.