The week following on from our trip to Brighton was fairly standard.
Andy had bought me one of the amazing vegan chocolate coconut almond croissants from the Flour Pot bakery- I was going to have it for breakfast on Monday morning but I felt a bit rubbish in the morning so saved it for Tuesday- I went for a short run to ease my achy legs and then watched the latest With Me Now video and enjoyed it with some tea.
One of my new year goals was to sign up to Earth Runs- they are virtual runs and they use your entry money to plant trees. The previous Tuesday was "two's day"- 22.2.22, and they did a special run where they would plant 22 trees if you ran a 5k. I didn't need much persuading to sign up for that! My medal arrived (you can pay extra to have a medal and they are compostable and filled with wildflower seeds).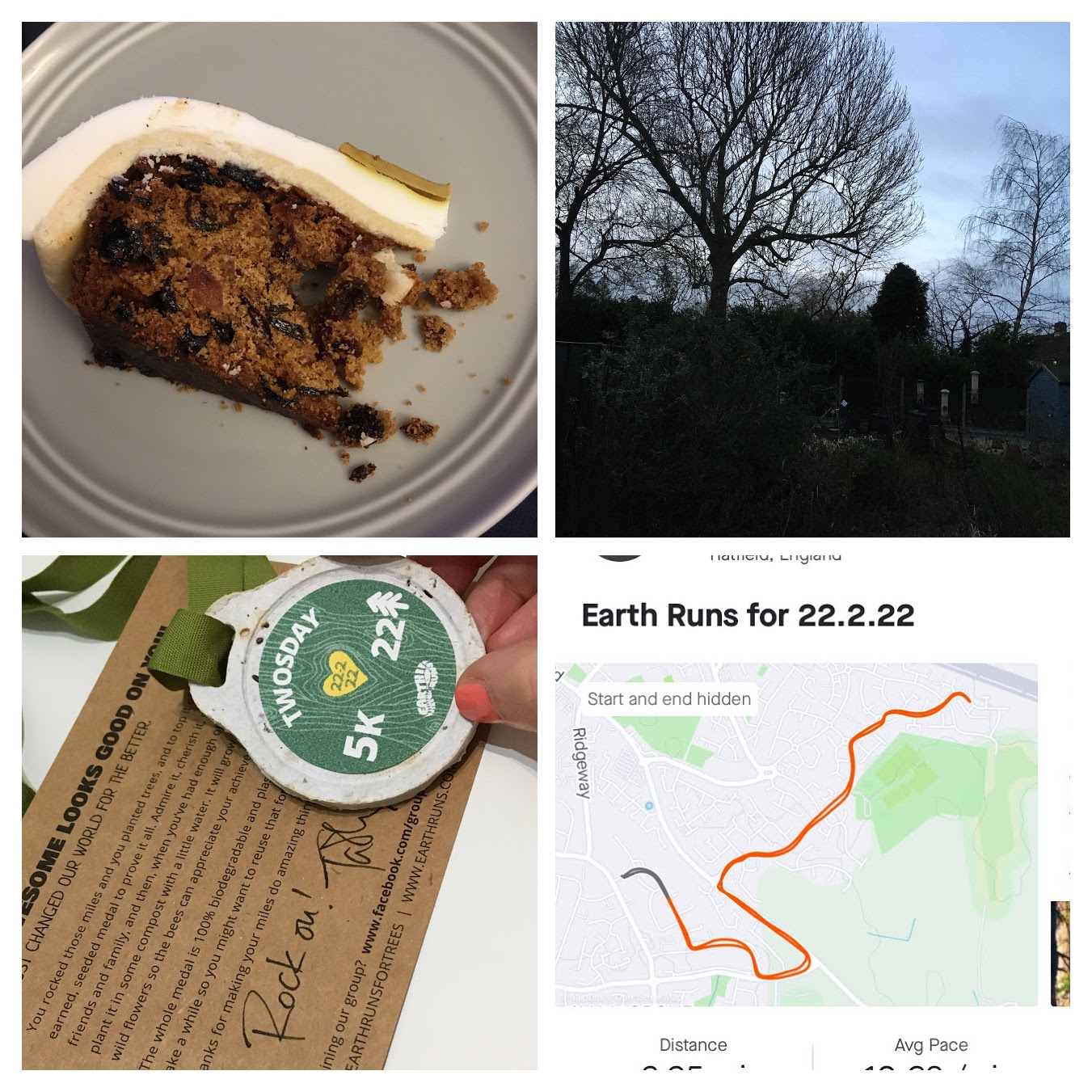 Christmas cake, slightly lighter skies at the end of a run and my medal for 22 trees
On the Wednesday I had an all day training course (online), followed by a staff meeting (online) and then a local cluster meeting (online)- I knew I'd be sat looking at my laptop from 8.30-5.30, so I went for a run in the morning to stretch my legs. It poured with rain but in the lunch break I decided to have a quick walk too, just to give my eyes a break from the screen. I really do not know how people manage to look at computers all day!
A rainy lunch time walk, cookies and tea to help with the training, plus sweets from my vegan box (just took the photo as they matched my nail varnish) and lemon loaf from a new baking book.
We did an order from the Vegan Kind supermarket, and happily it coincided with their doughnuts being in stock (they only have them on certain days)- these were shared over the weekend and so good. We started to watch The Afterparty, and I really enjoyed it (we've finished it now)- it had similar vibes to Only Murders in the Building, so if you liked that then I'd recommend seeking this out.
And then it was finally Saturday! As it was IWD the week after, parkrun was encouraging women to take part/ volunteer etc. We headed to Jersey Farm along with lots of OH ladies. I thought they might make a bit more of IWD, but literally the RD went "and, international women's day", and then did the countdown.
I'd not been there since January, and it was much drier with a few big muddy puddles. Quite good going but I still got lots of mud splattered up my legs. I could have worn a marathon top as it was parkrun 262 (26.2) for me, but I only thought about it after!
Did your parkrun do anything for IWD?