Since I've been running half marathons, most years I've run the Brighton half. The 2021 one was postponed to October, so it felt like I had only recently run it. I always love a weekend in Brighton though, and the weather was set to be beautiful for this time of year too.
We drove down on the Friday night, parked near Preston park station, and then had to get a rail replacement bus to the centre, where we were staying for the weekend.
Pavilion in the sunshine, the end of parkrun and a person dressed as a traffic cone!
I'd decided to go to Preston Park parkrun, partly because it was away from the coast and would be a change from the half route (you run along the Hove Prom parkrun route in the half marathon) but also it would increase my p index to 6, as I'd been to 5 parkruns at least 6 times, and Preston Park 5 times. It was a beautiful day as I ran there, with blue skies and the feeling of spring on the way. I got quite warm running, although there was a chilly wind so as soon as I stopped I got quite cold.  I picked up my free Caffe Nero on the way back as I really wanted a tea to warm up.
I noticed that next to our hotel, a new version of the Wolfox café had opened, so we popped there for breakfast. Going to a place to eat in still feels quite alien, but it was nice and spacious with the door open the whole time, and so it felt OK. They did vegan French toast which was delicious, but their pancakes are also vegan and looked amazing so I am sure we will be back to sample some other delights.
We then wandered around to Hove, got a drink from Bird and Blend, and generally enjoyed the sunshine.
I did have some admin that needed to be done however. I needed to renew my driving licence with a new photo, and even though it says you can do it online, I can't, because my passport is too new (3 years old) or too old, or something ridiculous. I'd tried in half term many times, I'd tried the online chat but that was just a bot, tried calling but you just had a message saying "we're too busy, try again later", and had emailed but had no reply. Very frustrating, so the options left were to go to the Post Office, or do it by post. There were no post offices where I live that did it, but 2 in Brighton, so we popped to one, only to be told that their photo booths  had been switched off the day before, and the tablets that had ben sent in place didn't yet work. We tried a second one but it was the same story. So frustrating!
We ended the day with pizza from Fatto A Mano, as they do a really good vegan pizza, although I think I prefer the vegan cheese from Purezza so would probably choose that next time. I did well over 30,000 steps which probably isn't the best prep?
Our hotel was very central, so I didn't have to get up that early which was a bonus. I could not decide what to wear- vest, vest over long sleeved top or t-shirt. In the end I went for the t-shirt as I knew I'd heat up once I started running. As Andy walked with me to the start, he could take my long sleeved top back for me so I didn't have to tie it around my waist while running.
It felt windier than the previous day, and I was initially worried about being cold, but really I should have worried more about how hard the wind would make it!
It didn't take long for us to start- my pen was the 2-2.15 pen, but I couldn't find a way to get into that one, so I ended up at the back of the 1.45-2.00 pen, which was nicely spaced out. Like last time, I ran on feel, barely checking my watch at all. I noticed a few of the mile markers but mainly just enjoyed the route, listening to other runners, reading signs in the crowds etc.  I think one thing I need to remember with this is that the turnaround points are always further than you think! The first bit is uphill and isn't usually too bad, but this time we were running into the wind so it felt tough from the outset.
After 3 miles we turned away from the wind and the relief was amazing! You can see from my splits that I got a bit quicker- downhill and with the wind behind me it's not surprising. At this point (and for the whole loop into the town and back) I was just behind a runner in a Vegan Runners vest (I had my buff with me) who took her role very seriously. She was constantly shouting "you can't love animals if you eat them", over and over again. Now, while I agree with her sentiment (the weird disconnect people have that they love their dogs or cats but happily eat chickens or pigs or cows), I am not sure anyone is going to change their mind hearing someone shout it at them from a race, and probably does more to make people annoyed with people being all preachy than it will actually help anything. I'm not sure if she went past me or if I managed to speed up, but I was quite relieved when somewhere along the seafront we were not together any more.
There are a few sections where you head into a little square of streets before going back to the seafront, and each time you got a taste of the wind and the final few miles as turning back onto the main road you'd get battered by the wind. Those final 3 miles were going to be fun…
As you can see, as we turned and ran into the wind, everyone slowed. It felt as if I was barely moving, and even though that was my slowest mile it was still a pretty good speed. I like the 10 mile point as you can tell yourself that it's just a parkrun to go, and in Brighton you reach the Hove Prom parkrun course along this section. The i360 tower just seems so small when you turn at first, but soon you get closer and the crowds get even bigger- it really does help having people cheer you on.
I was so glad when the finish gantry came into view as battling the wind for those final 30 minutes was tough, even with the beautiful sea views! I crossed the line in 2:07:37, again feeling pleased to be in front of the 2.15 pacer. I have mixed feelings about the times, because on the one hand I tried for ages to get a sub 2, I achieved it once in Brighton but then the course was short. I worked out that if I had continued at the same speed, it still would have been under 2, but it isn't the same a actually running it. But then running at that speed is hard. I enjoy running by the sea, and love the race atmosphere, so shall I just continue to enjoy it and not worry about the times? But then if I finish sooner then it's less of a rush to check out…
The goodie bag was terrible! Not that I do a race for the bag, but other than a can of water (love that it's easier to recycle and that there are actually recycling bins along the seafront), look at what you got! Some energy gels, a tab filled with artificial sweeteners (bleurgh to both of those)- the only saving grace was the Bird and Blend teabag sample- chocolate digestives tea woohoo! No banana or cereal bar or anything to have- I'm not sure many people are clamouring to eat (drink?) an energy gel when they finish running.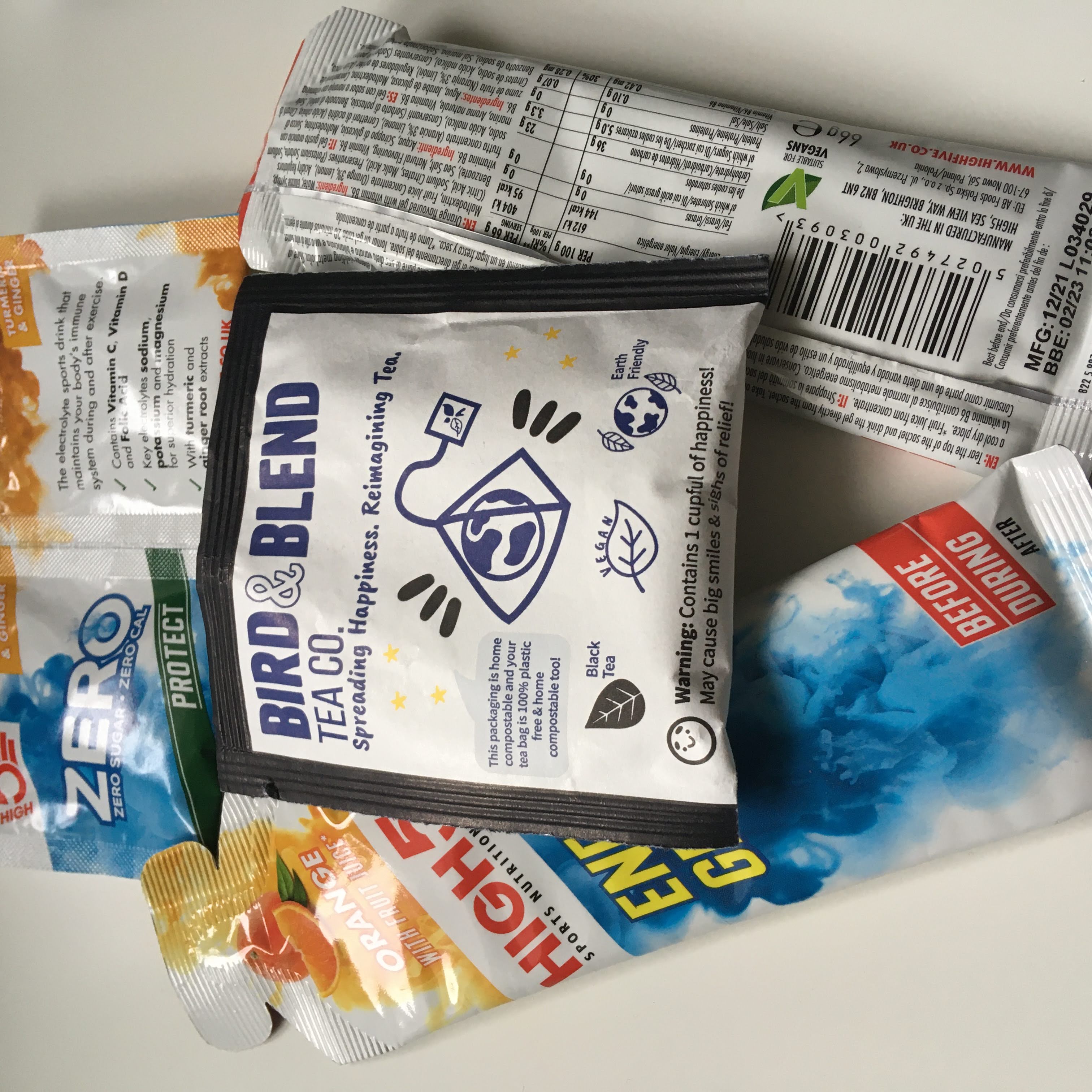 I couldn't hang about as we had to check out from the hotel at 12.00, and as this was around 11.15 and it takes ages to battle through the crowds (I love Brighton but they have a weird set up with the toilets in the way and it's always so congested). I did have a selfie by the sea with the medal, of course. I made it back just in time to have a speedy shower, gulp down the tea that Andy had made for me in the room, and then head out to get some lunch.
Before the race, after, the pier and a delicious burger for lunch
We went to Leon for lunch and then headed to the station (via Bird and Blend for an amazing strawberry and nutella pancakes tea latte). This was probably a mistake, as the rail replacement buses were not frequent, and when we finally got on one, the streets around the station were gridlocked so we definitely could have walked back much quicker. Ah well. A fab weekend as always.
Also, can we appreciate how well I did with my nail varnish? I like to paint my nails before a race, and it just so happened that the colour I picked matches perfectly with the medal ribbon!
Best or worst goodie bag item?