How is it July? I am sure I say this all the time but time is speeding up somehow!
After our trip to The Netherlands and DLP, we were back on Friday, and then off to Knebworth for a gig (more on that later…), but I was happy to get up early the next morning to head to Bushy. I've been before, back in 2017, but Dad had not and was keen. We had pencilled it in a while back but then couldn't go, so decided to take the opportunity. It's easier to tour in the summer with the light mornings.
Bushy funnel, selfie frame, token and the magazine
We drove to the car park near the café (Pheasantry) and at 8:30 there was plenty of space. It was a short walk to the start and we did have to ask some other runners where to go, but it was fine.
The start is something else. Seeing everyone line up next to each other, using the entire width of the field just shows how many people run there. It's one lap but didn't particularly thin out. Just before the RD did the briefing they called for any doctors or nurses as someone had collapsed by the side, and ambulances were called. Thankfully when they posted the run report they  mentioned that the gentleman was recovering well, which was a relief as it was worrying to know that it was happening but that we could not help.
The double funnel was in action as we finished, and we had to wait for a while before getting our tokens- good to carry on our chat and again just emphasised the huge size of the event. Of course we got to use the selfie frame, and then saw they were handing out copies of the new magazine, so we each took one home.
The second weekend in June I was at Panshanger, and so I ran there first as I like a parkrun sandwich. Happily at the start line I met quite a few OH ladies and one ex OH (she relocated), and we ended up running together and having a good catch up. I love that side of parkrun!
Panshanger finish area, tokens and my new pink shoes!
The third weekend was a Jersey Farm parkrun trip, followed by a long breakfast with my parents. I wore my new pink shoes (I really like Brooks Ghost, so just go with whichever colour they come in, but the last pair were black so I quite like having a summery bright pink colour)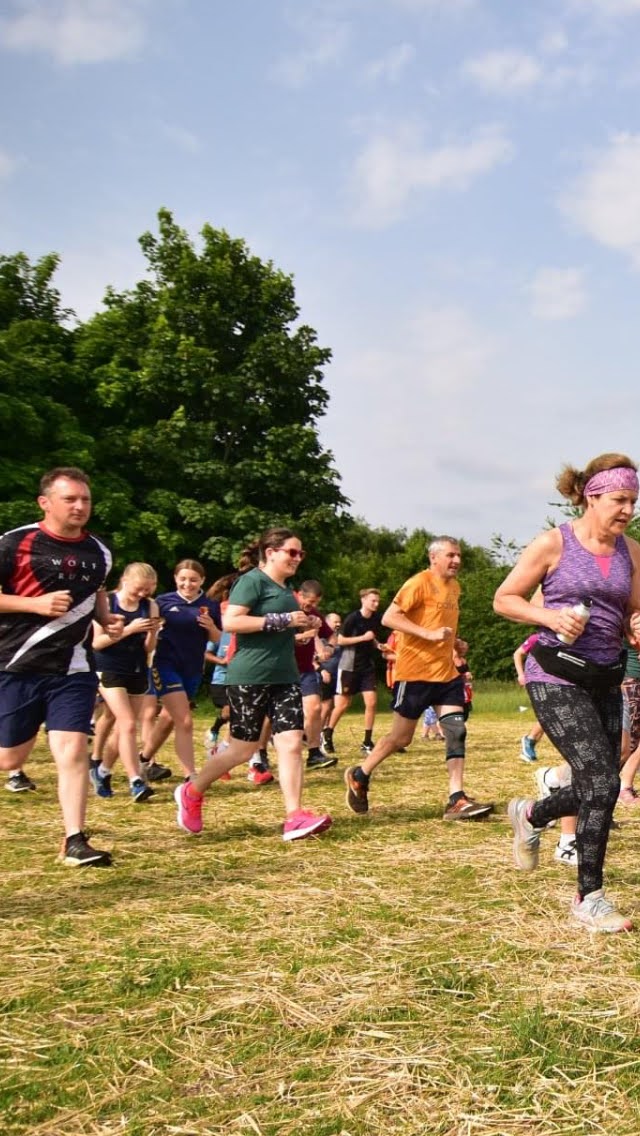 The pink shoes show up well in the photos!- at Jersey Farm
I even wore shorts as it was so warm- the Friday before it had been over 30 degrees and after being so hot at work all day and all evening I felt like I was still cooling off the next day! Although each time I put them on I hear myself think that I'm being brave wearing shorts, and then have to reframe my thoughts because no, it should not be brave to wear something, I should just wear them if I feel hot. They are usually reserved for morning runs where I won't see anyone, but I am trying to get used to wearing them where I'll see people too.
At this point I had noticed that my dad was on 49 different events, and with him about go to work at Wimbledon our touring would be curtailed for the next month or so, so I suggested Cassiobury, as I'd been there but he hadn't. While having breakfast we planned the following weeks trip, and Mum decided she would come along too and we'd have breakfast in the park together after. Cassiobury is a fairly flat two (and a bit) laps of a park. We parked in the car park away from the start line and had a bit of a walk (not that far) to find the start line. I hadn't appreciated how big the park actually was when I'd been before, as the parkrun uses a small section of it. It's lovely and shaded, well supported, and busy (400 runners on that day), and there were plenty of people about for Mum to chat to while we ran.
Cassiobury token, the bandstand at the finish, the view walking back to the café and the massive breakfast.
The café by the start/finish area had a big queue, so we walked back to the café where we had parked (Daisy's) and walked right in. They had plenty of vegan options and my dad decided to go for the vegan breakfast, so I joined him. It was massive and not something I'd normally go for, but I really enjoyed  it. My parents were so impressed with the vegan sausages that they asked which brand they were (regular vegan Quorn ones). We sat outside in the sunshine, with a cool breeze, and chatted away. A great way to celebrate Dad's Cow (half a Cowell, which is 100 events).
So there we have it, all the parkruns in June. Now you see why I haven't got the Groundhog Day badge!
June did hold some other lovely things including a yoga in person for the summer solstice and a 10K race, but I'll save those for another post.
How was June for you?