For May half term, the two of us had a trip to Norway booked, and I had requested a parkrun on one of the Saturdays that we were there.
We flew to Oslo on the Friday night, staying until Sunday, so this meant I could visit an Oslo parkrun. I had already been to Tøyen parkrun back in November of 2019, so if possible I was keen to visit a different event. There are 3 parkruns in Oslo (only 7 in the whole of Norway though), but of course cancellations happen for various reasons so I wasn't sure it would all go ahead.
Anyway, happily it was all fine. Our hotel was only a couple of miles from the parkrun, but the route was hilly and not straightforward, and a bus went right to the start, so I opted for that. Various parkrun tourist tips (from With Me Now pod and the tourist facebook page) meant that I downloaded the transport app in advance, and even went through the motions of buying a ticket (just not clicking on the final "buy" button) so I was confident in how it would work. I'd also finally got a new phone (my old one was 5 years old and the battery sometimes lasted all day, and sometimes lasted a few hours which was very stressful when needing it for navigation, and I had been to the store to see if they could replace the battery but they said no)- this meant that I was a bit more confident at using it for the maps and so on while travelling around.
I couldn't decide what to do about breakfast until the final moment. I much prefer running first thing without eating, and only really make exceptions for half marathons where there is plenty of time from getting up to starting running. Our hotel had breakfast included, and food is expensive in Norway (although not as bad as we had feared- basically London prices) so I didn't want to miss it, but it was only being served until 10:30. parkrun in Norway starts at 9:30, so if I took half an hour to run it would only give me 30 mins to get back to the hotel before they stopped serving, which seemed to be cutting it fine as the transport app estimated 25 min bus journey. Previously I had walked Tøyen, but partly this was because we went for a weekend with hand luggage only so I had no room for running things as it was freezing so would have needed many layers. I was keen to run this one, particularly as it was my Cowell, but also because I didn't run the other one in Norway.
In the end I went for breakfast at 7am, when they started, and then went to get the bus at 8:30. Andy decided to come with me (I was quite relieved about that as I was a bit nervous about missing the bus- I think he sensed my panic)- the Ruter app worked really well and even directed you via maps to the bus stop. The bus stops were clearly labelled so you were on the right side of the road, and the screens on the buses announced the stops so it was all very clear.
We arrived nice and early so had a wander around the park before I went over to the parkrun start. I didn't fancy announcing the milestone (Cowell- 100 locations), but I did chat to the RD and there were a few tourists there so we had a nice round of applause at the briefing.
The route was two flat laps of the park, and the day was just beautiful so there were lovely views in all directions. I loved it! I ran most of it just behind a parent and child with a dog, so I wasn't on my own, but it was a fairly small field. One tourist from the UK had run up from the centre, but he'd been there a few days and had tested this out the day before to check he didn't get lost, so it is doable.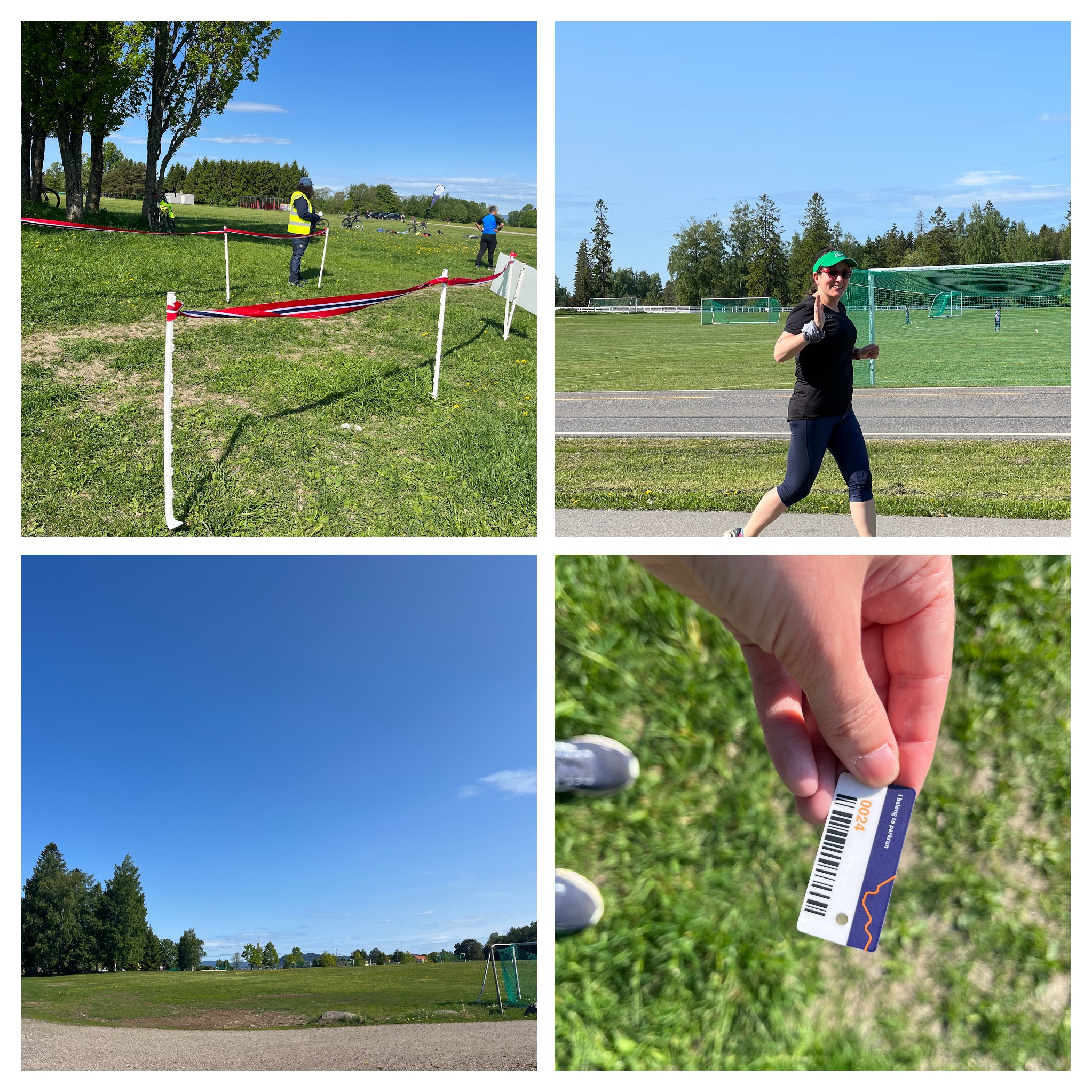 After finishing we of course took some photos and then headed to the other part of the park, across the road, as this is a sculpture park. Andy persuaded me to do the "footballer" pose of pointing at the shirt.
We'd been there on our previous trip and it had been covered in thick snow, so it was strange to visit the same place but in totally different weather- glorious sunshine and blue skies. The park is close to the water, on a hill, so there were beautiful views across to all the little islands.
After wandering around the park, we were by the tram stop rather than the bus stop (I think it says it's around a 25 min walk on the parkrun course page- the bus is definitely easier as it takes you pretty much to the start). We found some e-scooters and Andy was very keen to have a go. I was reluctant, so he hired one and I ran behind him. Apparently they were limited to 5 miles an hour, but I could not keep up with him on the downhill so they were faster than that! The 1.4 miles back to the hotel took us 14 minutes- and then it was time for a shower before heading out into Oslo again.
It's crazy to think that in just over 300 parkruns I've been to 100 different locations. There have been a few where I've wanted to do a particular one so we've made a weekend of it (for example Queen Elizabeth Country Park for my Q) but generally I've been to them if I happen to be somewhere near to one anyway. We are lucky that there are lots fairly close by, so lots of my list have been Saturday morning trips on a train or up the M1. They've mainly been in the UK, but I've been lucky to visit parkruns in Ireland, USA, Canada, Norway, Denmark and The Netherlands. A few other plans have been cancelled over the years (I was meant to do one in Germany a few years ago but our flight was cancelled and we had to fly out on Sunday), and we had a long weekend in Finland booked but that was summer 2020 so we all know why that didn't go ahead. There will be lots more parkrun tourism in the future anyway. For now I shall enjoy hearing my name being read out on With Me Now!
How many parkrun locations have you visited? Which one is top of your list for one you would love to visit?