The gap between official parkrun milestones is now a long one- having achieved my 250 in 2022, it's going to be a good few years before the big 500, so I like having other challenges in the meantime to occupy my time and to help me decide where to go.
This also stems from feeling slightly parkrun homeless as Ellenbrook Fields is still not back- I do like volunteering and visiting other local events, but they just do not feel like home like EF did.
The 5k parkrunner app (purple icon) is great for organising and locating parkruns. However, it also has loads of other challenges that are not from the original Chrome extension, so I try to track the main ones through the app.
The Wilson Index links to the event numbers that you have been to, working at event 1 and working consecutively. If you have been to event numbers 1,2,3 and 5, your Wilson Index would be 3. It can be a bit contentious as it can be seen to encourage people to go to inaugurals, whereas that is discouraged now. I'd been lucky enough to go to both Panshanger and Ellenbrook Fields first events when they were encouraged (there was a poster up in the Sweatshop about Panshanger), so I had bigger numbers that needed filling in. The app also tracks your floating Wilson Index, which is the largest amount of consecutive events, not needing to begin at 1, so if you had been to event numbers 2,3,4,5,6,7,8, then you would have a floating Wilson index of 7 as you have 7 in a row.
I'd filled in number 9 by visiting Bartley Park (Southampton), and 10, 15 and 18 at Henlow Bridge Lakes. My next gaps were 21 and 22, and with the newest local one at Leavesden only starting in the autumn, I was keeping an eye to see when their events 21 and 22 would be.
Happily they were both on weekends that I was around, and my dad agreed to humour me and come along. When we had visited before, we'd headed home as Mum was making us breakfast, but we liked the look of the cafe, so for event 21 we arranged that I'd pick up my dad and we'd drive there and run together, and then my brother would pick up my mum and meet us in the cafe after.
It was raining hard and we both got soaked, but loved it. Dad does like the cross country style runs, and I think Leavesden is great as there is a mixture of terrain- it's basically 3 laps, with each lap going through woodland on hard paths for a bit, and then looping around a football pitch on muddy grass. Trail shoes are ideal, and thankfully the cafe didn't mind muddy shoes!
We got chatting to one lady who was also coming for event 21, although it transpired that she was doing the Fibonacci challenge (not an original one). It would have been a coincidence if she was hunting the same numbers as me.
We were so soaked through when we finished! The sound of everyone running across the wet muddy grass was quite something. The cafe was lovely- I was very impressed with the vegan options and had quite a few things to choose from. I went for a blueberry croissant in the end which was really good.
The following week we were back again, but this time Mum was making us breakfast at home, so it was just a parkrun and then coming home. It had rained loads in the week, but the course was drier than the previous week.
The RD mentioned that it would be quieter this week as the previous week was a Fibonacci number- it's funny how these challenges are permeating parkrun gradually.
I took a few photos mid run of the course to show my club mates as some of them as rather opposed to any sort of mud! Stevenage gets a lot of visits from us in the winter as it's all on hard paths. As we were coming towards the finish, Dad mentioned that he felt like we were running faster than last week, and wondered if we were on for course pbs. I hadn't looked at that point, but we ended up being about a minute quicker than the previous week, and only about 6 seconds slower than our course pbs- we shall have to revisit when it's even drier!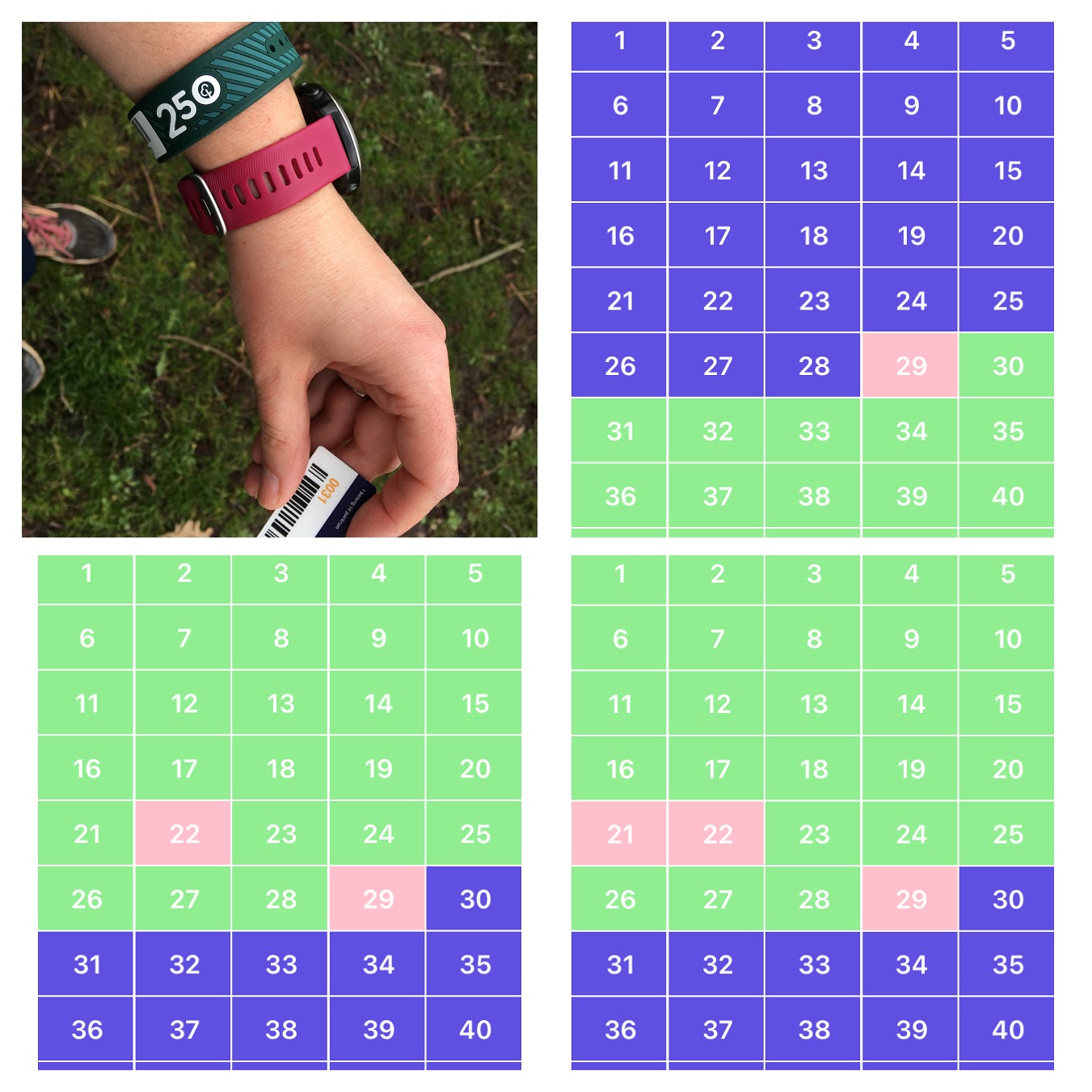 So here we go- screenshots from the 5k app. (Bottom right is where I started, bottom left after I had been to event 21, and then the top one once I had ticked off number 22. The purple bit is called the floating index, which is the longest amount of consecutive events visited that does not need to begin at 1, so now I have filled in so many, the purple and green ones match for me if that makes sense).
So next up is event 29. I was wondering about a different event (eg Lordship Rec) but I am not sure I am around for that date, whereas I will be around for Leavesden 29. We shall see. My attention is turning back to my cowell, as I am on 95 events, so only 5 to go.
Do you have one event that you always go to, or several local events to choose from?