Here is a summary of all the races I have completed so far- I have added links to the reports if they are on here too:
2020
February 2020
Brighton half marathon 2020
2019
February 2019
Brighton half marathon 2019 – a warm weekend in Brighton 2:03:38
March 2019
Lee Valley half marathon 2019- aiming for 2 hours and not quite making it 2:02:00
May 2019
Bristol 10k- 56:40 for a really enjoyable race
July 2019
Ware 10 miles- one of my favourite races
September 2019
Great North Run 2:14:49  raising money for MND
November 2019
Disney Fall Feast 5k always so much fun to run at Disney!
Brighton 10K 55:18 any excuse for a weekend in Brighton
December 2019
Festive Five – fun with running friends
2018
March 2018
Cambridge Half marathon 2:04:40 for a run after the snow
Lee Valley Runfest 10K (one lap of the half marathon course- pondering doing the half again next year) 56:23
May 2018
Hitchin 10K with my Dad 58:41
July 2018
Ware 10K- an old favourite but very very hot! 1:07:40
Panshanger Midsummer 5 mile with Dad 52:30
September 2018
New Forest 10K- running with Andy 58:42
October 2018
Wimpole Half marathon- really pretty up and down route 2:29:39
November 2018
Disney Wine and Dine 10K (in Florida- a few days after getting married and on our 20th anniversary! )
Brighton 10k-54:11 for a 10k pb!
December 2018
Festive 5- always a favourite of mine
2017
February 2017
Brighton Half marathon- 2:03:23- but no t-shirt at the finish!
March 2017
Welwyn Half marathon- 2:11:18 Hooray for a technical t-shirt and more importantly pancakes for breakfast after
April 2017
Lea Valley Half marathon 2:17:42- a really special race to run with my Dad
May 2017
Wings for Life Run-Cambridge- 15.17km (when I was overtaken by the catcher car)
June 2017
London 10 Mile (Richmond Park) 1:47:00 With lots of deer spotting and a hipster smoothie after
July 2017
Ware 10K- My favourite cake race and it was too hot for cake this year!
Midsummer 5 miles (Panshanger) 49:37 (6 seconds quicker than last year!) With a mini frog
October 2017
Bright10 Brighton (10 miles) 1:35.14- my second fastest 10 mile run but sadly my post-race meal was scuppered by a power cut!
November 2017
Hertfordshire Half Marathon (Knebworth House) – not the most enjoyable race…
December 2017
Festive Five- cancelled due to snow
2016
January 2016
Fred Hughes 10 mile- 1:40:50– a last minute sign-up- round 2 recap here
London Winter Run 10K- 1:11:20– Running with a club mate here.
February 2016
Brighton Half Marathon- 1:59:09!! New pb! Finally a sub 2 hour half here!
(Since then it has transpired that the course was a few metres short- if I had finished at my average speed it would have taken me an additional 49 seconds so I would have just managed the sub 2 hours, but it's so annoying that it isn't official.)
March 2016
Welwyn Garden City half marathon- Half marathon number 13- 2:18.50 and a fall
Beaconsfield 5 mile trail race- 68 minutes- should really have just watched
May 2016
Cakeathon!!!!! A half marathon on my birthday? Go on then….
July 2016
WR10K- A very hot 59.15 recap here.
Hatfield House Midsummer 5 miles 45.25 and some delicious flapjack
Ware 10 miles- 1.39.24 – always about the cake
Panshanger Midsummer 5 miles 49.43 at my favourite parkrun venue
September 2016
Disneyland Paris half marathon! Can't remember the time but it was great fun!
October 2016
Herts 10K with my Dad 58.40 (aiming for under 60 minutes- brilliant!)
Bright10 1.39.48- plus some snowdog spotting
November 2016
Brighton Brooks 10k- Cancelled due to storm Angus
Hatfield 5- 43.58 new 5 mile PB!
December 2016
Festive 5- 45.55 In the middle of a long run
Buntingford 10 miles 1.41.07 Recap
2015
January 2015
Fred Hughes 10 miles 1:37.41 Cold recap here.
February 2015
Brighton Half marathon 2:04:10! New pb! Slightly surprised recap here.
March 2015
Gade Valley 20 miles (chickened out and did 20 solo miles instead)
April 2015
Brighton Marathon- New pb of 4.53.24!!!! Epic recap here.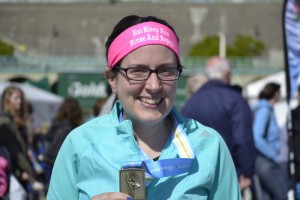 May 2015
Southampton 10k– 58.26– Beat the Bridge recap here.
 June 2015
ZSL Whipsnade Stampede (10K) 59.19– Not- too realistic animal costumes please recap here
St Albans Half Marathon 2:11:03– Ice lolly recap here.
July 2015
WR 10K- Official time 59.09 but I think that was the gun time- Garmin and Strava said 58:52/ 58:44– recap here.
Ware 10 miles-1:37.47 – 45th race recap here
August 2015
Honolulu Lea Lea Charity 5K- 31.03 – Hawaii 5-OH k recap here
October 2015
Bournemouth 10K- 56.07– Supersonic recap here
Brighton Bright10 (10 miles)- 1.33.51– new pb and unflattering picture here!
November 2015
Nottingham 10K- 57:27 on a short course- more mud and a short course recap here
Brighton 10K- Rounding off a year of Brighton pb's in style with 54:53! Recap of my 50th race here!
December 2015
Reindeer run (it's really for children so I borrowed one!)
Festive Five- 45.12– a last minute decision recap here.
2014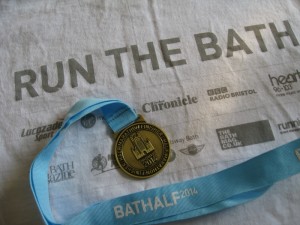 March 2014
Bath Half marathon 2.06.58- new pb– recap here
March 2014
Sport Relief 6 miles- 56.07- Recap here
May 2014
Oslo Rock 'n' Roll half marathon– cancelled boo!
June 2014
Ashridge Trail Half marathon– 2:42.17- Recap here.
July 2014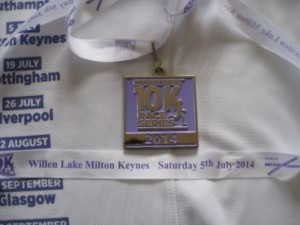 Women's Running 10K Milton Keynes -59.19 Recap here.
September 2014
Baldock 10K- recap here. 1:01.23
October 2014
Ware 10 miles– Love this race! 1:36.12- 10 mile pb! Recap here.
15K Breakfast Run  1:30.41 Recap here
Poppy Run 5K (see here for a list as they are all over the country)- Recap here
November 2014
Brighton Brooks 10K 55.23 New PB! Seaside recap here.
Hatfield 5 miles 44.44 new pb! Recap here.
2013
February 2013
Brighton Half Marathon- 2.12.47!!! Recap here.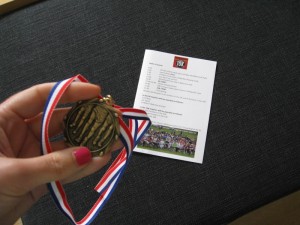 May 2013
Wheathampstead 10K 1 hour and 34 seconds!
June 2013
St Albans Half marathon 2.10.09! Another pb!
July 2013
Lee Valley 10K (DNS as I was unwell)
National Lottery Anniversary 5 mile run (Back to the stadium recap) 48.19
October 2013
Blenheim Palace half marathon 2.16.38 Recap here.
Ware 10 miles 1.40.58 Muddy recap here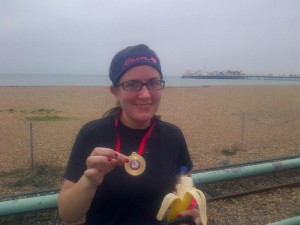 November 2013
Brighton 10K 56.14- new pb! Recap here.
December 2013
Jingle Bell Jog 5K Recap here!
2012
February 2012
Brighton Half Marathon (DNS because of being ill)
March 2012
Silverstone Half Marathon (DNS because of being ill)
September 2012
Great North Run (half marathon)-2.27- race recap here
October 2012
Oxford Half Marathon- 2.20-race recap here
2011
May 2011
South Cheshire 20 miles– Also here– 3.48.58- I was pleased to finish under the 4 hour cut off and that I managed to run the whole way.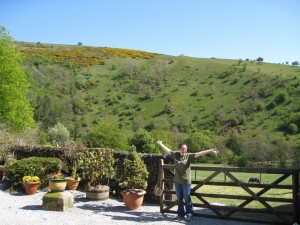 Stockholm marathon. 5.21.59! I found it so hard- my legs were so stiff for some reason, but I ran all the way, and got in under the 6 hour cut off.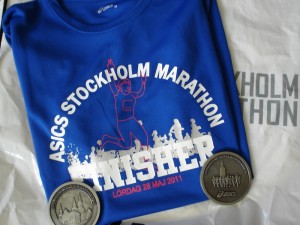 October 2011
Hatfield House 10k -66 mins-ish-You can see my race report here.
Great South run– 10 miles- 1hr 49.31-see my recap here.
November 2011
Robin Hood Adventure challenge (10K- 1.01.33))- see my recap here.
2010
March 2010
Berkhamstead Half Marathon- 2.32.44 (some crazy steep hills but this was my first ever half marathon and I was so pleased to finish it, and run the whole way)
May 2010
Wheathampstead 10K– 1.03.55 (such a hot hot day)
June 2010
Race for Life 5k– 28.10 (I wanted to beat my previous 5k time)
St Albans Half Marathon– 2.19.17 (so a minute per mile faster than my first half)
October 2010
Herts 10K– 1.01.28 (I was really hoping for the hour mark, but there is always next time and it was still a PB)
November 2010
Autumn Challenge 5 Miles (cross country)- 52.00 (very hilly and very muddy and a lot of fun!)
2009
May 2009
Wheathampstead 10K- 1.10.00
June 2009
Race for Life 5k- 35.00 (I ran with a friend who was new to running and although I felt I could go faster, we crossed the line together)
Local charity 5K- 35.00 (with the same friend again- this was a very hot day so we were amazed that we matched our time)
October 2009
Herts 10K- 1.05.44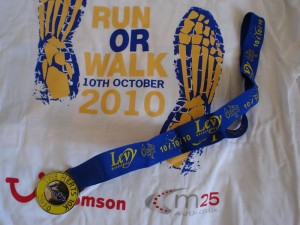 2008
June 2008
Race for Life 5K- 35.00 (The first time I ran without a walk break)