General background:
Hello!
My name is Maria and welcome to my blog, Maria Runs.
In 2008 I trained for a race for life, and found out that I actually loved running. My Race Calendar has a list of all my past races.  One of my proudest moments was in 2011 when I completed the Stockholm marathon.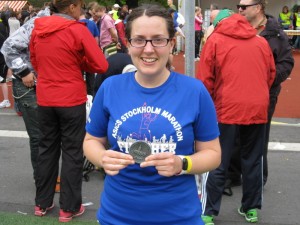 In 2015 I took on another marathon, this time in Brighton, and was so pleased to achieve my sub 5 hour target.
I have a tendency to ramble a lot, so I will also blog about baking, yoga, the marathon talk podcast, and other topics that take my fancy. You have been warned! And welcome 🙂