The race was at 5:30pm, so after volunteering at parkrun in the morning, I had a fairly relaxed day before Dad picked us up to head up in the evening. The event HQ had parking close by, and you could pick up your number from the event village before it started- all the relaxed vibes that I like.
Thankfully, although it was warm, it wasn't the hottest day (that came the following weekend) so it was pretty good running weather. We had a "before" photo and then headed off.
The route was really good- very flat apart from a few bridges, out along the river, around a big park and lake, and then back along the river. It was pretty congested for the first mile or so, and it took a while for us to get into our stride- you know when you are behind people who are just slightly slower than you, so you spend time overtaking and trying to find a gap?
As it was still so sunny we did enjoy each time we headed into some shade, and I really enjoyed all the views too. I don't know Bedford very well, but there was loads going on- several kayak clubs, camping, all sorts of activities.
Dad had 3 goals- to complete it, to run it all, and to finish in under an hour. We came in just over the hour in the end, but managed the other two and enjoyed it. Mum and Andy were in the event village, listening to the band that were playing, so we hung around there for a bit, but decided to go to a pub for some dinner. We'd passed one on the drive in, and then run past the same one during the race, so we went and had dinner there, sitting outside by the river.
An evening race is a bit strange to prep for, but it does mean you can shower and go straight to bed once home!
I really enjoyed the event- Active Training World do lots of local events and they have the same vibe- well organised but relaxed.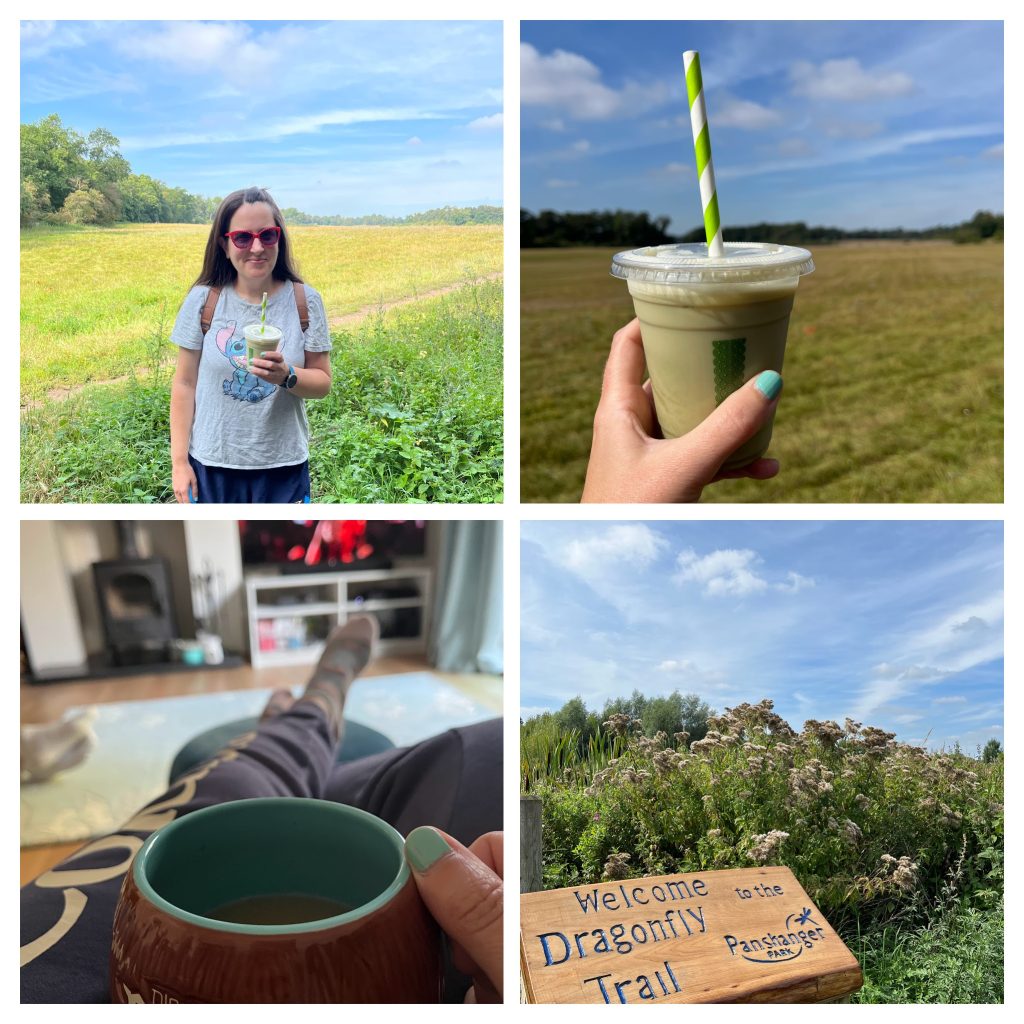 Recovery on the Sunday looked like this- a walk around Panshanger with a lovely iced matcha, and then chilling out on the sofa.
Medal Monday! It's a really nice medal too, with various landmarks on the ribbon.
On the Monday I did a short run (check out the amazing sunbeams seen in the woods), some yoga, and walked to the tip and back via the shops.