I usually love the anticipation of a holiday- looking forward to it is a huge part of the enjoyment. However this time I wasn't convinced that we would actually manage to get there, so it was only when the plane arrived that I really felt excited. A combination of covid restrictions, risks of catching germs at work, strikes, flights being changed and Heathrow being told to limit passenger numbers just meant I felt like it might not happen.
In the end we flew to New York one evening, stayed in a hotel near the airport that night and then on to Tampa the next morning (immigration queues at NY have been horrendous in the past and we have nearly missed connecting flights as you have to go back through security once you have passed through immigration, so this way meant we would not worry about missed connections).
Spoiler- it did happen! Here I am at Clermont Waterfront parkrun close to Orlando
First up we stayed a little outside of WDW (we hired a car to drive up from Tampa), and then half way through took the car back and stayed in a Disney hotel for the remainder. While off Disney property we went to Universal a few times- we'd not been there for maybe 15 years, and Andy was keen to go. There are not many rides that I enjoy there as I'm not a rollercoaster fan, but I could appreciate the attention to detail that they had in the Harry Potter lands, and still go on the ET ride- such a classic! They had good vegan food options there- we often had a meal to share in one of the Harry Potter restaurants which was a sort of pie with beetroot and apple salad.  Of course we also went to Voodoo Doughnuts at City walk.
The weather was as you would expect in August- blue skies, hot and humid, and then crazy thunderstorms. We had a particularly bad one driving back from Universal one night, where at one point the motorway was at a standstill because you could not see anything, and it was flashing lightning every second or two. As lots of the Disney rides are inside it was usually OK (sometimes we'd go into a ride and then by the time we came out it had clearly rained and stopped), but the Skyliner (a cable car linking some of the hotels including where we stayed to Epcot and Hollywood Studios) would stop if lightning was anywhere nearby, meaning we'd have to get a bus which took a lot longer.
Kona Café and Ale&Compass breakfasts
The food at Disney was plentiful and tasty as always. I think Disney are really upping their game with veggie and vegan items. We had a few breakfasts out (including my favourite, Kona Café in the Polynesian hotel- their banana stuffed French toast is amazing and they do a vegan version, hooray!).
Slider and meatballs from the Earth Eats stall plus hummus, pitta, salad from a Star Wars restaurant
EPCOT have a food and wine festival that has been on when we've been in October, but it started super early this year so was on while we were there too. Lots of the stalls had vegan options but they also had an Earth Eats stall, with all vegan options.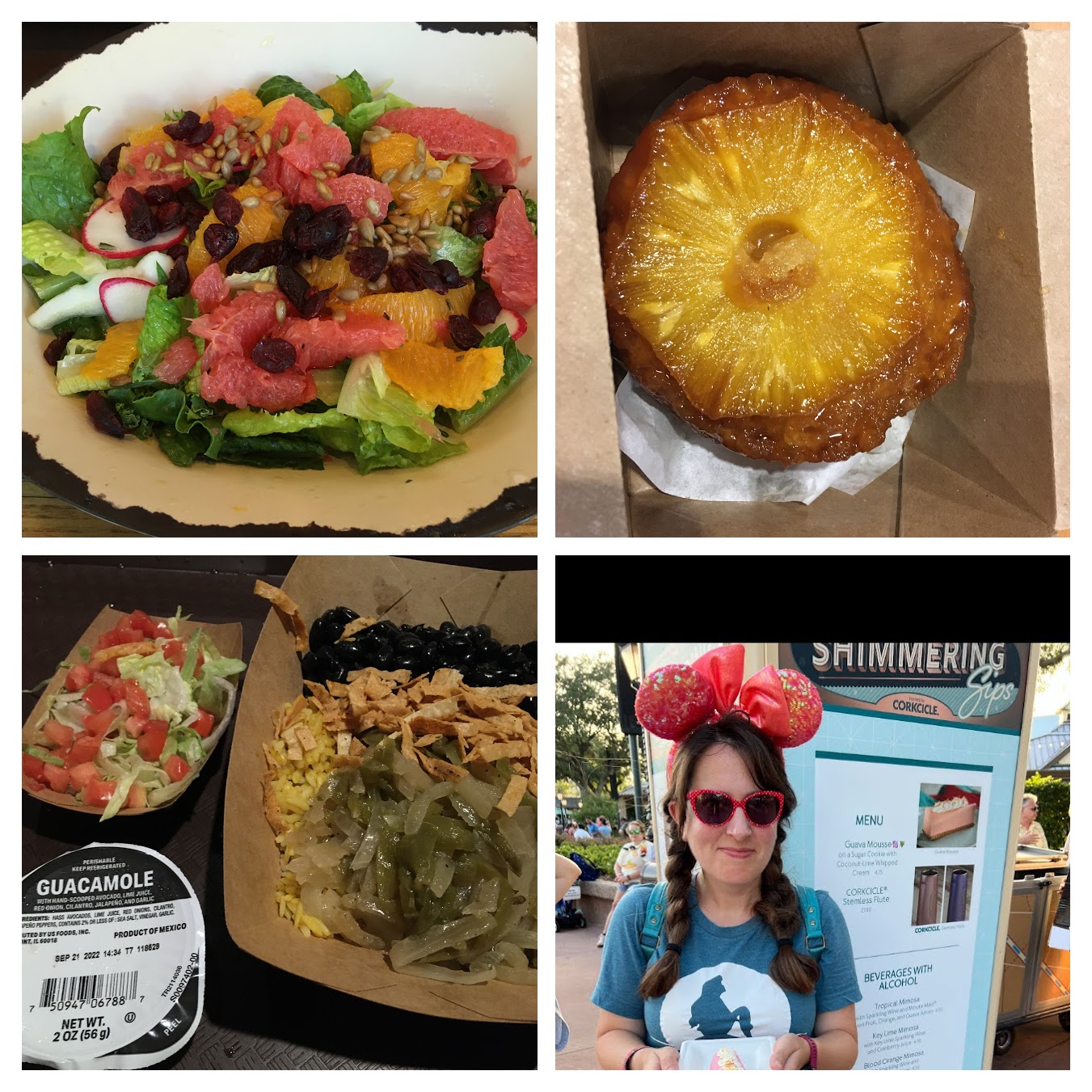 Salad in the Sam Eagle restaurant, amazing pineapple upside down cake from Erin McKenna's bakery at Disney Springs, delicious Mexican salad and the guava mousse.
The guava mousse from the Shimmering Sips stall was my favourite- it was more like a cheesecake with a biscuit base, guava topping and then toasted coconuts. Perfect and tropical tasting, and way cheaper than desserts in the restaurants (it was $6 I think, and we shared each time as it was pretty big).
Vegan tacos from the Carribean Beach resort, vegan pizza from Blaze at Disney Springs, vegan doughnut from Voodoo Doughnuts at Universal City Walk and lemon cake from Erin McKenna.
The beauty of WDW is that there are loads of restaurants at each resort (counter service and sit down), and anyone can go to them, not just guests of those hotels, so we spent a bit of time wandering around other resorts and sampling the food there. Those tacos were really good although a bit weird that they came with fries!
Mickey food
Of course there had to be Mickey shaped food (pretzels and waffles). I also tried a dill pickle and I have to say it was really good but a bit too much (we did share it).
And saving the best 'til last, of course there were Dole Whips. They are available in so many places now, and there are lots of alternatives to the pineapple (which is still the best).
One thing I was really impressed with was their move to reusable plates. In all of the newer counter service places, they had reusable plates and cutlery rather than disposable, with places to sort them when you tidied your table plus staff to help. They have a long way to go with this (look at the Dole Whip cups- just plastic…) but it's a good move.
WDW was celebrating it's 50th anniversary so there was lots going on for that, with parades, a new Epcot show (not as good as Illuminations, but still enjoyable) and all of these gold statues around the parks. It was good fun spotting them, and even on our final day I found a couple more. I wasn't so keen on the Magic Kingdom fireworks show, so we tended to head to Epcot in the evenings more.
Star Wars things
Star Wars land in the studios had been further expanded with a new ride (Rise of the Resistance- we'd been on Smugglers Run back in 2019 and I love that ride). I found the new ride rather immersive (I am not a fan of actual people doing role-play) but it was also good fun and I could just about handle the little drop- I do not do rollercoasters or anything that drops, but I did manage it 3 times on the holiday so it is OK. Our tickets included the photo pass so we got lots of pics of the two of us- usually we manage a selfie or two on holiday but it was nice to have some more professional ones. I also loved the magic shots- especially the Baby Yoda one!
There were some other new rides including Mickey and Minnie's Runaway Railway, with the catchiest song, and a Guardian's ride which Andy went on several times but I didn't (as I've mentioned, I don't like rollercoasters). That one was so new you had to join a virtual queue via the app and then you were given a time later in the day, which worked pretty well.
Porg mug and in Trader Sam's
We also went to a few fun places including the Star Wars bar in the land (Oga's Canteen?) where we had our drinks in Porg mugs (so cute) and DJ Rex plays tunes, and Trader Sam's Grotto (based on Jungle Cruise, one of my favourite rides for all the puns). This was my favourite as fun things happened all the time. If someone ordered a certain drink, the volcano you could see through the windows erupted, and one of the drinks was zombie themed and so the server came over with googly eye glasses on. Hard to explain but it was really enjoyable.
Frozen ride, meeting Olaf, Norway ears on in Norway land and the snow at the sing along Frozen
Of course we had traditional Disney fun too- lots of Frozen action including sing a long Frozen, meeting Olaf and going on the Frozen ride every time we went to Epcot! Sing along Frozen sounds better than it is as there are two "historians" who talk you through it in a very funny way. I bought some Norway ears from Epcot, as I had packed my Frozen ones but they have sequins on the band and at one point a photographer asked me to take them off for a photo and they were so very tangled in my hair.
We were not sure how the new fastpass system would work (Genie+), but it was OK. You now have to select your park in advance, and can only hop after 2pm. You had to log on to the app at 7am to see what was available in the park you were going to, but every 2 hours you could get a new one, or when you went into the queue for the one you had booked. You could only do one of each ride each day, so if we did Frozen at 10am we could not book another lightning lane for that ride that day, but as we tended to go to a different park in the afternoon it meant we pretty much didn't queue (apart from for Rise and Avatar which you had to).
I also had fun posing with the various images and statues around the parks. When we first arrived a few of the Pride things were still up- I loved those rainbow balloons.
In our final few days, the autumn decorations started appearing in the parks too, as they would be hosting the first of their Halloween parties (they start those in August!). I love seeing all the pumpkins- they were all so themed with where they were, for example ice creams carved into the one above the ice cream shop.
And of course I had to get a few cups for my collection. I was happy to see the Epcot Starbucks one as in Paris they had been out of stock, although I'm glad I bought it when I did as by the end of our trip they had sold out.
Once we were staying in Disney I did a few runs each week, around the lake by the hotel, and parkrun wasn't an option by then as we didn't have the car. But it was good to have a cut back on mileage I am sure, and running in that humidity wasn't easy.
As always, it went by in a flash, but as always it was a brilliant holiday.