It's been a while since I've had a solo parkrun adventure, but the start of half term coincided with my dad being away, so I decided to head to Highbury Fields parkrun. I've quite like going to parkrun via train, and have been working my way through the parkruns on the train line between here and Kings Cross. Highbury Fields was the only one left, and as it's 5 laps I've been intrigued to see how it works. I have been to a 5 lapper before, at Heslington in York- it was on a cycle track- so this would be quite different.
The quickest way for me to travel was to get the train to Finsbury Park, and then change to the underground and go one stop on to Highbury & Islington. You can pay contactless on that route now, rather than having to buy tickets, so that made it easier., and the park could not get closer to the tube station- a very easy one to get to via public transport.
There were lots of people warming up, and some friendly volunteers standing around and chatting- there seemed to be a lot of tourists but I wonder if half term had something to do with that. There was a couple who I wanted to speak to but were always a bit far away, wearing t-shirts that when they stood together said 'we love parkrun"- fantastic.
I left my jacket on the tarpaulin by the start/finish area at the last possible moment as it was quite brisk, but of course I warmed up as soon as I started running.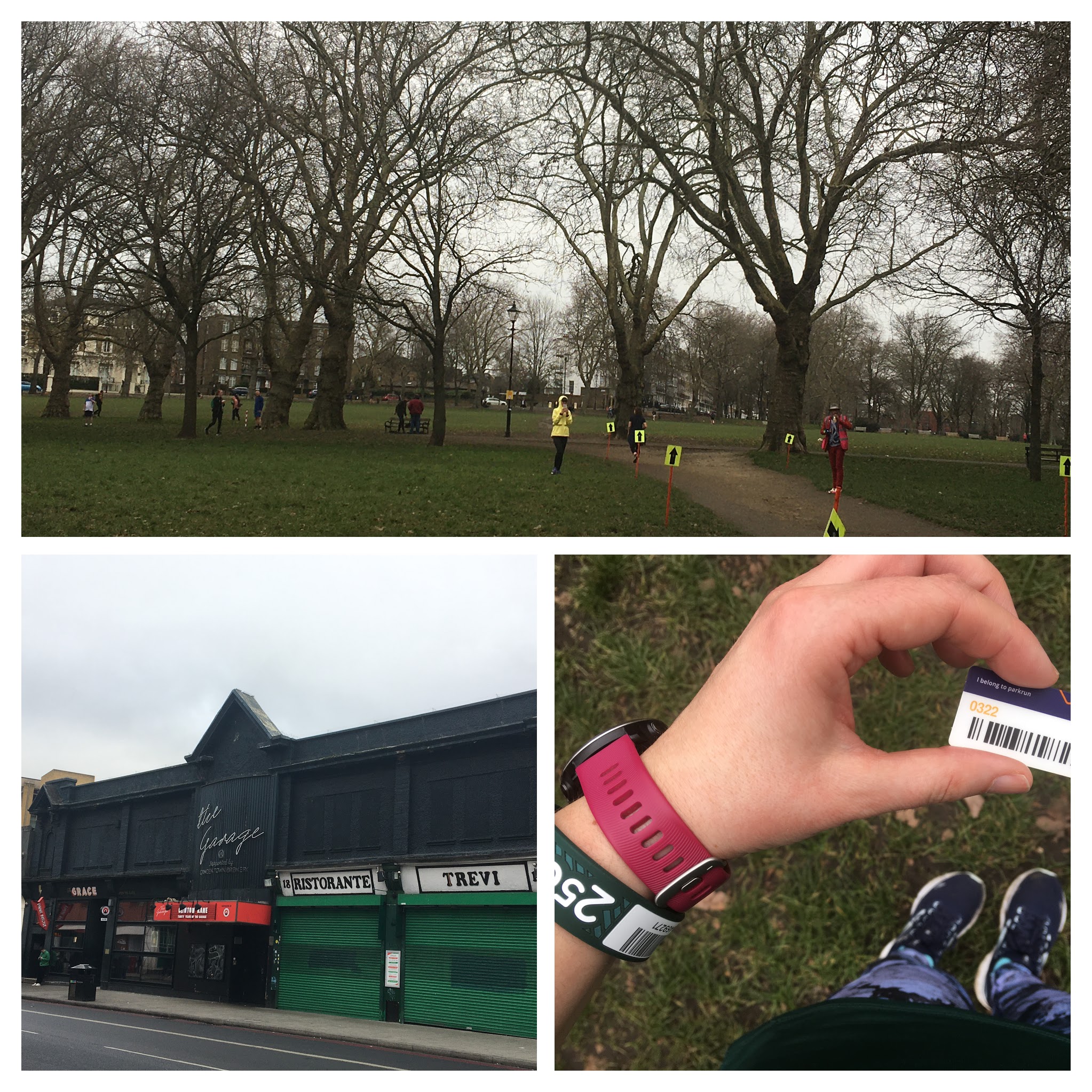 I also got to see The Garage- I wonder how many gigs I had seen there in my younger years!
Once we started, the course became clearer- we actually ran laps around the outside of the park, mainly on pavements and a small part in the top section of the park on the paths there. They had told us we had to keep track of our own laps (of course) and I ended up running behind the same 3 people, so that made it easier. Each lap went gently uphill for one side of the park, across the top, then downhill and around the outside/bottom of the park. I wondered how congested it would be, and I did start getting lapped by the super speedy runners in my second lap (I think), but it wasn't ever too bad, and of course by the time I was on my third lap onwards, the speediest ones were finishing so the course was thinning out. At the final corner was the most enthusiastic marshal who was cheering everyone and ringing a handbell- he was brilliant.
After I finished, I jogged along Upper Street towards Angel, via Bird and Blend. They weren't open until 10, so I hung around outside for a bit before getting a chai latte (they do the best ones and I wasn't passing up an opportunity to visit). I was going to get some breakfast too, but the trains back from Kings Cross were only every half an hour and I didn't want to have to wait until the next one, so I waited until I got back to WGC, heading into Caffe Nero for a vegan croissant and tea.
That was my 94th different parkrun location and number 305, and I am quite pleased that my map on the parkrun challenges chrome extension joins up home to central London without any gaps.
Have you ever run a parkrun with 5 laps before?