As I have mentioned on here before, I was kindly offered a place in the inaugural London 10 mile race, in Richmond park. I have been to once race before (a women only 15k race) and I had a bit of trouble getting home- I couldn't find a bus stop, my phone was running out of battery, I ended up spending £20 on a taxi to the nearest train station, then the trains were delayed. Anyway, the London 10 mile offered some parking spaces, so I decided to avoid the public transport hassle and drive myself in.
I had to get there a bit earlier as my pack hadn't arrived- the email helpdesk was very helpful and told me they would have spares on the day, but it meant that when I got stuck in traffic for a bit (and I had checked before I left and it was clear then) I got a bit frazzled- I am not the biggest M25 fan.  One small thing I would say is that the postcode of the car park wasn't quite correct- it wanted me to turn left at the end of the road, but I could see a queue of cars heading into the park so after dilly dallying for a bit, I joined the queue. It turned out to be right, but I think they could benefit from some big signs saying "Sheen Gate car park" and some arrows, as probably if you are driving you are not going to be local to the area.
Anyway, after parking I walked the short distance through the park to the race village. It was a lovely sunny day and I was glad I had put on a lot of sun-cream.
The event village was great- it had a real buzz about it and had loads of food stalls (coffee and cake, churros, even things like a champagne van) and a kids play area. Lots of hay bales were strewn about for the picnic in the park after. I quickly was given my new pack, and after putting my number on I enjoyed the scenery in the park and took my time heading to the start pen (which was right by the edge of the event village).
There was a map of the route but it meant nothing to me- I was just glad we finished in the same place (the last one I did ended in a different part which just added to the complications).
In the starter pens they spoke about the awful events from London that happened the night before, and held a minute of silence for the victims and then applause for the first responders and emergency services. It felt very emotional and of course was observed by every person there.
There was a bit of a delay (not sure why) so I didn't start running until about 10.50 (it was meant to start at 10.30)- as I didn't have all day that was a little frustrating, but these things can't be helped.
Then we were off! I missed the squirrel high fives as I was busy looking for deer (although as they were by the start/finish I did get a high five on my return!) and all along were signs with different facts on them- how many deer were in the park, how old the trees were etc. The mile signs had little sayings on them- they reminded me of the quirky signs at the Brighton Bright10.
I had no aims for time- I wanted to enjoy it, and I had told myself if I saw some deer I would stop. I stopped a lot!
Some were further away but these were right by the path- as they were in the shade they were well camouflaged and I think a lot of runners didn't notice them.
It was a very warm day and so I stopped at most water stations ( I missed the first one, only noticing it as I saw other people with cups)- I had eaten my breakfast at around 7.30 before driving in, and hadn't had anything since then, so I knew I should have a few sips each time. I particularly liked the station that was encouraging people to throw their cups into the digger instead of all over the floor. I had bought a headband with me (like a sweatband) but as I was wearing my visor I ended up wrapping it on my wrist. When I stopped for water I dipped the band in the water and this helped to keep me cool as I could then rub the band on both my wrists while I was running- I didn't want to splash my face in case I washed my sun-cream off.
At one point someone next to me said "hi Maria"- he was a St Albans Strider (a local running club) and recognised me from parkrun. I am pretty sure he has volunteered at the same time as me but I couldn't quite work out when. It was nice to see a friendly face and we had a little chat before running our own paces.
One of the signs told you to look up and wave to the tree surgeons-they were hanging in the tree above one of the steepest hills!
I think a lot of people felt they needed to keep running but I was happy to stop and take a photo!
There were a few photographers out on the course too- some by the 5 mile marker and some at the end. I actually tried a jump but that one didn't come out!
Near the end there was also a truck hooked up to a water mister thing- that was lovely and cool to run through.
More deer- of course I took more photos.
The course was more hilly than I expected, and in the warm weather this made it tougher. At around 4.5 miles they had a water and clif block station, so I had one of the blackcurrant ones (they got me through my first marathon)- it perked me up for a bit. I saw more deer but again I think so many runners didn't notice them as they were too focused on the road.
Fairly hilly and you can see each water station I stopped at- the smaller stops are the deer spotting points
As this event was in partnership with parkun (some of the entry fees went to supporting it) I was totally surprised when the 7 mile sign did not have a "just a parkrun to go" on it. I mean, doesn't everyone think that at races now? I did comment this on their facebook page so perhaps they will add it in for next year!
Running towards the finish there were lots of people out spectating, with some funny signs ("You are amazing (your name here)"- stuff like that), and as there had been kids races there were lots of children with their medals watching too. I was glad to reach the finish line.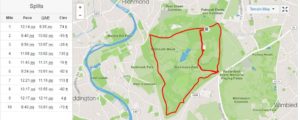 My splits were all over the place due to the hills, stopping for photos and walking through the water stations. I really enjoyed the scenery though, and the whole event had a good atmosphere- friendly and encouraging.
The medal was rather nice too- a good chunky one, and the colours on it went with my parkrun apricot vest.
I was handed a goodie bag, picked up a bottle of water and then wandered around the events village. I got a text through right away with my time (1.47.00)- very impressive seeing as my pack hadn't arrived, so while I had been running someone had manually changed my registration to match my new number.
I knew I needed something to eat before driving home, but I didn't fancy much (and after parkrun on the Saturday I had felt a bit queasy and I didn't want to feel like that driving home)- the goodie bag had some pop chips and a clif bar but I didn't really want either at the time. I saw the most hipster thing- a smoothie stand where you got on a bike to power the blender.
They did a raspberry one with lime and something- it sounded zingy and refreshing so I went for that one.
I then wandered back to the car (I even saw more deer), wiped my face and put a nuun tab in the remains of my water before heading home.
The traffic wasn't too bad and I got home at 3- I had to have a quick shower and then had a bit of late lunch as we were heading out again at 4- a busy day!
So, what did I think of the race?
Pros:
Lovely scenic and traffic-free route through lovely park lands
Lots of deer to spot
Signs to keep you entertained en route
The event supports parkrun
10 miles is a great distance
Lots of water stations and marshals out (and they use cups which I know a lot of people don't like but I much prefer it as it is less waste and more environmentally friendly)
The race village- well organised, well set out, lots of choice of food and drink stalls plus activities for children
The event photos are free (they are based on chip time and not your number which means you get a few without you in them)- they were ready to download on Tuesday
Did I mention the deer?
To improve:
Better signs for the car park, and improved directions in the race pack for using public transport
Send the race packs out a little earlier- it seemed that lots hadn't arrived (and it's a small gripe but it means I have to use safety pins instead of event clips so then I get little holes in my top)
You could buy a technical t-shirt (I saw a few people wearing them) but I do think that it could be included in the finisher's pack- I know they have other costs but a lot of the local races I do are less than £15 and you get a technical t-shirt, so it can't add much to the cost.
They also started a little late, and I would prefer an earlier start anyway rather than the 10.30 official start time as it means I am finished before the hottest part of the day, but that is just down to personal preference
Would I do it again?
I might, if other people I knew had signed up. I love the distance, the route was pretty, it was well organised and not too expensive for a London race. For me, Richmond park isn't the easiest place to get to, and it did mean I spent a lot of the day in my car. I also find running in the summer more challenging, so I was happy to run it at a more relaxed pace (which would be good with a group of friends).  I often do a local 10 mile race in July but this year signed up for the 10k instead and as I was running I was very glad that I didn't have another 10 miles to run in the summer. I don't think it would be a course to push for a pb but it was really enjoyable. I also love the ethos that they support parkrun.
Do you like the 10 mile distance? Have you run in London? Do you like to visit things like food stalls after a race or do you tend to head straight home? Do you wear your parkrun top to races? I usually wear my club vest but it is black so I thought apricot would keep me cooler. I saw a few others but thought I would see more.
*I was given a place in the race in exchange for a mention on my blog. I bought the car park ticket and also donated some money to my local parkrun in lieu of the entry fee. All opinions are my own.