I used to travel up to Scotland a lot when I was younger as I had a friend who moved up there, but I had not been for years. For some reason we have now been twice in less than a year!
On Friday we flew up to Edinburgh from Stanstead- as we were hand luggage only this meant not too long at the airport and not too much stress once through security (as we landed there was a fanfare over the tannoy system announcing how good Ryanair were at being on time).
After parkrun on Saturday morning (see previous post) we picked up the car and drove to Pitlochry, where we would be staying for a couple of nights.
Saturday- we park in town and have a wander. Check in to B&B. Walk into town a bit too late and get caught in torrential downpour. Discover that my "shower-proof" pack-a-mac is not waterproof in the slightest. All restaurants full so end up eating chips from a chip shop under the awning of a shop.
Sunday: We did some lovely walks around the town, around some different lakes and forests, including getting slightly lost for a bit in some woods, and finding some stone carvings.
Pitlochry was a lovely little town- it was all very walkable and we could walk down into the centre from our B&B. It had plenty of lovely cafes and even a John Muir centre (we are more used to seeing things about him in the US National parks). We saw a salmon ladder, although it was too murky to see inside if there were any fish. It was so warm we even shared an ice cream.  As it was so busy the day before we had booked a meal for the Sunday evening (I had veggie fajitas which came with the most enormous pile of sizzling peppers, onions, courgettes, mange tout etc.).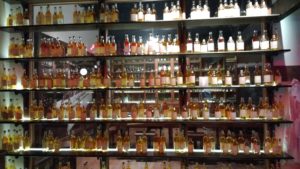 Monday- Of course we went to a distillery. We were heading to Fort William and this one was on our way. Initially I was going to drive the hire car on this day, but it was too expensive to add another driver, and we found lots of the distilleries did driver packs where you took sample bottles away. Bonus for Andy- he gets mine too!
We stopped off in Aviemore for a wander and lots of people had recommended this mountain cafe, run by someone from New Zealand. This was a falafel and beetroot sandwich and it was so huge- each slice of bread was the thickness of two normal slices! Andy had a flatbread with chilli haloumi in it, which was equally as huge.
Their cakes had come recommended so we bought some lime and blueberry cake for after dinner, and a chocolate, plum and almond scone (*).
It was still fairly overcast and we didn't want to get to the B&B too late so we didn't stay much longer- I think if we were to visit again there would be some lovely walks nearby. We then drove to Fort William and after checking into our B&B had a walk beside the water. We were both so full from lunch that we had a bit of fruit salad, and then shared the cake.
The view from our room
Tuesday- It rained. Oh, how it rained. We had a lovely breakfast (cinnamon porridge) and took our time as it was just raining and raining.
We drove out to one of the visitors centres, and after being told off for not having walking boots (even though we told the lady we were only there for one more day, she told us quite seriously to drive back to Fort William and to buy some walking boots), we found a walk through a forest to Signal Rock.
It actually stopped raining for the walk, so we enjoyed the views and fresh air (the midgies, less so).
Just as we were nearing the car park the rain started, and as we got into the car it was torrential yet again. We drove out towards the coast for a bit in the hope of passing the rain, but it seemed fairly set in, so we headed back to Fort William as there was a little museum there. We mooched around the museum for a bit, had lunch in a lovely little cafe, wandered around the town a bit more and picked up a little picnic tea. We drove to the canal to see Neptune's staircase (8 locks)- so we walked up one side and down the other.
There was even a teeny bit of blue sky.
We had a little picnic with these views, and I got out the scone * for us to share after. Sadly, it turned out to be some sort of cheese scone, and not the plum and chocolate one I had asked for- how annoying!
Wednesday- we had a long drive back to Edinburgh so left early. I took a few photos as we were driving- it was so scenic.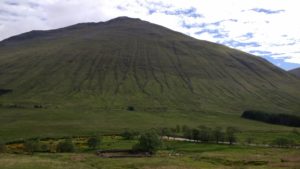 Once we returned the car (which took 35 minutes because there was one customer in front of us and no other members of staff, and this customer was being a right pain) we had a few hours to wander around Edinburgh.
Blue skies!
More blue skies!
We were going to go out for lunch as we wouldn't be back until after dinner time, but it was so sunny we got some picnic bits and sat in the park.
It was so peaceful and a lovely end to the holiday. We had time for a bit more of a wander around the centre before we got the bus back to the airport.
Now, we just had to go straight through to security, and at Edinburgh they have the big body scanners. I was randomly selected to go through one, and I made sure I had nothing in my pockets, not even a hairband (I was stopped before and then had to have a proper search because it called up an anomaly which turned out to be a small hairband in one of my pockets- they are clearly very sensitive). On the screen it shows where the anomaly is and it was my hair! After having the pat down I had to turn around and the lady had to lift up my hair and pat it down too! That has never happened before- I do really need a haircut though!
Our plane was a bit late landing (no fanfare this time) and we got home at 9pm- the good thing about going away for only a few days meant that unpacking only took about 10 minutes!
Have you ever been to Scotland? We are already planning another trip for sometime next year. Do you like more active holidays?