Last Friday we flew up to Edinburgh- we were picking the hire car up before 1pm the next day so I had enough time to get to a parkrun. We went up to Edinburgh in October and I went to Portobello parkrun, so I decided to head to a different one, Edinburgh parkrun, this time around.
Edinburgh parkrun is 5 miles north of the city centre. It's along a prom (no road) and it was a bit hard to work out exactly how to get there. It seemed there were buses that went to somewhere called Cramond, but depending on the bus you would be either a 10 minute walk or 2.5km away, and so I decided to take an uber instead. I got it to take me to the end of Marine Drive, which was perfect as that road was on the coast and looked down onto the prom, so I could see people heading to the start area.
In Scotland they start at 9.30am, and the new runner briefing is at 9.15. As I arrived earlier I had plenty of time to take photos and spot tourists- I even saw some Harpenden Arrows (it turned out to be the weekend of the Edinburgh marathon so there were lots of tourists for that).
The finish funnel had loads of flags flying, and there was also a parkrun van. There was a speaker playing music- it was great.
I loved this info board too- so many parkrun facts. There was a pacer chart so if you wanted to finish in a certain time it told you your km splits, and a board of statistics about the parkrun.
After some milling about it was time for the briefing. Now this was comedy gold and I really wish I had filmed it.
From the Flickr page photos
The guy running the briefing (who did something for parkrun Scotland- he mentioned doing all the Scottish parkruns in one weekend, and all the Irish ones- something I know Tom Williams has mentioned on MT before) was the most enthusiastic person. His briefing lasted the full 15 minutes, and included audience participation (quizzes about what he had just said), a selfie with the runners and running into the crowd and checking that people actually had their barcodes. At one point he spoke about being well hydrated, and then grabbed a doughnut water bottle from someone, and had a mini rant about being able to last for more than 30 minutes without having water, and then he threw the bottle over a barbed wire fence into the next field. He then encouraged others to do the same. It was all very funny but also a bit bemusing! He did of course mention the rules, and the course (but it was an out and back, one lapper, so very easy to explain), and he also talked about the history of the event, being one of the first in Scotland and the first in Edinburgh.
At 9.30 on the dot we walked to the start for the main briefing- lots of people reaching milestones which is always lovely to hear. It was also mentioned (not sure which briefing) that children should be encouraged to take part for their own enjoyment and not pushed beyond their means. I totally agree with this and really loved that they emphasised it.
The course was beside the water so I enjoyed the views. It was super sunny and very warm, although on the way out we were running into a breeze which helped to cool it a bit. I stopped briefly to take a photo as it was just so lovely.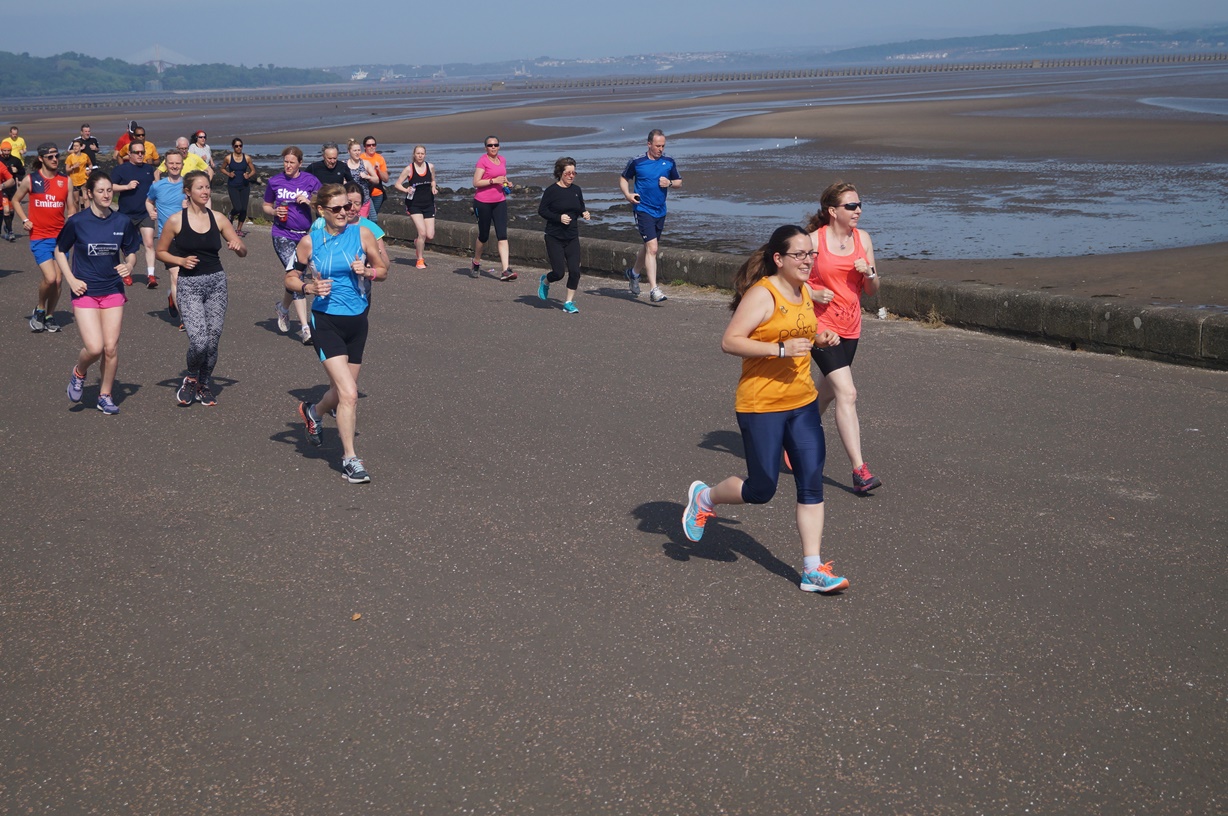 From Flickr
The course had a bit of a lollypop at the turnaround point, and then the breeze was gone. It was so hot I was wishing I had worn a headband/sweatband, as sweat was pouring into my eyes and stinging them.
From Flickr- I did a thumbs up at the photographer but not as extreme as the lady behind me!
There was a cafe along the prom and there was a staff member very wisely shouting things out like "get your bacon rolls here/ hot coffee in the cafe" and they had even written things like "cake" on the pavement with chalks. As it was so hot on the way back someone said to him "a cold drink please" so he then started shouting "ice creams, cold drinks" etc.
There was a photographer out on course (at the 1k and 4k point) and there was someone snapping away at the finish line too, where the course peeled away from the main prom under some trees.
I finished in 28.01 which I was pretty pleased with (although I did think I could have got sub 28 had I not stopped for a photo!). I like to finish in under 30 minutes but as it was flat and no laps I should be a bit faster really.
My Ellenbrook fields vest is now my parkrun tourist wear (I have a Panshanger t-shirt but now it is too hot for t-shirts).
I walked back to the road and watched the last few runners heading along the prom.
Then, things didn't go so well. I looked on the uber app, and it told me there were no cars available, but I could book one for a later pick up. I booked one for a pick up between 10.30 and 10.45 (it was around 10.20 I think by the time I had scanned my chip and walked back to the road). Not too bad I thought. I had the email confirmation, so I just had to wait. Each time I looked at the app, it told me "allocating your car". I had brought a long sleeved top with me (I tied it around a fence near the start) so I put that on as the wind was making me fairly cold. At 10.45 I had a notification saying my pick up was cancelled as there were no cars, so please try again. Argh! I then looked and there were no cars. I  was messaging Andy as we had to check out at 12, but also pick the car up before the hire place shut at 1. It was a bit stressful. I was going to look at where the bus stop was (in the other direction from the finish line though) and I opened the uber app one more time and saw one car nearby. Thankfully I managed to get it (book it?), but as it was finishing another drive nearby it didn't pick me up until gone 11am. I was so thirsty and quite hungry by that point but I could not risk popping down to the cafe to buy something in case I missed the pick up. There was a little roundabout so I was waiting just beyond that as it didn't seem a sensible place for a car to stop. As I was waiting a couple walked to the roundabout just as my car pulled up, so they went to get in it! I panicked even more here, so I ran towards it and asked him "are you for Maria?" (I knew it was as the registration matched)- I was so relieved to get into the car and be on my way back. I got back to the hotel at around 11.30, so it was a very rushed shower and a short blast on the hairdryer before having some breakfast (Andy had been out on a walk around the town and got me some).
I really should have had a plan B! I prefer when I can run there myself- this was 5 miles away but in fact if I had run back I would have arrived sooner- I'll know for next time!
But, it was very enjoyable, and now I am on the UK most events table, having been to 20 different UK parkruns. I ordered my cow cowl yesterday, so hopefully it will arrive before my next tourism (we are going to Kent at the end of June so I am aiming for Maidstone parkrun that morning, and I need to plan with Dad to visit the last couple of Hertfordshire parkruns too).
Are you a fan of public transport? Have you been to Edinburgh? Do you like to visit different parkruns? Have you ever forgotten your barcode? (Quite a few people in the briefing had forgotten theirs)