After saying how much I preferred running on Mondays, the next week I ran on Tuesday instead because on Monday I was meeting a friend for dinner straight after work.  We went to Bill's and had a lovely catch up, so it was worth the mixing up of days.
On Tuesday I had a 3 mile run, and Wednesday a 4 mile run (no yoga that week).  I was due to have a late training course on Thursday but it was cancelled at the last minute so I headed home and used the time to catch up on other work bits ahead of our weekend away, because we were (surprise surprise) off to Brighton!
We got the train down on Friday night, and of course I was off to parkrun on Saturday morning.
I had opted for Hove Prom, as it was slightly closer to the hotel, but also I am working on my p-index (it's at 5 currently, which means I have been to 5 parkruns at least 5 times) and needed to go to Hove Prom to begin getting it to number 6. These little challenges keep me busy!
I was surprised to see rain when I left the hotel as it wasn't forecast, but thankfully it wasn't heavy. I got to the seafront with about 10 minutes to spare and kept my hoodie on until the last possible moment- there was a really cold wind.
I started fairly slowly (and somehow ended up in the finish funnel behind some walkers so couldn't overtake for a bit) but sped up in the cold wind. I had wished I'd brought gloves with me. Anyway I enjoyed it (it's two laps out and back along the prom, starting in the middle) and when I finished the guy behind me asked the time as he saw me stopping my watch. My time was 27:24 which I was pleased with but very surprised when I got the text through congratulating me on a course pb- for some reason I thought I had run faster there, but when I looked it up it was Preston Park I was thinking of. Time to celebrate!
I met Andy at the Cafe Coho closest to our hotel and enjoyed a delicious breakfast of pancakes, and then headed back for a shower.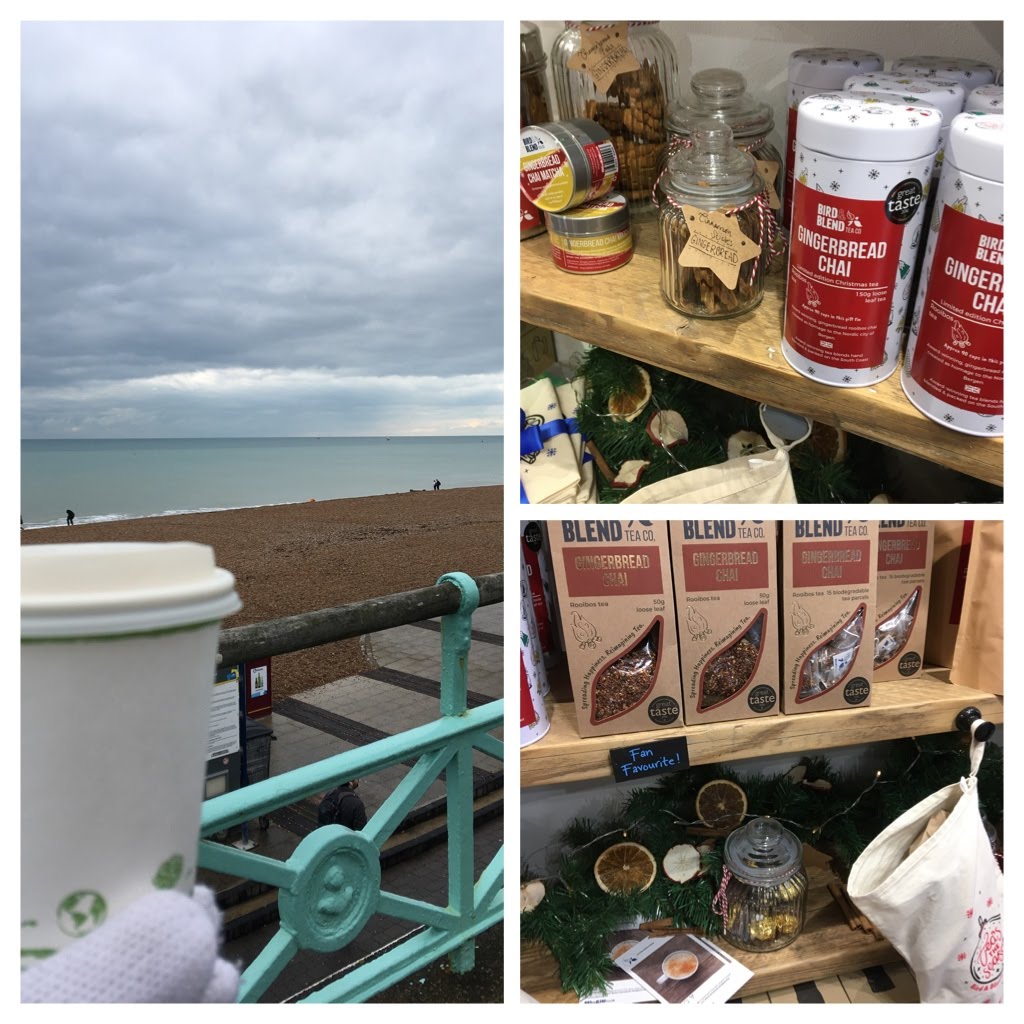 After a pop into Bird& Blend to pick up a drink (I went for a snowball latte which is made with their snowball tea- chocolate and coconut- plus vegan marshmallows) we walked along the seafront to Hove. Back in the town we picked up a wrap to share from Pret, and then stopped for tea and cake a bit later. I managed to make a start on Christmas shopping, and we went to the Hotel Chocolat cafe for a drink (although weirdly they would not serve the drink without the cocoa whip, but served it on the side??).
We got a takeaway pizza- this vegan one is soo tasty with pesto and veggies.
I got my race things ready and painted my nails (I love the five-free nail polish) and we had popped to Gail's to pick up a Christmas bun so had that in the evening too.
On Sunday morning it was such luxury to be able to get up not long before the race started- you had to be in the pens at 9.20am, and our hotel was maybe 10 mins walk. I'd chosen to wear a long sleeved top in the end (my Run Disney one).
The race starts near the pier and you run west along to Hove for just over 2 miles, turn around and run east for 3 and a half miles, past the start line and then turn back and run west again for the final half a mile or so. It's super fast and flat, but I didn't think I'd be going for a pb (particularly with getting a course one at parkrun the day before). I really enjoyed it- at one point I was running and thought I saw someone spectating who I followed on instagram, and as I was looking a runner next to me commented "you look relaxed" (which Andy later found hilarious as I am the most un-relaxed person ever)- I replied thanks and that I was enjoying it, and that I liked his tutu (he was wearing a tutu). It was good to hear and it made me think a little more about race motivation. This route is a fab one for a pb (I think all my 10k pb's have some from this course) but this run is a great reason to visit Brighton for the weekend, and I just love running by the sea and seeing all the crowd support and so on.
My 10k pb is 54:11 (from this time last year) and this year I was around 55:18 but a few years before that I was trying hard to get in under a hour (and my first 10k was 70 mins). Looking at my splits after nearly all my miles were under 9 minutes, so it was nice to see that I was running as this faster speed and feeling more comfortable (it wasn't easy, but I wasn't totally wiped out for the day either).
Andy met me at the finish line and had bought an almond croissant for my breakfast, so we headed back to the hotel, made a tea while I had a shower and then I could enjoy breakfast.
After a walk around the town we headed to Leon for lunch- we have our order perfected- two veggie burgers, one portion of waffle fries and one pot of hummus to dip the fries into. So good.
And of course I had to pop to Bird & Blend to get a drink for the train (this time, a classic chai latte).
I chilled out listening to the film podcast on the way home (and may have fallen asleep at a few points too), and then once home it was time to unpack and then watch a bit of TV- such a great weekend.
Look at the gorgeous festive tea tin! (And the Christmas room spray).
Are there races that you like to do again and again? Are you always chasing pb's or do you run to enjoy them? Dare I ask if you have started your Christmas shopping?