Hey peeps
Wednesday already- hooray! Two more gets ups until the weekend.
Pop over to see Jenn if you fancy joining in with the party.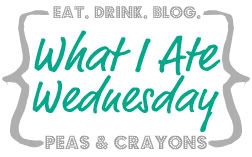 This week I chose Monday- normally I would have a run after work, but as we did the run on Sunday and I went quite hard I decided to have it as a rest day, and go and see my Nan instead.
Breakfast;
Porridge with figs cooked in there. I used Kallo soy milk which was on offer on Tesco, and rather nice. It is sweetened a little (but was not too sweet I didn't think), but has calcium added too.
Snacks.
Graze Apple crumble for the morning (dried apples, sultanas and cinnamon almonds), plus a mini luna bar for later. Hooray for mini things!
Lunch.
A sandwich thin (I found one in the freezer) with some hummus, and a pear. Not a great lunch but we were not having our shopping delivered until Tuesday. Not surprisingly I was rather hungry in the afternoon and glad for my luna bar 🙂
Dinner
Squash and chickpea stew with a little hard goats cheese on the top. I love this stew and will be making some more pronto!
Dessert;
An apple chopped and microwaved, with some warm alpro soya custard. Yum.
Now if only I could sit here all day and read everyone's blogs, but instead I have to go to work.
What do you have for those meals when you have nothing fresh in your cupboards? I generally revert to pb sandwiches!