After our Saturday in Bath (a couple of weeks ago now) I was doing the Hatfield 5. It's a fairy new race (this was it's third year)- I ran it for the first year, but last year we were away. As it's local, we get a great turnout of OH ladies both running and marshaling. The first year was still my 5 mile pb- a great time of 44.44 (great because of the palindromic nature as well as it being very fast for me) and I didn't think I would be anywhere close to it.
I had also signed up to the Virtual Runner UK birthday run – it was any distance in November. I actually submitted a random run so the medal would come, but I wanted it for this run. The money went to Alzheimer's UK, and as was pretty much 2 years to the day since my Nan passed away of Alzheimer's I wanted to run the race in memory of her.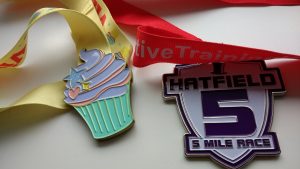 The race HQ is at Herts uni, so you could use their car park and hang about inside the cafe area after collecting your number. I left my bag at the drop (although that took a while and should have hinted to me that maybe I should have just run back to my car). We only headed to the start line 5 minutes before as it was quite cold, and I lined up with a few runners who I know are a similar speed to me. I had no aims of beating my pb as I had worked out I would need to run all my miles beginning with an 8- it sounds way too fast!
I was trying to keep one of my friends (Louise) in sight, but the start was crowded so I lost her for a bit. I managed to catch her up after a mile or so, and a little later we caught up with another runner from our club (Emily-she'd only joined a few weeks before and this was her first race). After a while Louise said she needed to slow, so we left her, and the two of us pretty much stayed together, sometimes me a bit ahead, and sometimes Emily. We saw loads of OH marshals along the first couple of miles which really gave us a boost too.
Here we are after about 3 or 4 miles I think (both feet off the ground for both of us).
As we came to the final mile we kept being overtaken by these two guys, and then they would go past us. It turned into a bit of friendly rivalry as one of them commented "you girls keep going past us"- I think we finished ahead of one of them! The final mile is the same as the first mile, but in the opposite direction, but it seemed to go on for ages! I had barely looked at my watch during the race (only to see the mileage) but I could see the finish clock, and knew it had taken us a minute or so to cross the line, and it was still under 45 minutes so I put in as much of a sprint as I could to try and beat my time.
Chip time was 43.58! A new 5 mile pb by nearly a minute!
I managed the royal flush negative split too- my miles were 9.09, 8.59, 8.50, 8.41, 8.20. Not sure how I managed that! Just over 25 minutes for the final 3 miles, yet my fastest parkrun (and I know there's a 0.1 to be added) has been just over 27 minutes recently.
I stayed at the finish line and cheered lots of our runners over the line, but I started to get very cold so thought I would head in to get my bag. I ended up queuing for about 35 minutes- one poor guy was on his own trying to find each bag. It was very painful and annoyingly I missed seeing the last couple of runners from our club cross the finish line. We had a few mini group pictures as we hadn't taken one at the start (a schoolboy error)- marshals and runners. It was great to see so many familiar faces.
From our facebook page
The medal was a really good one too- nice and chunky. I decided that I was going to donate my finish time to the charity (like when parkrun do the donate your time campaign) so it's properly for my Nan.
I then had a bit of a rush as I was going into London for afternoon tea with a couple of friends- it was the first weekend of their festive one and we got mini mince pies, which excited me a lot (even though I am not the biggest fan). I think I didn't drink enough though as I had such an awful headache at the end, and didn't have any painkillers with me. I could have bought some on my way back to the train station, but as it was a Sunday the trains were less frequent and I thought I would rather get an earlier train and suffer on- it wasn't good though as I wanted to sleep on the train but then worried I would miss my stop. Apart from that it was great though.
When I told Andy I got a new pb, he went "for 5 miles?" as if that wasn't very impressive! I think it's my 6th or 7th 5 mile race, so I was pretty pleased!
Which distances do you think you race the most frequently? I would guess 10k for me, but I need to do a tally chart to find out. Which tea would you have for afternoon tea? Earl grey all the way for me.