After our DLP trip (and extra day) we took time on the Wednesday to drive back up to the Eurotunnel. We went to the nearby shopping centre to get lunch from Pret (I was very pleased to see a vegan option, as there wasn't a huge deal of options in the shops). We also picked up a few bits for Christmas presents (mainly coffee and wine for my parents). Andy was keen to visit some war memorials so we stopped at a few- all very thought provoking and I don't think you could get more of a contrast from our previous few days.
Autumn leaves seen on my run, and bottom right one of my birthday trees turning beautiful shades of red
Thursday was a chill out/ catch up on housework day- I had a run in the morning and then we just pottered about. I did get on with some jobs outside too, including using the bulb planter. It looks like a big apple corer, and it lifts out the soil, you put the bulb in and then pop the soil back on top. I tried using it a month ago but the ground was rock hard. Now, a different problem- as the soil was so wet it was sticking to the tool. I ended up slightly spraining my wrist from all the twisting and pushing (and had to wear a support thingy for the entire following week, not ideal), so I hope the colour in spring is worth it!
Pumpkin spiced tea latte from B&B, London in the evening and various Crosstown doughnuts shared over the following few days including cinnamon scroll and pb&j.
We had planned to head in to London on Friday for our anniversary (actually Saturday but we had plans for that day already). I thought we were going to have a walk, get some food and then head home. We got some lunch, walked along by the river, bought some doughnuts from Crosstown to take home, walked to Borough market to visit the Bird and Blend store, walked around by Hyde park and then got dinner at a Leon (we are both addicted to their Love burgers). Then we ended up outside a theatre- Andy had booked us tickets to see Frozen! I was so excited! The Disney magic was continuing for the half term.
As we went in they checked vaccine passports, and you had to keep your mask on the whole time, plus it was a huge airy theatre (with fresh air being pumped in) so it felt perfectly fine. I loved the show- seeing live singing and dancing is always fantastic, and this cast was brilliant. The two children being Elsa and Anna at the start (for a big chunk of the show) were amazing, and all the sets, stage changes, costumes etc were so impressive. If you've ever seen The Little Mermaid Show in MGM and wondered how her tail turns into legs, well, there was a bit similar in the show which had us scratching our heads. Olaf was so funny (as my niece had told me earlier in the year, as my sister had taken her) and it was just so impressive.
Of course Saturday was time for parkrun- my 247th. I am really counting them down now until the big 250th- it won't be long! I was running to and from Panshanger as Andy had the car.  When I left home it wasn't raining (although some rain was forecast), but when I was around half a mile from the start it really poured down. I was really cross as when I was running down the track to the start, a car (full of parkrunners) drove really fast through a puddle and the water hit me with a wave- all the way from my head to my toes. I gave them a glare but they seemed totally oblivious to what they just did. Honestly, have some consideration. I tried sheltering under a tree but it was no good- and big drops from the tree were coming down too!
While I was stood at the start, one of my running friends came over (Louise). We used to run together on the Tuesday night runs, and I'd not seen her properly in ages, so we ran around together, having a lovely catch up – mainly talking about holidays! I love that about parkrun- you can bump into someone you've not seen for ages.
It did stop raining while we were running, but I was totally soaked by the time I got home, and spent the rest of the day inside. I was going to do some jobs in the garden but decided I'd had enough fresh air! Once Andy was home we had a speedy dinner and then headed out to pick up my dad as we were off to see Public Service Broadcasting perform in Aylesbury (at a really gorgeous venue by the way). If you don't know them, they mainly use historical audio clips and put them to music- their album Race to Space has audio from the first moon landing etc (Go! is an amazing song- check them out on Spotify if you are interested as they are hard to describe). Anyway, the show was amazing, and nothing like any other gig I'd been to. They all wore white suits (which sounds very boyband) and were stood at the front in a horseshoe shape with all their keyboards, guitars, drums etc. They had a trio of brass instrument players who came on for various songs, and at one point some dancing astronauts came on. There were lasers and lights and videos on the big screens, and seeing them juggle all the instruments was so fascinating. Such a great evening.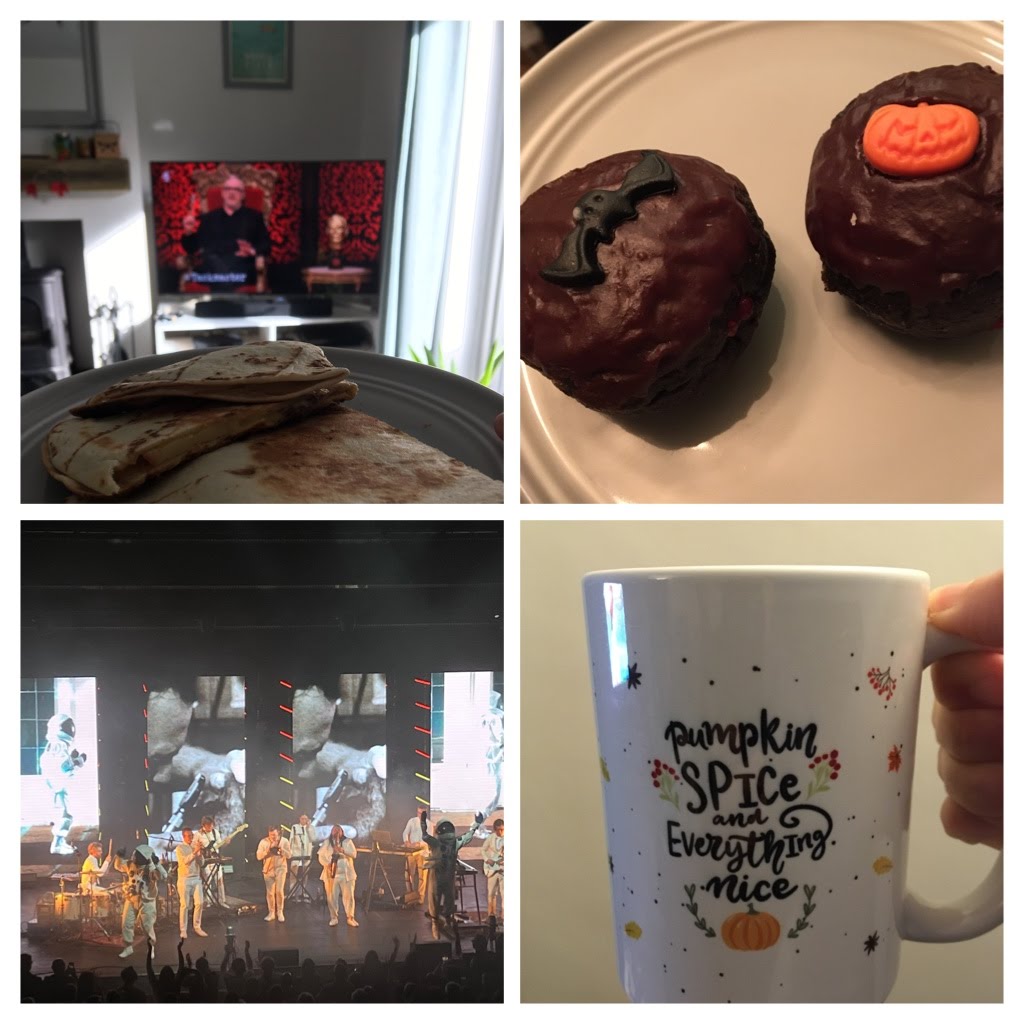 Lunch in front of Taskmaster- mini Halloween dough bites from Crosstown, Public Service Broadcasting and the dancing astronauts, and of course pumpkin spiced mug!
On Sunday morning I made the mistake of looking on Strava and realised I was on 91 miles for October- "only" 9 more miles to make it 100 for the month….
The weather was awful- raining hard and windy, but I thought how bad can it be? I put on my waterproof and off I went. It was OK to begin with, and I decided to run along Cole Green lane (an old railway line) to avoid being splashed by cars. It was OK, but when I was about to turn around a huge branch (a good 3 feet long) fell down in front of me just ahead of where I was. It gave me a massive fright, and I decided to run back along the roads. Only when I came down off the path to the road (to the signposted "all weather route") the road under the bridge was completely flooded- there was no way I was wading through that. So back I went. When I got closer to home I had to go under another underpass- on the way there was a big puddle by the entrance and I'd moved a big stick to balance on, but it had obviously rained so hard during my run that it was totally flooded. I ended up heading up to the road where thankfully there was a way to cross and rejoin the path on the other side. Of course, around half a mile from home the rain stopped and the sun came out. Typical!
But I couldn't have delayed my run any more. My dad was coming by with his car, as we were doing a mini car swap ahead of a long one in a week's time. (They have an electric car too, but with less range, so when they are going away further afield we are going to swap cars so I drive theirs to work, and they take ours on holiday). I was so nervous about it- even though I have driven theirs as a test drive, this would be different. We had a little practise together (eg I drove Dad's car with him in the passenger seat helping, and then he drove our car) before he took ours home.  His is slightly more complicated but still way easier than a manual car, and I was much happier once I'd had another practise later in the afternoon.
I treated myself to watching Frozen in the evening, to continue the Disney magic right to the end of half term!
Are you happy to run in the rain? I don't mind the rain, but I hate being cold, and often once you get wet you get cold and just can't warm up again.