Hey guys
It's that time again- thanks Jenn for sorting out the WIAW party!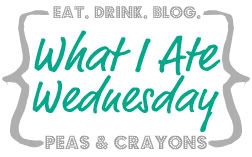 The day I chose this week was Tuesday. I was still getting over the little bug I had- I think I had some kind of virus as all day Monday and Tuesday I had a sort of headache (when I moved, a bit like a head-rush) and my neck was really stiff. Picking up bugs from the children is a hazard of the job. I was still avoiding dairy as after being ill I always have it in my head to leave that for a little.
Breakfast– apple, rude health muesli and almond milk (unsweetened and it is amazing).
Snacks all packed up;
Nakd bar for morning snack, and Eat Natural mini bar for the staff meeting.
Lunch:
Hummus and roasted pepper sandwich, nectarine and pear. And my big water bottle. 🙂
Dinner:
Roasted sweet potato (in the microwave, sorry!) with hummus (I meant to try it with almond butter but turned out I must have finished my jar), and some veggies and basil tofu with tomato and a tsp pesto. I was supposed to have some salad too but it had gone all squishy.
Plus some tea:
(Mainly an excuse to put on a photo of my teapot as I have not had one on here for ages! And our cute cups- mine is the chicken one)
Pre-gardening snack;
A row of Mint Rawr chocolate (soooo good- the perfect amount of mint)
And an evening snack;
Alpro dark chocolate, some of Lizi's granola and a little white chocolate wonderful (which on reflection was not needed as it was very sweet and a bit too sweet for how I was feeling).
Mint tea always makes it better 🙂
I usually go to aerobics on a Tuesday, but I was still feeling so tired from being ill, and my neck was very stiff so I thought all the jumping about would make it worse. Plus I lead a row so I can't really hang out at the back and take it easy. So instead after work I walked up to the allotments to plant some leeks my Dad gave us, and to cry at all the weeds growing back! It was nice to get some fresh air but only gently!
Oh and why the cheese free I hear you all wonder (and if you don't well tough, I am going to explain it anyway). On holiday I felt like I ate a lot of cheese, as it was often the veggie alternative. I also can have a bit of a cheese overdose feeling, where I get really sick of it and start to hate the smell and everything if I have it too much. So I decided to have a few weeks without cheese to focus on other forms of protein. I often put cheese on pasta, but (even with Andy having it on his) I have avoided it and my meals have still been tasty. At lunch times I was getting in a rut with my cream cheese and roasted pepper sandwiches, so going without cheese has meant I have had to get a bit of variety with salads, hummus, nut butters, quinoa and things like that.  I don't think I would go vegan, but it has made me realise that actually I would manage alright. I would miss goats cheese though- I don't have it very often but I do love it.
Any cheese lovers out there- what is your favourite cheese? Vegans- do you miss cheese or have you found good replacements? (Or never liked it in the first place? I never liked meat so never feel the need for a meat replacement as I don't tend to like those either).