Hey peeps. Gosh half way through half term already- doesn't time fly when you are having fun?
Last night (in case you missed it) I went to see Ash play in London. They have always been on of my fave bands, and I have seen them several times- I even did my first crowd surfing at an Ash gig (and we saw them supported by Coldplay who just before playing "Yellow" said "this is going to be a massive hit"- how right they were)! This gig was Free All Angels (one of their albums) so they played the whole album (which was weird as there are some brilliant tracks, but some not so brilliant ones)- they totally funked up Submission which was very cool. Charlotte was back as a special guest (she joined the band when they did A Life Less Ordinary and Nu Clear Sounds and I love her- she is so cool!)which was brilliant as she adds an extra guitar to the mix as well as lovely vocals. Then they had a break (can't take the pace?) and played a sort of best of (Oh Yeah, Life Less Ordinary, stuff like that, although nothing off their First album – I was hoping for Petrol ), went off and came back on again, for a couple more songs including Kung Fu
(which has the coolest single cover ever in my opinion- check out that link if you want!). Anyway it was brilliant, although my ears were ringing so much! I used to go to gigs all the time- think my ears are already damaged from that!
Anyway, it is time for WIAW!
Thanks to Jenn for hosting the party. If you have not joined in, then check out the how to.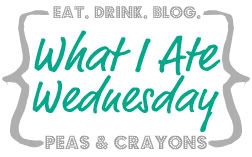 I chose Sunday as my day this week. It was a rest day, as on the Saturday I had run 10 miles. I did have a nice walk in the afternoon and the weather was so warm.
Breakfast;
Pumpkin pancakes- these did not turn out well- too squidgy, although they tasted fab. With some apples cooked with a little pumpkin puree and spices. Topped with whole earth caramel chocolate swirl spread. (Red onion squash out ready for later)
Lunch;
Rice pudding (flaked rice cooked in Kara coconut milk) topped with more cooked apples + pumpkin puree mixture. I think (?) I had a slice of toast too, maybe with hummus? And a pear. I think! Yeah let's change the name to what I think I ate.
Post walk Snack;
One of the almond date fudge bars. So delicious- make them now!
Dinner;
Red onion squash and chickpea stew, topped with goats cheese and served with sweet potato fries. Sooooooo good!
I also had some mint tea and a mini pumpkin pie cheesecake thing.The cases stained the pie mix though- not so good.
So I basically managed pumpkin/ squash for breakfast, lunch, dinner and a late night snack! 🙂
Do you have days when you get obsessed by a particular ingredient? I could happily have apples for breakfast, lunch, dinner, snacks but I try to get some kind of variety!
Do you love going to see live bands? I used to be obsessed- living close to London meant we could go to see most bands when they toured- I love it when bands change up and rock up the songs live- I saw an amazing Foo Fighters gig where Dave Grohl went and did an awesome drumming solo which went on for about 5 mins and was amazing (he used to be the drummer in Nirvana) and then the most rocking Muse gig at a tent at Reading festival. I just love it when they rock or change stuff up- I would much rather that than just hear exactly what it sounds like on an album- I could just play it loud at home. 🙂