Wow it is that time of the week already! Hooray for Jenn for organising the party.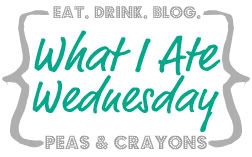 This week I chose Saturday as my day.
Breakfast;
Date and cinnamon porridge (as part of my quest to pimp my porridge). Then I went on a run so this was also giving me some energy.
Post run snack;
Chocolate cherry almond bar from my blog swap with Errign, and some peach and mango coconut water.
Lunch;
Cinnamon and raisin bread with organic crunchy pb, and lots of watermelon. Back on those summery fruits with this hot weather.
Afternoon snack;
I only had one haha! One carrot and raisin cupcake 🙂 I had a friend over (was supposed to be friends but others were ill) which is why I put these out.
Dinner;
and
Half a huge sweet potato with almond butter (thanks Errign) and rocket, and something new from my Graze box– apple dippers with caramel sauce. How have I never tried this almond butter combo before? It is amazing!
Evening snack;
Ecomil chocolate almond dessert (amazing!!!!), cherries and a little granola dust (the end of the packet!).
I was not doing very well with veggies that day! Ah well, can't have everything.
Please check out my giveaway to help me raise sponsorship for Cancer Research UK. Do you have any good fund raising tips?