The Pink Whisk November challenge is to make a tray bake recipe- for all those charity fund-raisers that happen at this time of year. I have had a few people request the recipe for the vegan pumpkin spice cake, and even though I can make it in the individual cake tin tray, I generally make it in a brownie pan and slice it up. I thought a vegan recipe would be good as with dairy allergies and things like that it is nice to have something at a bake sale that appeals to those specific diets. I have also made it gluten free (once) by using quinoa flour.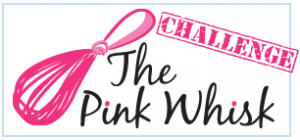 My recipe is based on the Sweet Vegan recipe, but I have reduced the oil, changed up the spices and made a few other modifications.
You will need
260g plain flour (I use 130g white, 130g wholegrain spelt, or use all quinoa flour for gluten free- rice flour may work too)
240g soft dark brown sugar
 2tsp baking powder (Dove's Farm is gluten free)
1 tsp bicarb (again Dove's Farm is gluten free)
2tsp cinnamon
1 tsp ginger
1 tsp mixed spice
1/2 tsp grated nutmeg
50ml rapeseed oil
1 tsp vanilla extract
420g pumpkin puree (one tin of Libby's from Waitrose or Ocado)
150ml milk (I use soya, but almond would work, or dairy milk)
3tsp ground flax seeds mixed with 4 tsp warm water (this replaces the egg- I have made this non vegan using an egg and it was still lovely)
Preheat the oven to 170C, and line a brownie pan with baking paper.
In a large bowl mix the flours, sugar, baking powder, bicarb and spices.
Then add the oil, milk, vanilla, pumpkin and mix until well combined.
Add the flax seeds in water and mix gently to combine.
Pour into the baking tray, and bake for 40-55 minutes. It is a very moist cake but a skewer should come out clean when it is cooked.
Leave to cool before slicing (and then selling at a bake sale!).
Optional- top with spiced cream cheese frosting (use a vegan cream cheese if you want to keep it dairy free). 100g cream cheese mixed with 200g icing sugar, 1 tsp vanilla and a tsp cinnamon. Low fat cream cheese will go very runny, so if you want to use it (I do sometimes) then add 1/2 tsp xanthan gum (again from Dove's Farm) which will thicken it up.
These are sooooo good- they are gently sweet, and the spices are lovely and warming. Don't take my word for it though, have a go at baking them yourself! 🙂