Morning peeps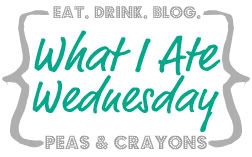 It just does not feel like a Wednesday here- not sure it feels like any day at the moment. Having no routine just means all the days merge. But hooray because thanks to
Jenn
it is time for the midweek party to celebrate/ be nosy about what everyone has for their food.
I think (because all the days merge) I chose last Monday, a couple of days after I got home from hospital. Sadly porridge is not agreeing with me right now- I should not have had it in the hospital as now it reminds me of that. Hmph. Hopefully in a few days I will be back to it. I also had a bit of a dodgy tum my last day in hospital so was wanting more crunchy foods. Plus I get really full really quickly at the moment, but then hungry soon after- think when my stomach gets full it might press on the cyst? Anyway, less rambling, more food pictures!
Breakfast: 
Seedy toast with rainforest nut butter and blackcurrant spread.
Lunch:
Tomato soup (good old Heinz not home-made!) and some tomato and goats cheese flatbread.  Plus 2 clementines- so delicious.
Afternoon tea! My favourite!
Gingerbread spice tea! So yummy!
Dinner:
Pasta with red pesto, veggies and cheese (I did not manage all of this as I got so full though).
Dessert: A bit later on.
Baked apple with raisins and caramel alpro.
Do you have foods that remind you of being ill or foods that you feel make you feel better? For a long time, weirdly, tomato soup reminded me of being ill so I would never eat it when I was not unwell, but now it makes me feel like I am getting better.  I always feel that citrus fruit help me with a cold- a bit late with the vitamin C once you have the cold but it helps my brain believe I will get better- placebos are proven to work even when people know they are placebos after all!