Hey all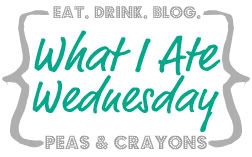 I have not got around to joining in with
WIAW
for ages and ages! For some reason getting back into the swing of work has thrown out my days even more, and by the time I am reading the posts from Wednesday it is too late. Ah well, I did it this week (Tuesday).
Breakfast:
Lovely overnight muesli (blueberries, muesli, almond milk, almonds and some alpro pouring yoghurt which I bought to try this week)- covered in cinnamon, plus iced mint tea, well, chilled, not iced!
Lunch and snacks:
Crunchy pear, juicy watermelon (sounds like the hungry caterpillar or something), pumpkin seed ryvitas and chocolate philadelphia. I bought it but I have no idea why as I didn't really like the sound of it! It is OK, but not that nice- I might use the other tubs for icing or something to use them up.
Dinner:
I made a massive salad- I have been having these a lot recently and making loads so I have them cold for lunch for the rest of the week. I roasted some sweet potato, yellow and orange pepper, courgette and beetroot. I had this with spinach leaves, roasted pepper from a jar, balsamic, tomatoes, lentils and hummus. Delicious!
Dessert:
One square of this- me and Andy have been very restrained only having one square each- but it means that if I had an extra one it would make us uneven! I can recommend this anyway (and it was on offer in Tescos – 2 for something anyway).
We were planning on going to the cinema, as we had Tesco vouchers that ran out at the end of May, but we could not find anything we really fancied, and when we checked they actually run out at the end of June! So we walked up to the allotment instead. Shame because I had already packed this:
Will have to save those peanut butter beauties for another time. 🙂
The beetroot totally stained my fingers pink! I had been scrubbing and washing them but it took so long to fade!
Late night nibble:
Fresh apricots and a persimmon- so tasty.
I am off to the Sweatshop running again this evening- I am sort of excited but also now I know how hard it will be (and not a run/walk!) I am a bit more nervous about it too. Ah well, I know I can do it.