When we went to the Hummingbird Bakery, one of my friends said she normally got a graasshopper bar, but they didn't have them this time. When she described them, they sounded amazing- a chocolate base, a minty filling and chocolate on top. I fancied making some, but after a lot of searching I mainly found recipes for grasshopper pies. So I made my own.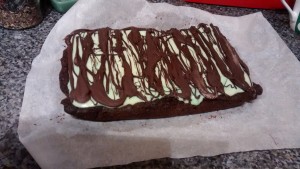 I have a good brownie recipe, but it goes very squidgy, so I used one instead of two eggs to make the batter a bit less liquid.
(Melt together 100g butter, 175g caster sugar, 25g dark chocolate, 1tsp golden syrup, 1 tsp vanilla extract. Leave to cool. Beat in one egg, and sift in 100g plain flour and 25g cocoa powder. Pour into a brownie pan and bake for 20-25 minutes, until firm).
To make the filling, I warmed 200ml cream (I used alpro cream because I had some, but normal would work too I am sure) until tiny bubbles appeared. I put 200g white chocolate in a heatproof bowl, and poured the warm cream over it. I stirred it until the chocolate melted, and then added a tsp peppermint, and a little green colouring. I put this in the fridge to cool while the brownie base cooled.
It does look a bit lumpy at first, but I promise if you stir gently it will all melt and go all thick and gloopy. Not a good recipe word, but that is how it is.
After spreading the cooled mint filling over the base, I melted 100g dark chocolate and drizzled this over the top, although that turned out to be an awful lot, and I think 50g would have been fine.
Mmm I just love the chocolate and peppermint combination- I already want to make them again!
Have you ever had grasshopper pie?  Weekend plans?
I shall be parkrunning in the morning- hooray!