So after a few days with fairly long drives, on our first day in Vik we stayed close to home. It was drizzling a bit, so we wrapped up and walked down to the black sand beach.
That little church in the distance looked down on the town and out to sea. The mountains were hazy with the rain.
The black sand was very impressive, and so soft, almost like powder.
Further along was a statue for all fishermen- there is an identical one in Hull, as it celebrates the trade between the two places, and honours people who spend their lives in the Atlantic.
We walked a fair way, and could see the jagged stones jutting up into the sea (they were trolls that were towing a boat to shore, but the sunlight turned them to stone before they reached land). The contrast of the white snow and black sand was impressive too.
We then turned to walk back to our hotel, and realised that our backs were soaked. The rain had started off being misty (more like we were in the cloud) had got harder, and was pretty much sideways. We had been walking on the beach for over an hour, so headed back for some hot chocolate.
Any of my hair that had been poking out of my hat or hood was soaked, and somehow my coat had leaked a bit at the elbows. Plus my jeans were soaked through. We knew that around the headland was another interesting beach, so we braved the weather and drove there.
It was so windy there! At one point I was being pushed along so hard I was running and bracing against the wind at the same time! It had these amazing stone columns, and caves all along the beach.
The waves were immense too- we had been warned not to turn our back on the sea as they can sweep people away.
In the summer puffins nest there, but we were too late for that. We were soaked and freezing (to the point where my hands were shaking) so we went to the cafe for tea and cake to warm up, and to brave the walk back to the car!
After that, we were finished for the day! We spent the late afternoon warming up, reading and relaxing, before heading out to dinner. There was a restaurant in the town that made home-made pizzas (and actually even had a veggie burger on the menu) so we walked there (in the rain…) for a very nice dinner.
The next morning we were up early (before the sunrise) as we had a long drive ahead of us.
Our hotel did do breakfast, but it was fairly pricey, and we had bought some mini cinnamon rolls from a supermarket before driving there, so a couple of those with some tea was our breakfast every day.
We had about a 2 1/2 hour drive, as we were going to the south-eastern point of Iceland. We stopped on the way to take photos of glaciers. At points we were driving across huge lava fields, and we saw hardly any traffic (or buildings, or petrol stations…)- the isolation reminded us of when we drove through Nevada, and the scenery was like Big Island in Hawaii. Amazing.
As we approached a car park we could see these huge icebergs poking up above a mound by the side of the road. This was what the long drive was for.
Here, in Jökulsárlón, icebergs break off a glacier and float out to see. The range of colours was just amazing- some were such a deep blue, others as clear as glass, some frosted and misty, some smooth, some textured, some with dark grey streaks from volcanic eruptions. In the silence you could hear drips and the occasional crash as ice sheared off larger icebergs.
I found the ice!
After a hot chocolate in the cafe (there is a bit of a theme to this holiday it seems) we drove to the other car park on the sea-side. (Seems lazy, but you could not walk between the two car parks as they were on opposite sides of a one-lane bridge)
The black sand beach was strewn with ice. We walked for a long way up the beach, taking many many photos!
We saw a few seals swimming in the water too. We probably spent nearly 2 hours here, so it was well worth it.
When we returned to Vik, it was pouring with rain, so we had a tea in the hotel bar before heading out to dinner.
On Thursday we were driving back to Reykjavik, this time staying in the centre so we could see some of the city. We had wanted to visit The Blue Lagoon, and although most people do that on their way to or from the airport (it's between the airport and the city) we decided we didn't want to pack wet swimming things, and also didn't want to worry about the time it would take to change, return the car etc, so we did it on our penultimate day.
Rain was forecast, but when we arrived it was clear. We had booked for 1pm as we had about a 3 hour drive, but we arrived a little early and were let in just fine.
I had read reviews before I went, so I was prepared for a few things: We didn't want to waste luggage space on a towel, so we booked the second option which included towel hire, a drink, and a skincare pack. I wanted a bathrobe too, but in the end I was fine without one. I had packed a colourful bag for life, and we used that for our towels. Of course, all the towels you hire are the same (dark grey) and they have a good system, with numbered pegs, but I had read a lot of people muddle them up, or forget, and I wanted to keep my towel dry for getting dressed after, so we hung our towels in the bag for life, which as well as meaning they were not mixed up, kept them dry when it rained and hailed (yes).
Now, I am not one to use communal changing rooms, and I knew they had a few individual cubicles, but I thought I might have to queue, but no, as soon as I arrived the first one I saw was empty. They do insist that you have a naked shower before you go into the water, but as well as open showers again they have some with doors, and when I arrived that was fine. I had read on the FAQ page that the water dries out your hair, and although they have hair dryers I didn't want to wash my hair there, so I tired it up, although it was so windy that a lot of strands did get wet (I should have worn a sweatband style thing). I wished I had a shower cap in the bag with our towels, because the shower heads were on the ceiling right in the middle of the cubicle, so it was hard to turn the shower on without getting wet hair!
The worst bit was waiting for Andy to change (turned out he was upstairs and I was downstairs)- as I had my shower and although I was waiting inside, the door kept opening and letting the cold air in. It wasn't too many steps to the main pool, and then it was so lovely and warm.
I didn't use any of the mud stuff on my face, but plenty of people were. Your entry includes a wrist band which opens your locker, and also serves as a wallet so if you buy anything, you charge it to your wristband. Our entry included drinks, so after enjoying the warm water and going to the sauna for a bit, we went to the bar- you stayed in the water and just reached your arm out for them to scan your wristband. They only served cold drinks though- I fancied a cup of tea, but had a blueberry smoothie. This was good but you had to hold it out of the water so one hand got really cold! It then started raining, and then hailing, and we had been there for nearly 2 hours, so decided to head back inside. There was a big queue for the showers at this point so I had to stand about shivering for a bit, and in the end opted for an open shower and just kept my cossie on.
There was shower gel and conditioner in the cubicles, and the changing room had an empty cubicle so again I headed in there to change.
Then we drove into the city centre, checked in to our hotel and went out for some cake (well, we hadn't had any lunch, so a chai latte and half a lemon muffin was our substitute…) .
Then we had a lovely wander around as the sun was setting, before finding somewhere for dinner we went to The Laundromat Cafe, although there were lots of places with good veggie options (including Glo, the place Anna went to which sounded amazing).
This was vegan toast- basically toast with home-made hummus, home-made beetroot and date chutney, baked aubergine, salad, seeds and cashews. They had a veggie section on their menu so I could have a pretty good choice. Plus, the tea was loose leaf and came in a pot!
Another wander before heading back to our hotel.
For our final morning, our hotel included breakfast, so after that we headed down to the water for a lovely walk.
There was a cycle path next to the pedestrian path, and it went as far as we could see around the bay.
We walked to this sculpture of a boat just as two coach parties arrived- although their driver was rather impatient and started the engine after a few minutes!
Then we walked to the large concert hall.
And then back into the town.
I loved the little colourful buildings.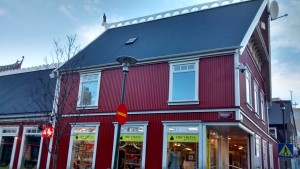 We even found this handy map which showed us just how far we had travelled- the icebergs were on the bottom of the big ice cap on the right.
Then it was time for us to check out, head back to the airport and head home. Even the airport food was good- they had a Joe and the Juice, so I had a lovely sandwich with really nice thin crispy bread- avocado, tomato and mozzarella, and we shared a fresh juice. Mmmm.
That is mostly ice, not cloud in the photo. 
We even had amazing views out of the plane window (and I enjoyed the plane journey even more because we bought those tickets using air miles).
It was a brilliant trip. I would love to go back and see some of the north/ east areas, and I think going in warmer weather would be good- more wildlife and different views again. We didn't get to see the Northern lights- on clear days it was low solar activity, and on the higher activity days it was cloudy where we were. But that's just another reason to go again.
Also, I was expecting it to be really expensive, but I was pleasantly surprised. It's not cheap, but also it isn't too bad, and nothing compared to Norway (I think one small piece of cake in Norway was about £9!). Most places where we bought a hot drink each we spent about £5, which for two hot drinks isn't bad. Our hotel meal cost more, around £35 I think, but then it did include free bread, and Andy had a beer. We got cash out at the airport, and spent it on drinks, but even the remote places we went to accepted cards, so I think we could have managed without any cash at all. So, if you are tempted, go! But maybe bring waterproof trousers if you are going in the winter (or just a ski suit).