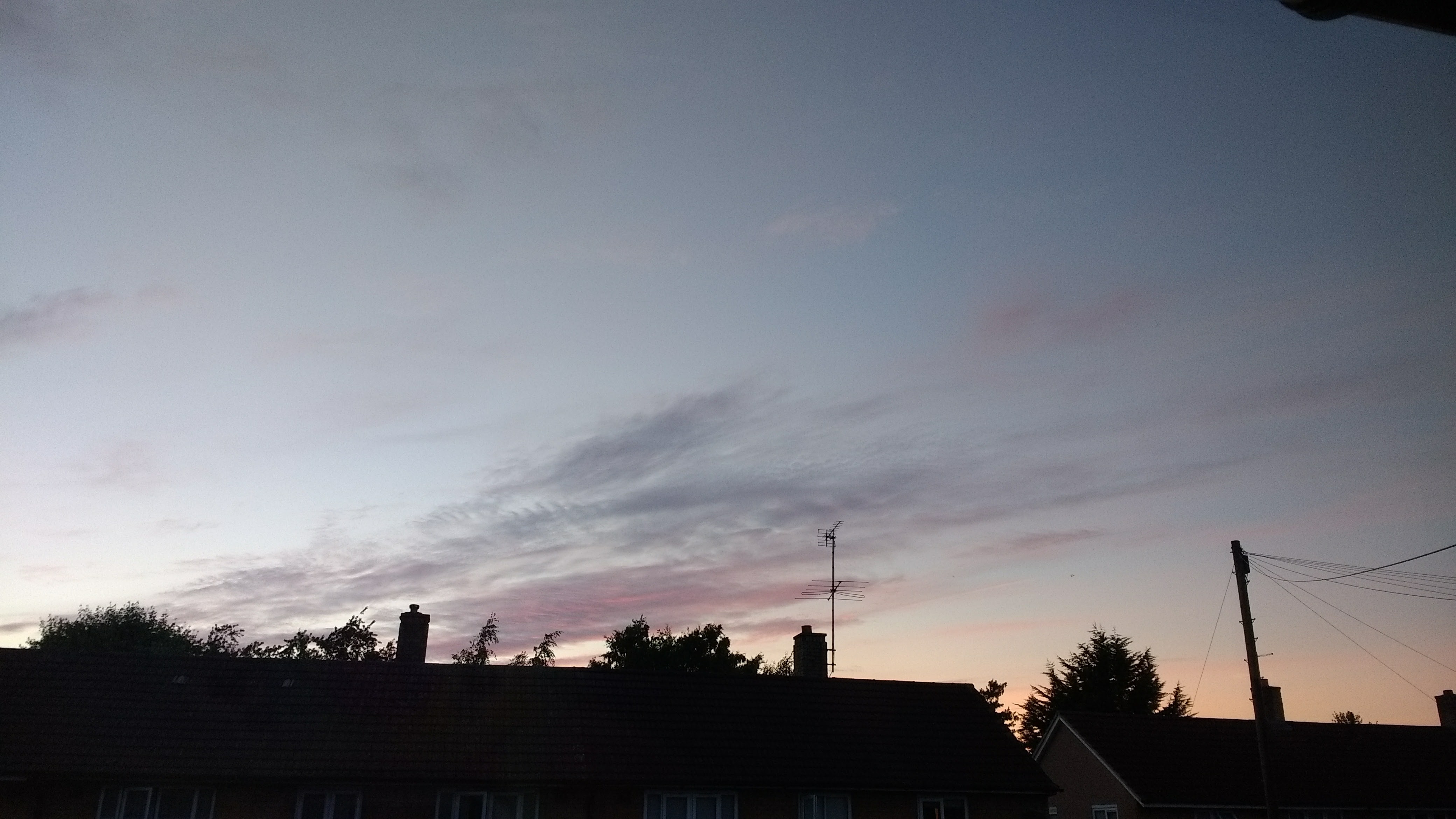 Last Wednesday it was the last yoga session (for me) of the term- they don't run in the holidays and next week I am doing a race on Wednesday evening. We were back inside as it had rained a lot (we did a 5 mile run the night before and got rather wet, although not as wet as during our 8 miles from a few weeks ago). On my way home the sky was an amazing lavender colour- just perfect.
On Thursday evening we went to the cinema to see Baby Driver, which I really enjoyed. I loved how it focused on the music, and it just seemed like a great action film (however, prison has not been kind to the Reverend Richard Wayne Gary Wayne…). I think the last film I saw at the cinema was Guardians of the Galaxy which seems like ages ago now.
On Friday we watched the Beauty and the Beast remake. Now, I am not a huge fan of the original- I was never a Cinderella/ Belle/ Sleeping Beauty person- give me The Lion King or Little Mermaid or Jungle Book any day. So maybe I was not the best person to watch it, but I just couldn't help thinking all the way through "I could be watching the cartoon version" (or even better, I could be watching Moana…). The new Jungle Book was brilliant- I loved how they used the songs in a different way, and the child actor was amazing. However, this was so meh. It was also so long! My patience ran out in the end.
I decided to go to Panshanger parkrun on Saturday-barcode scanning there last week reminded me how beautiful it is, and I had to be back fairly swiftly as we were fireplace shopping and had afternoon cinema tickets- it's only a 5 minute drive compared to Ellenbrook's 15.
I got there fairly early as the parking can get busy, so I had a bit of a run through the field first.
Thankfully it was a bit overcast as there wasn't much shade! I enjoyed the run- I started fairly near the back as I wanted to run on Sunday too, and I have not run on consecutive days since May, as I have had a bit of a sore heel on and off.
When I finished (30.09) there was a pretty big queue at the barcode scanning although I didn't wait for more than a minute. I ran back to the car and as I got there it started to rain.
I have decided to stop buying white running socks as they always get stained with mud. These are some Balega socks- I got them from Wiggle as I was buying some nuun tabs so thought I may as well.
I think the orange goes with my shoes too!
After a shower and breakfast we headed up to another fire shop to look at yet more wood burners- hopefully we will make a decision soon! We had to be quick as we had tickets to see The Red Turtle at the cinema in St Albans. It was a beautiful film, but despite it being animated it didn't seem that child-friendly. Someone in the cinema was having an 8th birthday party and it didn't seem to be their cup of tea as they were talking the whole way through….if only the parents would read the synopsis before booking tickets.
We followed that with a walk into town and back to the car (miles of walking via a new bakery to buy some delicious apple sourdough bread for dinner, and my breakfast for Sunday).
On Sunday I fancied another new route- I mapped one out that said it would be 7 miles.
I found this pretty pond on my way.
I also found a very big hill- the top of it was the other end of the Ayot Greenway (the old railway line I found the other week), so I got to run downhill in the cool woods to recover.
My route finished by heading through town, and the "Tour De Welwyn" was going on (lots of cycle races). The whole of the town centre was closed to traffic, and when I was there, there were kids races going on.
I watched a few whizz by before finally heading home after nearly 9 miles (slightly inaccurate mapping from me)!  I'm pleased I have found a new route though, and soon I am going to be the boss of that hill!
I'd put a nuun tab in some water in the fridge before I went out, so I sat with it in the garden, watching a bird peck about in the flower bed. A shower to make me feel more human again, and then what I was looking forward to- breakfast!
Not just any breakfast, no. This was a chocolate almond croissant (heaven), plus raspberries and blueberries with fresh mint. And of course a massive mug of tea (Teapigs chocolate flake tea)- treat yo-self indeed.
After speeding through my list of jobs, I walked into town, watched yet more cycling and then somehow managed to hurt my shoulder – I think by carrying a too-heavy bag on the walk home.
I was very excited to find these Pulsin bars in stock in the little health food shop- the peanut one sounds so good.
The good news was that my heel felt OK after running two days in a row, but the bad news was that my back was bad- I ended up doing about 30 mins of yoga in the evening to try and stretch it out a bit.
Do you like hill running? Although they are tough, I don't mind them so long as I don't finish on a hill. What have you seen at the cinema recently? Have you seen the new Beauty and the Beast?