On Sunday I was due to run the Bright10, a 10 mile race in Brighton. I've run it the past 2 years and we've usually stayed in Brighton for the weekend, but this year we could not find any affordable hotels. In the end we booked to stay in Arundel, which is about 20 miles away from Brighton, so we could drive in on Sunday morning. As it's in the South Downs we could have some nice walks on the Saturday too. We hadn't booked anything for the Friday night, but Andy had a look and amazingly found a hotel "near to that parkrun that you always want to do"- Bushy parkrun!
So on Friday night after work we drove in to the Premier Inn in Kingston upon Thames.
On Saturday morning I had around a 1.5 mile run as a warm up- I had to run through Kingston (and only got lost once), over a bridge, to the edge of the park, and then along a straight path to the centre.
I was rather excited!
Once in the park I was amazed to see stags (and hear them bellowing)- there was a sign on the gate but they were so close to the path. They were all being followed (rather closely) by people in camouflage with ridiculously over-sized lenses on their cameras.
This was where the run started
I didn't see that many runners on the way, (they must mostly come from a different direction) but once I reached the middle of the park there were people everywhere and all spread out. I'd worked out one group of people were waiting by the toilets, so as I wandered around looking for high-viz people or a start sign, I was a lady walking along with the new runner briefing sign. There were of course lots of new runners- particularly groups from running clubs on organised trips, and even a few brand new parkrunners. They told us about the famous "double funnel" which Southampton also has (and probably others, but that's the only one I have been to).
With over 1000 runners it was no surprise that they had a proper speaker (perched in a tree) for the main briefing- I couldn't see where the RD was at all, but it was quite a funny briefing (warning us that the deer could run faster than us..).
The start was very wide so even with 1233 (why not one more for 1234?) runners it didn't feel too busy. I didn't want to go too fast as I had the race the following day, so a little later when I saw a stag sitting in the grass I ran to the side and took some photos.
You can see the runners in the distance as we ran past the deer and then turned left at the end of the path.
The run was so enjoyable- it's a very flat route and wound through the park, through bracken and fern, running alongside a road briefly before finishing by a lake. There were plenty of marshals out, and I enjoyed spotting some vintage parkrun t-shirts (I saw a few of the black and gold 250 ones).
As I was finishing the funnel manager was shouting at the guy a few people behind me to go into the left tunnel (I had to stay right)- the person behind me was given a letter (Q- they start at A)- so when we eventually got to collect our tokens (about 10 minutes later) they knew to switch over to the other side. All very clever.
I was number 745- my highest (lowest?) placing- I think I've only been to one with over 700 runners before.
After having my chip scanned I didn't hang around as Andy was going to meet me in the park (and it finished in a slightly different place which of course confused me).
I ran a little way but then he'd managed to walk nearly to the start so we walked back together.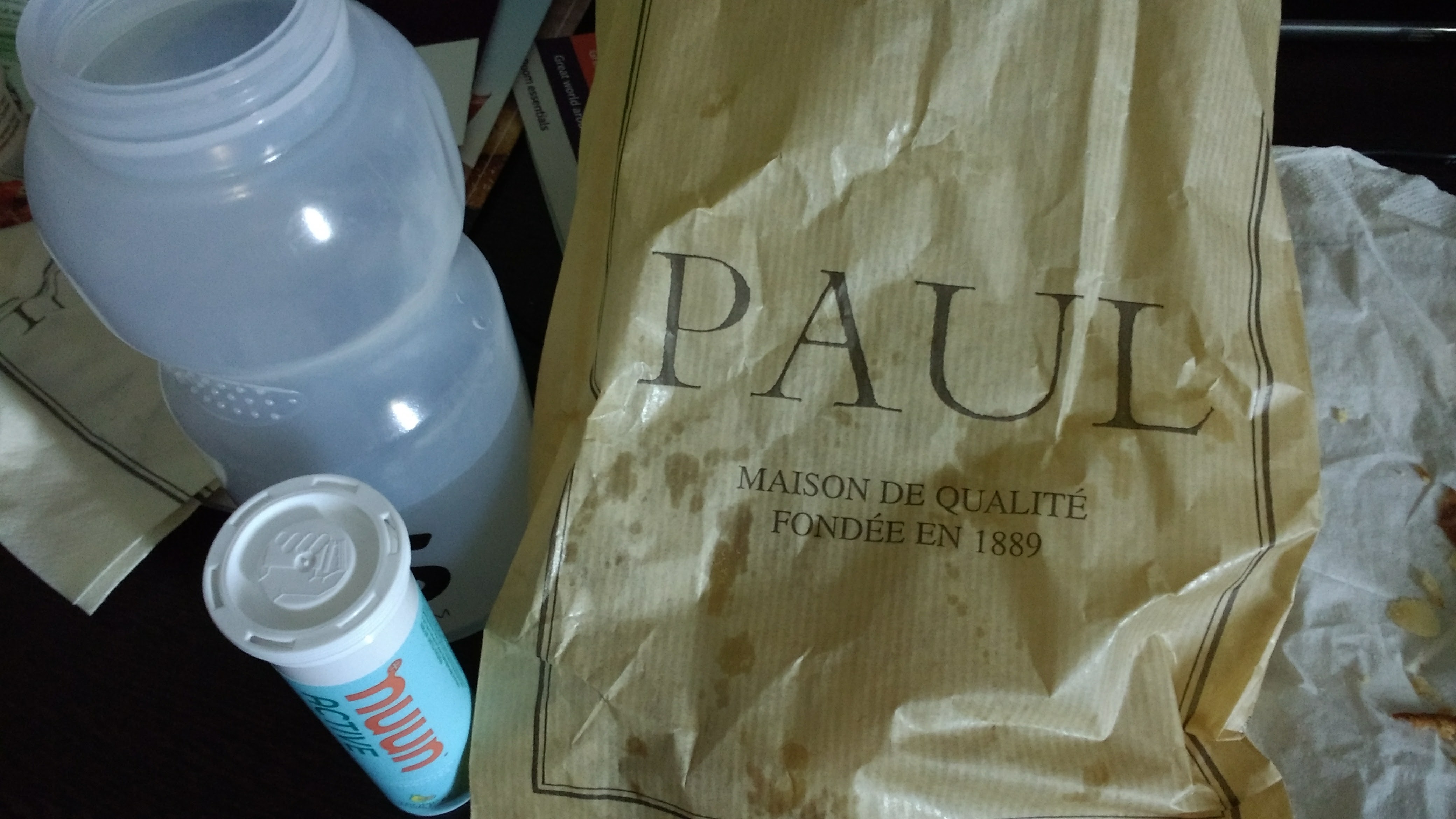 As we walked back through Kingston I popped into Starbucks to get a drink to take back to the hotel- Andy had bought us chocolate almond croissants for breakfast.
So, Bushy parkrun- what a great one to visit- one lap, deer, flat course, not too crowded…. My time was 28.52 (26th in my age cat- there aren't usually 26 in total in my age cat!) and I was pleased to manage negative splits of 9.22, 9.08, 8.59, 8.28.
Then we were off National Trust walking, so I'll save that for later.
Have you been to Bushy parkrun? What is the largest parkrun you've been to?