So the first thing I did was have a run on Wednesday morning- of course! I could actually go out in the light (just about). When I got home I did 30 mins of the yoga "homework" (along to the soundtrack of Muppets Most Wanted) while I waited for the water to heat up. I couldn't linger too long as I was meeting a friend for breakfast at The Waffle House. After breakfast we walked up through the park to have a look at the (teeny) St Albans Christmas market. I spotted a few more of the nutcrackers.
I have some of those decorations made with dried oranges and cloves and things, and there was one stall that sold them, and also little bottles of refresher oil. I have added a few drops of orange oil to mine before ( as they are a few years old) and as the oil was on sale I decided to get some as it is a mix of the different scents. On my way home I popped in to see Mum and Dad, and then once home I decided to put the oil onto the decorations. It came in a tiny bottle (just like the essential oils) and so I assumed it had a dropper (and how many times have I said the saying "to assume is to make an ass of you (u) and me"?)- wrong call. There was no dropper, so I basically poured half a bottle all down the Christmas tree. As I'd already put presents under the tree I had to kick them out of the way (nothing breakable- phew) and then spent ages mopping it all up and wiping it off the tree. Argh! The smell was so overpowering I had to open the porch door!
On Thursday I had a slightly longer run in the morning (6 miles maybe), and then after a bit of pottering at home (er, watching Kirstie's Handmade Christmas while I did some wrapping as our box was down to 7% which was making Andy anxious) I walked into town as I was having my hair cut. I didn't really think it through- the appointment was at 1.30 and it takes a good hour. Andy's parents were coming at 4pm, and the walk home is around 30 mins. As I'd left at 12.30 (I needed to go to the post office first) I hadn't had lunch, so by the time my haircut was finished I was really hungry but also needed to walk home before they arrived. I could have bought something in town but that would have added more time, so in the end I had a couple of crumpets when I got home at about 3.30- just in time!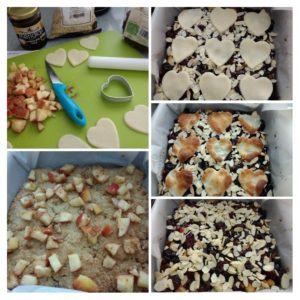 I'd made these mincemeat slices in the morning so we enjoyed a piece with a cup of tea (basically it's a base from a caramel shortbread, topped with mincemeat, apple, flaked almonds and marzipan hearts)- very tasty.
On Friday I finished decorating the Christmas cakes and walked around to the local shop to get photos taken for a passport.
I went for a penguin theme this year- I used cloves for the eyes so they look a bit like they are wearing star shaped sunglasses!
Then we walked into town to get the train into London. After leaving our bags in our hotel we walked over to Covent Garden and enjoyed looking at all the Christmas lights. We had a lovely Christmas hot chocolate (with nutmeg and cinnamon) from Host coffee in Covent Garden, before walking to Trafalgar Square and along by the river for a bit.
After a quick dinner in Leon it was time for the main event- Hamilton. We've had tickets for what feels like ages, and seeing the recent Curb series has just added to the anticipation.
It was brilliant- I am glad we didn't listen to the soundtrack before we went as I think that would spoil the story and surprises. The performers were just amazing- it's pretty intense dancing that they are doing fairly constantly. Anyway, well worth the wait.
Although we live close to London (25 mins ish on the overground, then either a drive or 30 min walk back from the station) it was so nice to be able to go a few stops on the tube to the hotel. Of course, this meant I could visit a London parkrun too, but I'll save that for another day.
Do you like going to see shows? I think the last one I saw was The Book of Mormon.