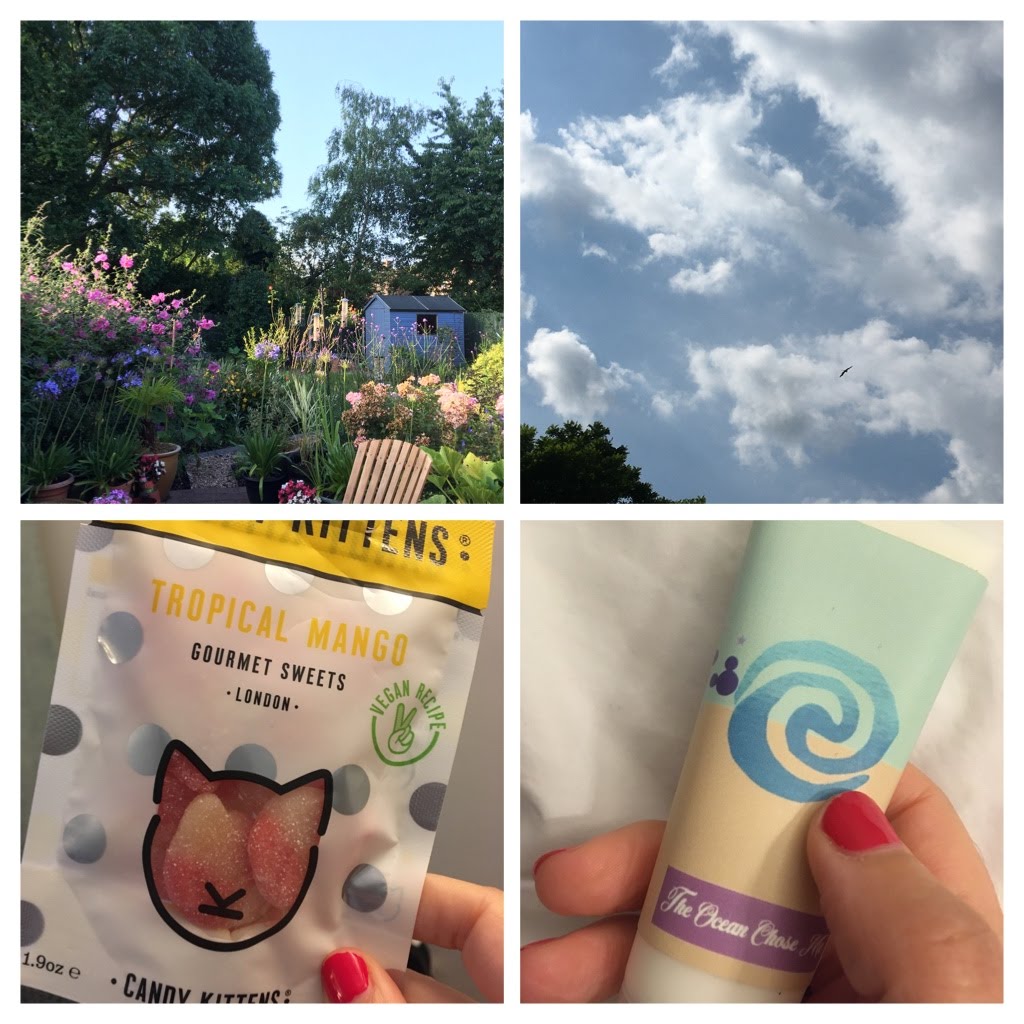 The end of term tiredness was creeping up on me and so I very much appreciated a sugar boost in the form of Candy Kittens.
I celebrated my second vaccine+2 weeks this week, and although I know that it isn't 100% effective, it does give me a bit more confidence with going to a few more places.
We had a few evening walks once it was much cooler. I was glad of my routine of running first thing, as after work it would have been absolutely awful to run in the heat. Runs went:
Tuesday- 4 miles
Wednesday- 4 miles plus yoga in the evening
Thursday- 5K ahead of Sports Day at school (plenty of walking around plus  of course the teacher race!).
Friday- I went on a walk in the morning as I thought it was forecast to pour later, but it was actually OK.
Saturday- 5 miles
Sunday- 9 miles with many walk breaks as it was so warm.
Pre walk work/ early morning light run scenes
After a colleague gave me some peanut D&D's I ordered a few bits from their website (they did have an offer linked to the football…).
After watching so much football we decided to have a movie night on the Thursday and used a voucher to rent a film – Judas and the Black Messiah. It was very good, but of course due to the content it was fairly heavy going, and also depressing that even though the events happened so long ago, little has changed.
Something that I was cheerful about was the return of parkrun to England (sadly not Wales or Scotland just yet)- one week to go! (That's me showing one finger in the photo, I don't think it shows up well). I've loved my 5 mile route through the woods, and of course doing lots of (not)parkruns with Dad, but I am really happy about real parkrun returning. After not being able to log my result as Ellenbrook Fields is "no longer a live event" I've sort of protested  it by not choosing a new home event. Pancakes and watermelon to cool down with (I got a mini watermelon with our shopping and I have been eating it two or three times a day all week- how does a small one still contain so much?).
In the afternoon we popped out to charge the car- we are getting a point installed at home but it takes a bit of time for that, so in the meantime are using local charge points. There is one fairly close to town so we plugged it in and then walked over to Caffe Nero to get an iced drink and then walked through the woods. By the time we were back it was at 80% charge (which is the optimum for good battery health). Perfect.
I also did some baking which I feel like I've not done for ages. I used the Pret vegan recipe and added some of the dots (basically smarties but vegan and no palm oil). A perfect addition.
On Sunday I'd gone out early (before 8am, so early for a Sunday) to beat the heat but also because I was meeting a friend for lunch. It was already sweltering and although I found some shade, I also ran through fields right in the sun. Thankfully I had on sun cream, a cap and sunglasses but I still took plenty of walk breaks to take photos.
Mum also gave me a bird bath she had "rescued" from the charity shop that she volunteers in, so I took some photos of it in the long grass- after doing No Mow May we mowed a path around the outside but left the grass in the middle to grow long.
I met my friend at The Waffle House- another friend I had not seen for around 2 years. It was so lovely to catch up, and it felt OK as the seating there is all outside (under umbrellas and things). We agreed that we must not leave it as long until our next catch up. I had the vegan waffle with spiced apple, plus Jude's vegan ice cream. I don't normally go for ice cream on a waffle but it was so hot that it felt needed. I also got the lemonade as that is what I had last time and it was refreshing, but just after ordering I noticed peach iced tea which is my absolute favourite- I shall just have to go back! We didn't have the table for that long, and ended up chatting in the car park for ages. We really should have moved to the shade, but it was that sort of chat where it's one more thing, and then one more thing. Anyway, when I actually got in the car I realised I was absolutely boiling, my face was quite literally dripping with sweat and I just felt so thirsty. I was going to see my mum on the way home as she wanted to give me some tadpoles for our pond (they have a pond the size of a washing up bowl that is teeming with tadpoles), so I asked for a glass of water while I was there, which then turned into 2. It took me hours to cool down after that!
And just like that it was time to get ready for the final few days at work for the year.
Are you changing your runs or routines due to the heat? Are you excited about parkrun finally returning in England?