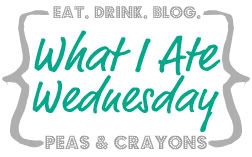 Hey all! Gosh Wednesday is here already!
I loved the party last week so much (thanks Jenn) that I did it again this week! Although, as per the rules, I chose another day- last Friday! (As that was a day when I could actually take some photos).
Breakfast was some Moma bircher muesli;
After my 10 mile run I had a quick snack of a clif bar, mango coconut water and some watermelon.
After my shower I had half a lunch;
Rude Health Oaty thins with pb and raspberry spread, a pear and strawberries. (Half because I was meeting a friend for lunch but too hungry after my run to wait!)
Then I was off to Starbucks to meet a friend- I looked at the panini's but nothing took my eye so for the other half of my lunch I went for a cinnamon roll (love those) and chai tea.Yum their chai tea is amazing. And I bought myself a tin of chai tea too!
After a haircut and shopping it was time for dinner– this was a quick and easy meal;
Some of the quinoa salad I made the other day (quinoa cooked with tin of tomatoes, spinach and red pesto, then mixed with roasted beetroot, peppers and courgette) and cooked it in the oven topped with sliced basil tofu. I have never cooked tofu like this before- I have always had the flavoured stuff cold, but this was lovely. I cannot wait to eat it like that again!
Throughout the day I also had a fair few pieces of chocolate covered mango;
Some I topped with coconut, and some was plain, and all very yummy!
An evening snack was some blueberries and a berry crumble bar (heated in the microwave) with a bit of cinnamon ice cream. Yum 🙂
So, the question is, do you like your ice cream melty or solid? I am a bit fussy- I hate the Mr Whippy/ McFluffy style ice cream- I love the proper scoop stuff and I love to let it melt a little. Mmm.