Hi all- thanks for all the emails about the prizes- glad everyone is excited (I am too) and I will be sorting them out soon.
Did you all celebrate WIAW 40th last week? I wonder if Jenn knew how big it would get!
"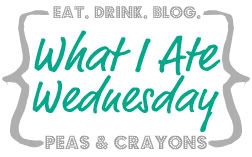 I chose Friday as my day- my last day of half term.
Breakfast– Porridge made with hazelnut milk and raisins. A bit too sweet for me, but very hazel-nutty. Forgot to take a photo, but I am sure you can imagine.
Then I went on a run- just over 4 miles to stretch my legs and remind them of faster running before the weekend.
Post run snack;
Nuun and a peanut butter z bar (these are so yummy).
Lunch;
Small wholewheat wrap filled with mashed roasted squash and goats cheese.
Plus a fig and a pear.
Afternoon snack;
An orange (I hate peeling oranges so I scooped out the flesh with a sharp knife).
"Latte" with hazelnut milk + Christmas tea, plus an almond fudgy bar.
Dinner
Bean bake and home-made bread.
Dessert
A delicious caramel apple bar. The plate is so dirty as the bar went splat when I was getting it out of the tin! Not so pretty haha!
I didn't eat that much fruit actually- I was thinking that I ate loads. Ah well. What is your favourite fruit? I find it hard to choose- in the summer I love watermelon and mango, but at the moment I am loving figs, pears and apples.
Today I had parents evening after work (and another one tomorrow- means I miss body pump boo) so I did not have my normal Wednesday run. Ah well, the rest might help with my weekend 10K?
Night