This weekend was another one where my dad and I decided to be parkrun tourists. At some point we are hoping to run one of the Milton Keynes ones with my dad's cousin, and this was one of the weekends where we were both free. As Brian (his cousin) could not make the date we decided to be tourists closer to home (Tring parkrun is in Hertfordshire) as neither of us were in a hurry to be home after. We had a bit of a to and fro via email (I had parents evening this week, plus a long training day, so no time for phone calls!) and in his final email I was invited for pancakes afterwards- yes please!
Google said it would be about 40 minutes past my parents, so I picked up Dad at 8am and we drove there. It was very foggy in places, especially as we neared Tring. The traffic was clear and the (free) car park was very easy to find. We arrived at 8.30 and it was very cold, so we sat in the car for 15 minutes before deciding we should leave and find the start.
It was so foggy! The car park is a very short walk from the start, over a footbridge- very easy to find. The parkrun was very well organised (aren't they all?) with lots of little added touches. For example, there was a sign on a stake with the parkrun logo and words to the effect of "First time here? Please speak to one of the volunteers in the high viz vests"- we ended up chatting to two first time parkrunners (a man and his son) before they did the new runners briefing. For the briefing two people did it- one held up a large (A1?) laminated map of the course, and this was pointed at to describe the various parts of their "flat" course…. I knew they were joking about that!
They also had these lovely wooden posts with the parkrun logo- they had one at each km too, saying the distance, although they also had the traditional laminated sign in the ground as I suppose those colours stand out more.
At the briefing they had a few names to mention, including one guy who was getting married later that day- apparently on Friday night in the pub his friends decided it would be a good idea to run his first ever parkrun on the morning of his wedding!
After the run briefing  (where they said they didn't know where the cows were because of the fog..) we were off into the fog- they had mentioned a hill in the first km, and we thought the first bit was it at first. We ran up a hill through a field, and then into some woods, and then the hill properly started! It was very steep and I was glad we could not see how long it was!
The first kilometre marker was at the top and I had lead legs already!  The ground was covered in tree roots so you had to focus on that too. We then ran through the woods (past a gorgeous wooden owl carving sign for a natural play area) and at times the trees parted for what we assumed would be spectacular views across the countryside- it was still so foggy!
After an enjoyable section on slightly easier ground, the course went steeply down a hill (towards a big monument or something) before going back into the open again. It then took us through fields back towards the start/finish area. They had mentioned that they had a pb bell (something else I think is brilliant) and as we were running we heard some people ringing it- this was great as you could send some telepathic congratulations to whoever was ringing it. It's a bit tough being near the finish and knowing you still have 1k to run, but then there were lots of the faster runners out cheering people along.
From their facebook page- there was a marshal with about 0.5 km to go I would guess, taking loads of photos. 
Although we thought the hill was out of the way, just before the finish straight there was a short but very steep section- I did run up it but it felt more like comedy running as I am sure I was going slower than walking pace! Anyway, the final section was slightly downhill so we picked up the pace, both crossing the line with official matching times of 30.30 (I like the repetition in the numbers here).
You can see from my Strava the steep uphill at the start of the course.
When we were getting our barcodes scanned, my dad asked one of the volunteers about the pb bell. She said seeing as it was our first visit to Tring, it would be our pb, so dad told me to ring the bell while he took my picture.
Yes, I was very excited about ringing the bell!
The two new people who were talking to us at the start saw us at the finish, so we asked how they got on- his son had managed to finish 21st! How impressive!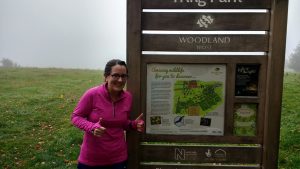 I thought that the fog had lifted a bit, but this was taken at the end and it doesn't seem that different. We both had really wet hair along our hairline -covered in big drips from the fog.
That's the start/finish area taken from the footbridge on our way back to the car park.
We both said straightaway that we would love to re-visit Tring, when there is no fog so we can properly enjoy the views, and when my brother is free so he could visit there too. another successful new parkrun! I do love the one lap courses and the park seemed to pretty. The volunteers were a very friendly team, and although 176 people ran it, even the start didn't feel congested as it started on wide fields.
Then Mum made us pancakes- the start to the weekend doesn't get much better than that!
Has your winter kit started to come out? I thought I would run in my t-shirt but it was so cold I kept my long sleeved top on the whole run.