At Christmas Andy gave me tickets to the athletics championships in London. Of course at the time it seemed ages away but on Saturday the day was finally there. We'd watched some of it while we were away in Germany (Eurosport with German commentary turned out to be quite entertaining as they pronounced Mo Farah to rhyme with Que Sera Sera, and interspersed German with the word "Mo-Bot") and then once home we had a week to watch the highlights each evening.
We drove to Loughton and then got the underground in, as it was then only a few stops. The instructions said that you could not bring in meals but you could bring in snacks (and of course food would be available at concessions) so we went to M&S to get a late lunch/ early dinner. It was so busy and as if a plague of locusts has descended upon the shopping centre- the shelves were pretty bare!
After eating our lunch we went into the stadium (and we could easily have brought the food in with us as people had loads with them) and browsed the merchandise (which, by the way, only had men's technical running vests, no women's at all which very much annoyed me) before finding our seats.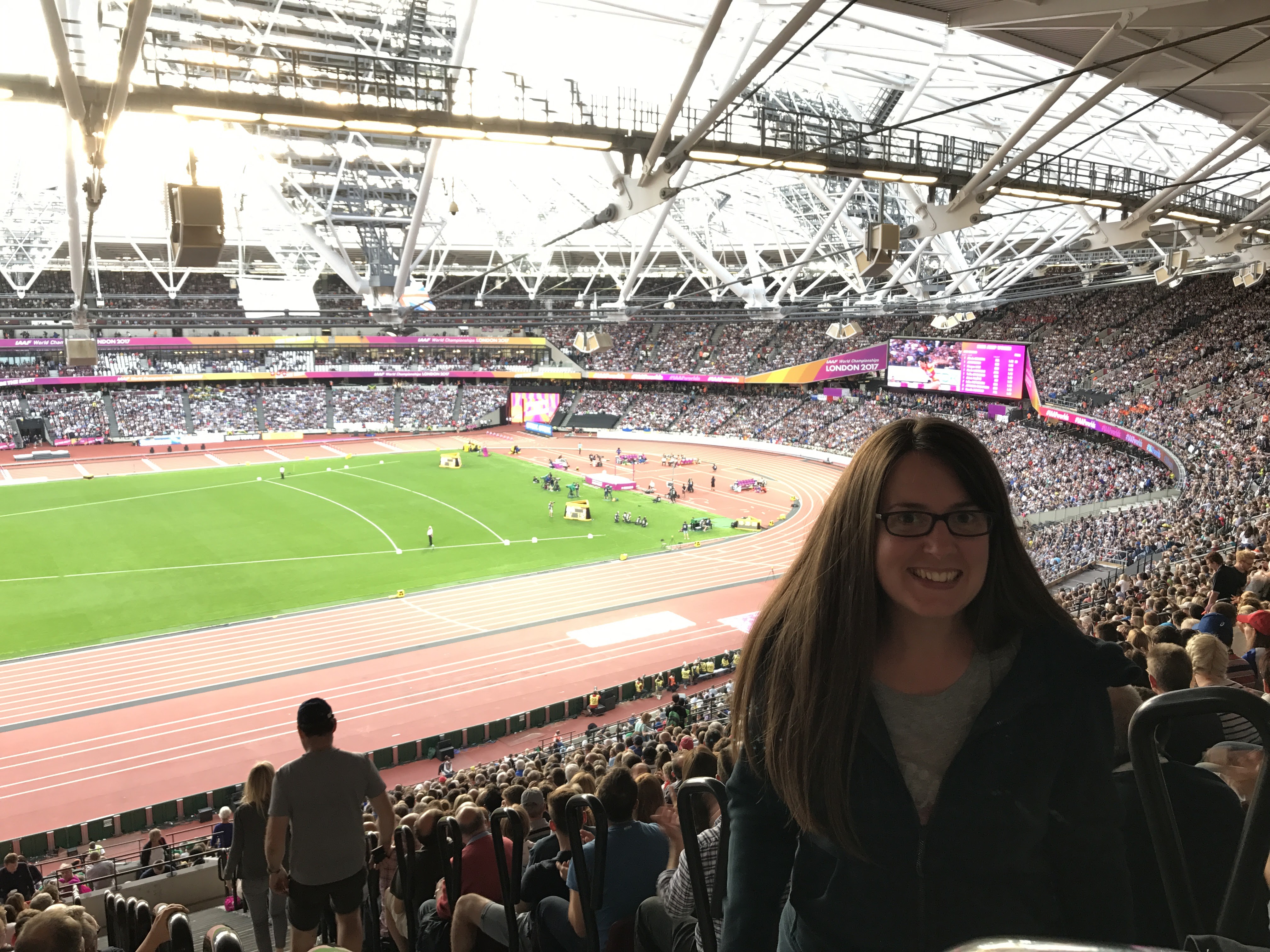 We were up fairly high and in the middle (opposite the final 100m of the track) so we had a good view of what was going on. I feel like the event was hosted really well- they had Ewan Thomas walking around talking on the microphone, and also commentators saying what was happening with the events. When we first arrived the men's javelin from the decathlon was going on, and then women's high jump started. At one point they had Martin Lewis (yes, from the money tips website) giving the crowd some stats and tips, which to me seemed rather pointless as he only appeared a couple of times and I am sure someone else could have told us the facts.
Of course the big ticket races were the 5,000m (with Mo on his final track race) and the 4x100m men's relay (with Usain Bolt's final appearance) but in fact everything else going on was really exciting. Some of the athletes would try to get the crowd going, and there were big screens with information on them, as well as the stadium announcer giving details of distance/ height and current standings. The crowd were great at supporting all of the athletes too- during the high jump  our two British women had missed the height once, so really we should have been hoping that the other nationalities would not clear the height either, but there were only cheers when the bar wasn't knocked down.
After the decathlon javelin finished, they had to then extend the tape and move the TV cameras back ready for the javelin competition to start- the decathlon guys has 55 and 65m marked, whereas for the main event it went to something like 85m. I don't find this sort of thing interesting on the TV, but I think partly it is because you can't really get an idea of how far each one is thrown. Being there meant it was easy to compare each throw, and the crowd would go wild when a huge throw was recorded.
When the 5,000m started it was such a tense atmosphere- and I think the crowd pretty much kept up a mexican wave for the whole 13 minutes- as the main group came in front everyone would stand up and shout even louder, then as they passed they would sit back down again.  Of course it was disappointing that Mo didn't get a gold medal, but a silver medal is still very impressive and he really gave it his all- it is always more surprising that other runners have not grouped together before to try and get him with tactics.
It was a very exciting race, and a little later they held the medal ceremony which was cause for more celebrations.
There was a small break so we popped out to get a drink. The info had said there would be water fountains, so bring a bottle to fill up, but we could not find one. We then thought we would buy some lemonade to share, but all the stands were sold out, so we ended up sharing a hot chocolate (our throats were hoarse after all that shouting and we had more to come…). As we were going back to our seats we saw one water fountain but it had such a huge queue and we didn't want to miss any of the races so we left it.
In contrast to a rather long race, we then had the 4x100m women's final- seeing the women take silver was brilliant.
Scattered throughout the evening were medal ceremonies and it was great to see everyone being very respectful of the winners- everyone clapped and stood for the national anthems. I was interested to find out what the ANA athletes would have (these are Russian, but as Russia was banned somehow they get to compete as neutral)- it turns out they get the IAAF anthem. A lot of the crowd didn't seem to know what ANA stood for as there was a bit of a confused murmur as it was announced.
Then it was time for the final event- the men's 4x100m relay. I knew we were in for a shout of a medal as I had heard the heats when I was driving back from my parents- the Brits were a whisker behind the USA team so bronze was going to be possible (we were assuming it would be USA and Jamaica battling first and second). Well, of course by now you know what happened- the British (and NI- why aren't we Team UK?) men did brilliantly and although I saw Bolt trip I was more concerned with yelling at the top of  my voice for our men to bring it home. It was like (I imagine) seeing your team score the winning goal in the world cup- everyone was leaping up and down and cheering. It was a pretty perfect ending.
This is still a very ugly thing.
It was a long shuffle out of the stadium and back to the train station, but everyone was in great spirits- there was even one volunteer playing music through his phone into a loud speaker. It wasn't quite like when the Disney parks close, but it was close!
Did you watch any of the athletics? Have you been to any live events like this? While Andy was getting our drink I was asked to do a survey- the only live athletics I have been to was this and the Olympics, but I think that if the tickets weren't too expensive I would be more likely to take a chance and head along to a session.