This weekend was time for our annual trip to the Bath Christmas markets. On Friday we had dinner at home and then drove to Swindon, where we were staying for the night. Last year we stayed around the corner from Swindon parkrun, and then we drove to the park and ride. This year we were going to get the train in from Swindon, so we stayed around the corner from the station instead. I had driven, and our hotel meant the parking could be validated and so cheaper for 24 hours, so I didn't want to get the car out of the  car park (and I didn't fancy driving across Swindon)- Chippenham was one stop on the train and the parkrun was right by the station so it seemed an easier option.
The train was at 8.15 (there was a later one but I didn't want to take chances) so I left the hotel fairly early to run there and to give me time to buy my ticket. Annoyingly when I got ready I realised I hadn't packed a running jacket/ jumper, and I knew I needed to take something with me as I'd be cold after finishing, so I had to wear my big Totoro hoodie which I'd been wearing the night before- not the easiest to run in. When I got to the station there were big queues by rail replacement buses and then I could not find the train I needed on the screens, but luckily there was a member of staff who I could ask, so I got my ticket and waited (if it was a bus I wasn't going to go, as it would take a lot longer to get there and back). The train was 15 minutes and the walk from the station (following the most excellent instructions on their website) took barely two minutes, so I stood about taking a few photos. I ended up chatting to someone who was coming to a parkrun for the first time. There was a big map of the route on the fence so we looked at that and one of the marshals came over and explained it, and then later the RD did the new runners briefing.
The course was two laps of a field (with an uphill and downhill bit), then out along the river, and then two laps of some meadows ("muddy meadows" they told us) before returning along the river to the start/finish area.
I'd not run since Tuesday and had not been 100%, having lost my voice and developed a cough (and my cold has still not gone), so I was sensible and took the pace comfortably.
The first loop (repeated twice) was fine- they warned us that the hill didn't look like much but would be tough as you ran up it, but it wasn't too long and as I was aiming for around 10 min miles it was fine.  After running along the brow of the hill the course then went down to the start/finish area, so at the top you had a lovely view of all the runners snaking ahead, and when you ran past all the time keepers and scanners you had lovely encouragement. After running that lap twice there was a short run alongside the river before coming into some meadows (bottom right)- here the mud was very sticky and I wished I had my trail shoes on. I tried to look around and enjoy the views- as the meadow was filled with grass you could see other runners further around the loop- but I slipped so decided to focus on my footing. They had asked in the briefing to keep left if possible as you could get lapped in both sections (I did) so I tried to keep over but sometimes there wasn't much path to run on!
After running the meadow twice I pushed the pace for a fast finish spurt along the riverside path, as that turned to tarmac near the finish. I got token 111 (I do like numbers like that) (31.19 so pretty much bang on for 10 min miles), and as I didn't have too long before the next train I got my chip scanned and headed back to the station (and no chance of me getting lost as it was literally opposite the park). The train was a little delayed so I did get a bit cold stood on the platform, but thankfully it wasn't as delayed as the sign originally said.
Once back at the hotel it was time for a shower and breakfast before going back to the train station to go to Bath (we did look at Andy meeting me in Chippenham but as we have a rail card it would have worked out a lot more expensive as I would have had to get singles for all 3 journeys). This was so much easier than getting the park and ride- particularly last year where we went to a different one and had trouble finding a space and then had to queue for ages. The train took 30 mins and it was lovely to just look out of the window and relax.
After a quick wander of the markets, we headed to the spa. There was a big queue, so I think we waited about 45 mins, but there was a guy playing guitar and singing, and lots to look at.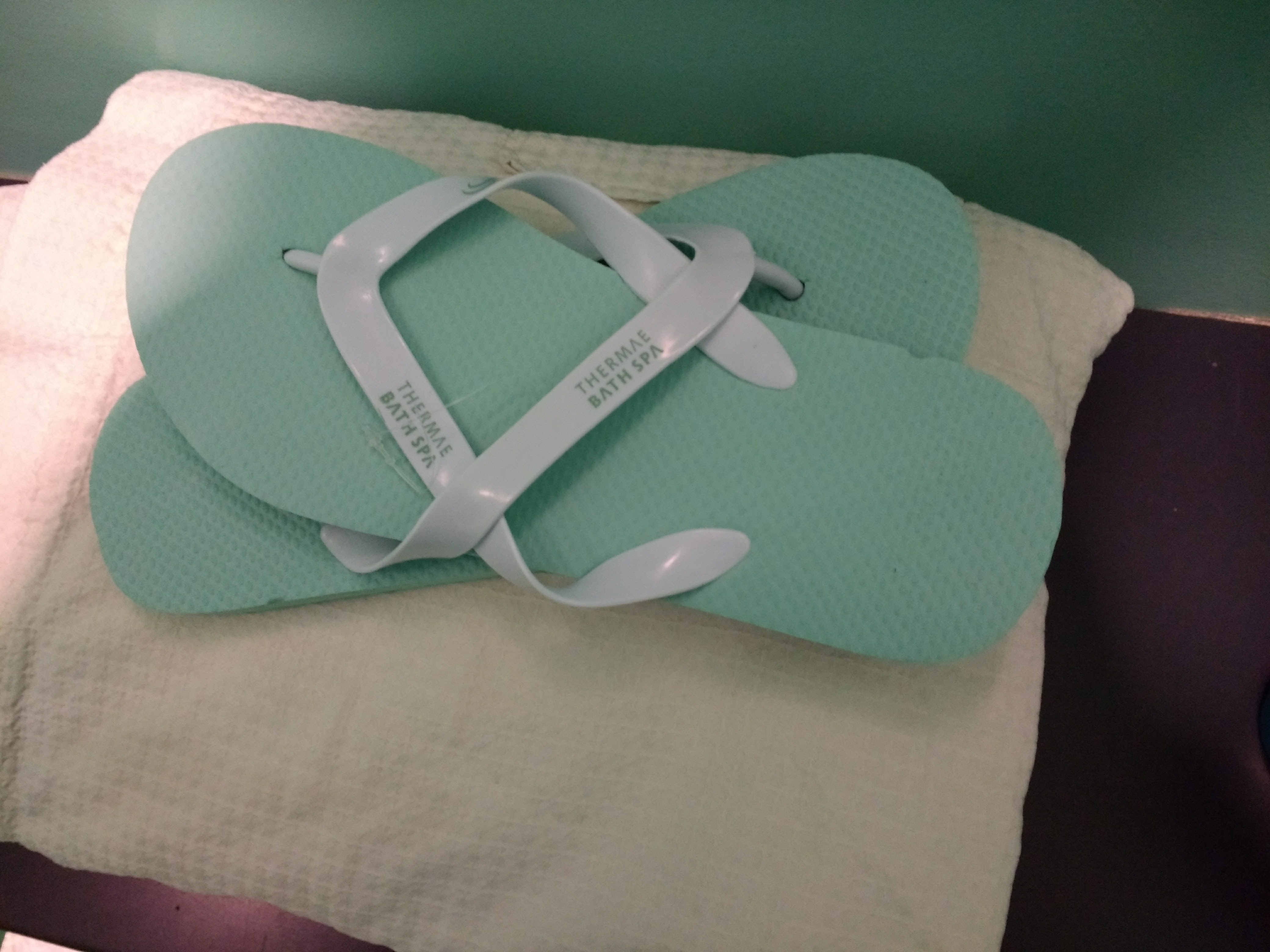 Some of the spa had been re-done since our last visit- the bottom floor is a big pool (the same) with a sort of jacuzzi part to it and some sort of current, but the middle floor, which used to contain 3 (or 4?) steam rooms with different scented oils had been upgraded. It had a couple of big steam rooms, an electric sauna (lower temp than normal- I could actually stand to be in there for more than a couple of mins!), an ice room (I didn't fancy that!) and this very cool space themed relaxation room with stars on the ceiling, loungers to lie on and relaxing music. I really liked that! We did't brave the rooftop pool though- too cold. After a couple of hours it was time to shower and get changed. We had somehow not thought the times through- by the time we left it was nearly 4.30 and we were both so hungry as we'd been in the spa at lunch time.
We had a table at Bill's for a little later, so we went to get a hot drink and have a cereal bar, and wandered around the shops and markets for a bit.
Then after dinner we had a longer wander- I didn't buy any presents this year but saw a few nice ideas. We got the train back to Swindon at 7.45 (there was one at 8.15, and then every hour but we didn't want to be driving back too late) so we got home at around 10.15 which was much quicker than driving all the way back from the park and ride. Next weekend we are going to Winchester for their markets (and hopefully I'm going to Eastleigh parkrun first) so I'll see what they have too.
Do you like going to Christmas markets? Have you been to the Bath spa?