Last weekend, after getting home on Saturday night after the Bath Christmas markets, I had a fairly busy Sunday as I was meeting some friends in London (Emma and Vicki). One of my friends (Emma) can't have dairy at the moment (so our usual of afternoon tea was out) so she'd been looking for a nice veggie place for us to meet at- we settled on Mildred's as one of them is close to where my other friend (Vicki) lives. I walked into town and got the train into Kings Cross, and as I was walking up the road I met them- sadly Mildred's had a power cut (again!!!- not Mildred's but the veggie place in Brighton….) so we wandered along to Upper Street and ended up in Ottelenghi's.  I had some lovely salads (including an amazing roasted pumpkin one) and then an amazing piece of apple, vanilla and sultana cake with maple frosting- delicious. Emma (who also has an allergy to peppers) was perfectly accommodated- they even got some cake for her (pre frosting) so she was a very happy bunny. Vicki had recommended the brownie (and she is an amazing baker so I trust her opinion on anything like this), and ended up buying one for me (and one for her) to take away.
I shared it with Andy on Monday and it was amazing– the hazelnuts are caramelised so it was like a praline filled brownie, and properly squidgy too, none of this chocolate-cake-pretending-to-be-a-brownie that you get sometimes.
Last week I managed a couple of runs after work, enjoying stopping to take photos of the best (worst?) decorations out there- giant inflatable Santa anyone? Luckily I'd been out on Monday after work, as I had a particularly tiring day on Tuesday so didn't know if I would fancy a run. In fact the traffic was so bad I didn't get home until 7pm (the run starts at 6.30) so that made the decision for me!
Some of these can be seen from space…
Yoga was of course great- we have been told we will be practising a headstand each week- I'd had a bit of a sore back on Tuesday and so wasn't sure how I would cope, but with Josie the teacher steadying my hips, I managed to get my legs all the way up briefly- it always feels like a great achievement and one day I'll manage it on my own!
On Friday after dinner we drove down to Southampton- we stayed in the Eastleigh Premier Inn (perfectly located for parkrun tourism), and so on Saturday I didn't even have to get up early as it was around half a mile to the start! No trains or parking or complications!
As I crossed the main road I looked at my phone (the map was upside-down) feeling a little confused as I looked at some large construction fencing. A guy in a vegan runner vest asked me if I was OK, so I asked if he was going to parkrun- hooray, he was, so he showed me the way (a little way past the fencing was the park entrance so I was close). We had a nice chat on the walk about different parkruns around there, and although I explained I don't really run for a particular time (under 30 mins is a good estimate) once I'd told him my Winchester time he added a couple of minutes on for the hill (hills? It's one hill you run 3 times). I'd worn my jacket and taken a bag with me so I could leave it at the start/finish, as even though it wasn't far, it was so cold, and although my cold has pretty much gone, I'm still coughing a bit.
The parkrun was on an old golf course, so all on grass, which was looking beautiful covered in frost. I'd worn trail shoes as I had read it was all on grass, and this was a good decision for the frost too. The route is three laps that sort of wind their way up and around.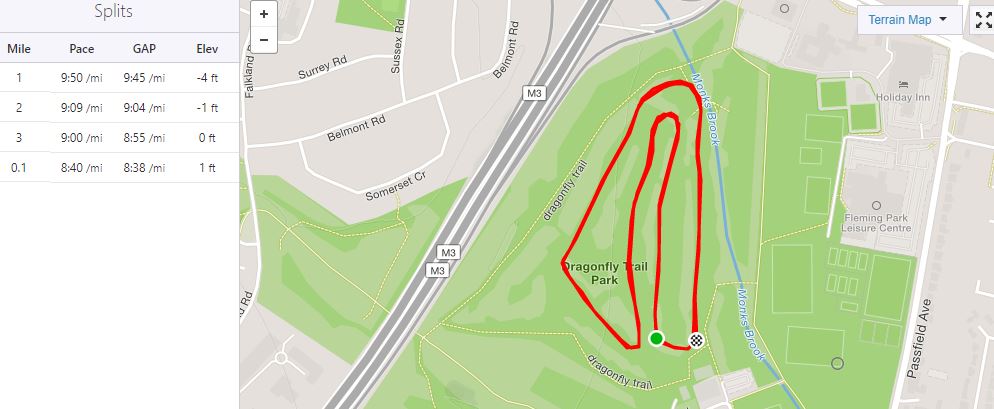 The person doing the new runner briefing even mentioned Strava, saying that the hill was a segment so you had three attempts (in my mind that means I get 1st, 2nd and 3rd best time for me!). I was aiming for under 30 mins and so I felt like I took it steadily- I managed to get back to the negative split again (last week I didn't do that)- 9.50, 9.09, 9.00 and 8.40- I think I went faster as the feeling came back into my legs!
It was really enjoyable- the marshals were particularly cheery, I saw someone in very cool dinosaur leggings (and as I ran by her to tell her I liked them, she mentioned my Christmas leggings which I had forgotten I was wearing!).  As soon as I had finished I got my jacket back on before I started to cool too much- I saw the runner who showed me the way and he asked my time- I knew it was a little over 29 mins (it was 29.08- position 138/239) so he was pleased to have estimated it fairly accurately!
After taking a few more photos I quickly headed back to the hotel to warm up- Andy had been out and got us a big cup of tea to share which was really the best thing ever. We visited his Grandma and then drove up to to Winchester for the afternoon.
I've only been there once before and it's a nice town to have a wander around. I had a few things to get (last minute secret Santa's that have only just been organised) and I wanted to look for a few gift ideas too. We ended up having to queue to get into the actual market- it was all around the grounds of the cathedral, lit up beautifully, and although it was busy it didn't feel too bad and I could always get to a stall if I wanted a closer look. There were a few food options but when we'd got into town we got lunch straight away (I had a really good hot wrap from Pret) because the first park and ride car park was full so going to the other one took time. I did see an amazing looking gourmet grilled cheese stand, and of course there were the usual things like crepes (again, very tempting but I was sadly too full from lunch). I did manage to get some of the secret Santa gifts so it was a successful shop, and at around 6ish we headed back to the car to drive home.
So, a successful Saturday with a new parkrun ticked off, new Christmas markets visited and things ticked off the gift list.
Are you enjoying seeing the decorations being up now? I love seeing them, although I am always glad when the super flashy ones are not opposite my house!