After a quiet Friday night at home (apart from the kitchen mishap which I will get to later) I was off to St Albans on Saturday morning to visit a relatively new parkrun, Jersey Farm. It started just over a month ago, but we held off visiting the first event as they had requested a quiet start, and then my parents were away so this was the first opportunity we had to run together.
I drove to my parents and then I walked to the start with Dad- it was just under a mile away, so a nice warm up.
Pictures from their facebook page- new runners briefing
There isn't much parking right by the start, but the park is very close to a big residential area (Marshalswick) with plenty of residential streets and no parking restrictions so it would be fine for people travelling so long as you left a few minutes to find a space to park and then walk to the start. The weather was gorgeous- cold but with that lovely low winter sun.  As we walked through the field looking for the start we met another runner and ended up chatting. It was his first ever parkrun- he lived in the local area but wasn't driving so didn't ever go to the St Albans one. Just after we arrived they did the new runners briefing which seemed to be the majority of the runners- I suppose that often happens with new events now (this was event number 5). The briefing was quite amusing with the lady getting us all to chant about what we will not do with the finish tokens (we will not take them home).
Their winter route started in the middle of the field, went to the edge and then it was two identical laps taking on various bridle paths (the official course page has a different route with two slightly different laps).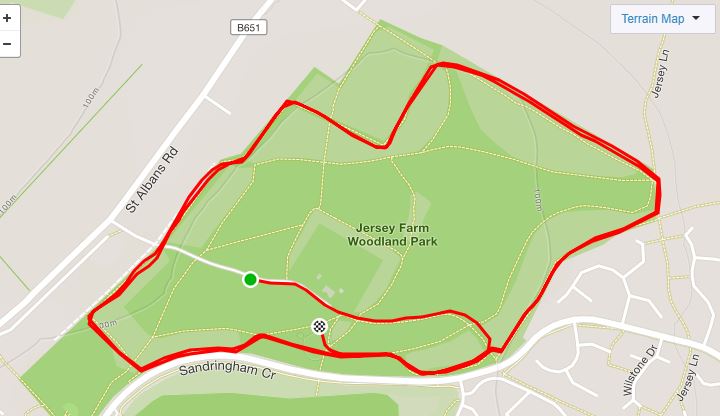 It was a fairly undulating course- you can see below you were either going up or down, there weren't any flat bits. It was also fairly narrow in places- there were 163 runners and at the beginning we were a little too far back really and got a bit stuck in places as the paths were only wide enough for  two runners at times. By the second lap it did thin out somewhat, and neither of us were aiming for a fast time (Dad had only had one run in the last month as he'd just got back from Namibia) so it was fine for is, but a few times faster people had to crash dramatically through the undergrowth on the side of the paths to get past, and we both got clipped by dogs (on leads but maybe not under control…) as they ran past us too.
The course had varied views- sometimes you were running with woodland on either side, and other times you ran around the edge of the main field and could see down to Sandridge Village (where Heartwood Forest is/was). It was muddy and slippery in places so I was glad of my trail shoes- once winter really kicks in it will be a fun one to do if you like slipping in the mud.
As we finished my watch said 30:18 and I did get excited that maybe I'd ticked off another umber for stopwatch bingo, but alas, when the text came through my time was 30:06.
We saw the guy who we chatted to at the start, and he had really enjoyed it, although he said he only got one Saturday off work in 6 weeks, so it would take him a while to make it to his next one.
We had both taken jumpers with us to put on after, but we started to get quite cold so headed off fairly quickly (via the shop so Dad could pick up the paper). We walked back along Jersey Lane (which is a bridleway/ path that goes from Marshalswick down to Sandridge- it's how Dad and Tony would cycle to Heartwood Forest)-it was so nice to be away from the roads.
Then of course it was home for pancakes made by Mum. My sister, her husband and their baby came over, and Andy also popped over with our wedding photo album, so we had a nice catch up, looking at my parents holiday pictures too.
So that's J ticked off (just I, K, Q and Z left), and more importantly I have re-claimed Queen of Herts, having once again run all the parkruns in Hertfordshire. I am sure we will be back fairly soon to Jersey Farm as it is so easy to get to, and as I often end up and Mum and Dad's anyway, it makes sense to drive there and then head to the parkrun together.
And then the kitchen mishap. I'd seen a recipe for candied clementine slices, and I absolutely love them. I had a few which weren't the nicest (fresh ones) so I thought I'd give it a go. You had to boil them in sugar for 90 mins, and I kept on checking all through dinner, and they were looking good. After dinner we went into the living room and Andy put the fire on, and I thought it was smokier than usual. He said he'd only had the door open for a bit, but I could still smell smoke. Then it clicked and I ran into the kitchen to see a lot of smoke- as I opened the back door the pinger went off.
There was no saving them! It had basically turned into treacle and hardened as soon as I poured it out. Thankfully the pan managed to be saved (thanks to Andy) but the kitchen smelled like strong marmalade for the whole weekend! Ah well, you win some, you lose some.
Have you had any bad kitchen disasters? When I was younger I made popcorn and then put the pan on the work surface while it was still hot, burning a lovely ring into the counter.