So after a couple of days in Bend we drove to Crater Lake National Park.  This had been on our list to visit for years, and the main reason for our Oregon trip.
It took a bit of time (maybe a couple of hours?) to get there from Bend, with lovely scenery on the way. At one point we had to drive slowly along the road as there were runners heading along it- it was organised as they had numbers on, but I couldn't find the race when I tried googling later. It was pretty hot to be running.
Once at the park we drove to the village, had a walk around and then did the drive around the rim of the crater, stopping at plenty of places for photos (Interesting to note that they hold some weekends where cars are banned so that people can cycle the whole way around without traffic). Later we hiked up to the Watchman Tower- I think it was 1.6 miles out and back (well up and back)- there was even some snow by the path! The tower was for staff to look out for forest fires- you had a pretty spectacular view.
Basically the crater was formed thousands of year ago when a volcano erupted and the peak collapsed. Interestingly it was witnessed by Native Americans, so there are accounts of it happening. The lake is the deepest in the USA, and it doesn't have any rivers running into it.
We had decided to stay in the hotel in the park, as we knew we'd only be there for the day and after going to Yellowstone and seeing how much quieter it was once the coaches and tour buses left for the day, decided it was worth it. This did mean that we were limited with things like meals, as there was a small cafe in the village and a restaurant in our hotel. We booked for dinner (the veggie options are usually pretty good in the National Parks) and went for a little walk at sunset before our table was ready. We saw lots of deer clambering up and down the steep slopes, and beautiful colours of the sky, water and mountains.
Just as our food arrived, the fire alarm started to go off. At first none of the staff seemed fussed, so we figured it was an accident and someone would turn it off, but then they told us to all get outside. I was thankful that I was wearing jeans and a jumper, but poor Andy was in shorts and a t-shirt. It was dark by that point, and after we waited for a bit, the sheriff turned up, then the fire truck, and then we were all moved away from the building. Someone walked through the crowd asking for people in room 109 (?), which was close to our room, so the I started to have a slight panic because literally everything we needed (mainly passports) was in our room- hopefully it wouldn't actually burn.
The pace of the firefighters led us to believe it would be OK (they took about 10 mins to put on all their gear) and we stood outside for about an hour before we were allowed back inside. There were loads of people with kids, and we saw some really kind people pop to their cars and lend people blankets and things like that as it was really cold.
The next morning we headed to another part of the park, to watch a little information video. Now, I always find it funny that in the USA people often think we are Australian when they hear our accents. This video cracked me up because it had subtitles, and at one point there was an English person speaking and it said "Australian:…"- honestly why are they muddled?
Then we walked to a waterfall, which was very impressive. Close to the waterfall were loads of wildflowers and so many butterflies- I tried to video a few of them as they were all drinking the water on the path and were so pretty and delicate.
Then we drove to the coast- this was a long old drive (we did see loads of elk in a valley and lots of seals by the sea) and despite only stopping a couple of times to stretch the legs (and get a drink in Starbucks so we could use the bathroom) we didn't arrive in Newport Beach until the evening.
Our hotel had a lovely view of the beach, so we got a takeaway pizza to share, and then walked along the beach as the sun was going down.
The next day we had a walk along the beach in the morning (and found lots of starfish) and the rest of the day was spent driving up the Oregon coast, stopping at various places en route.
The Devil's Punchbowl was very impressive with a huge cave where the water filled and then splashed out. As we were looking out to sea we noticed whale blows (when they blow air out of their blowholes) and realised we could see some whales!
Our next stop was Depot Bay, apparently a whale spotting capital, as they have some resident grey (gray) whales that don't migrate. We found a whale information centre, manned by staff who had binoculars to borrow and film cameras trained on the whales out in the bay, so we spent a while there watching them- at one point we could see two pairs of whales in different parts of the bay.
The coast here was a lot like northern California (no surprise as it's fairly close)- like Big Sur. Very rugged cliffs and beaches, with very changeable weather (one minute blue skies, the next a lot of mist rolling in).
We arrived at Seaside and had a bit of a wander. It seemed more of a place for families or maybe teenagers, with lots of arcades, fast food places and a big aquarium on the seafront. It did have a 2 mile prom, so in the morning I went out for my longest run of the holiday so far (6 miles) going out and back along the prom.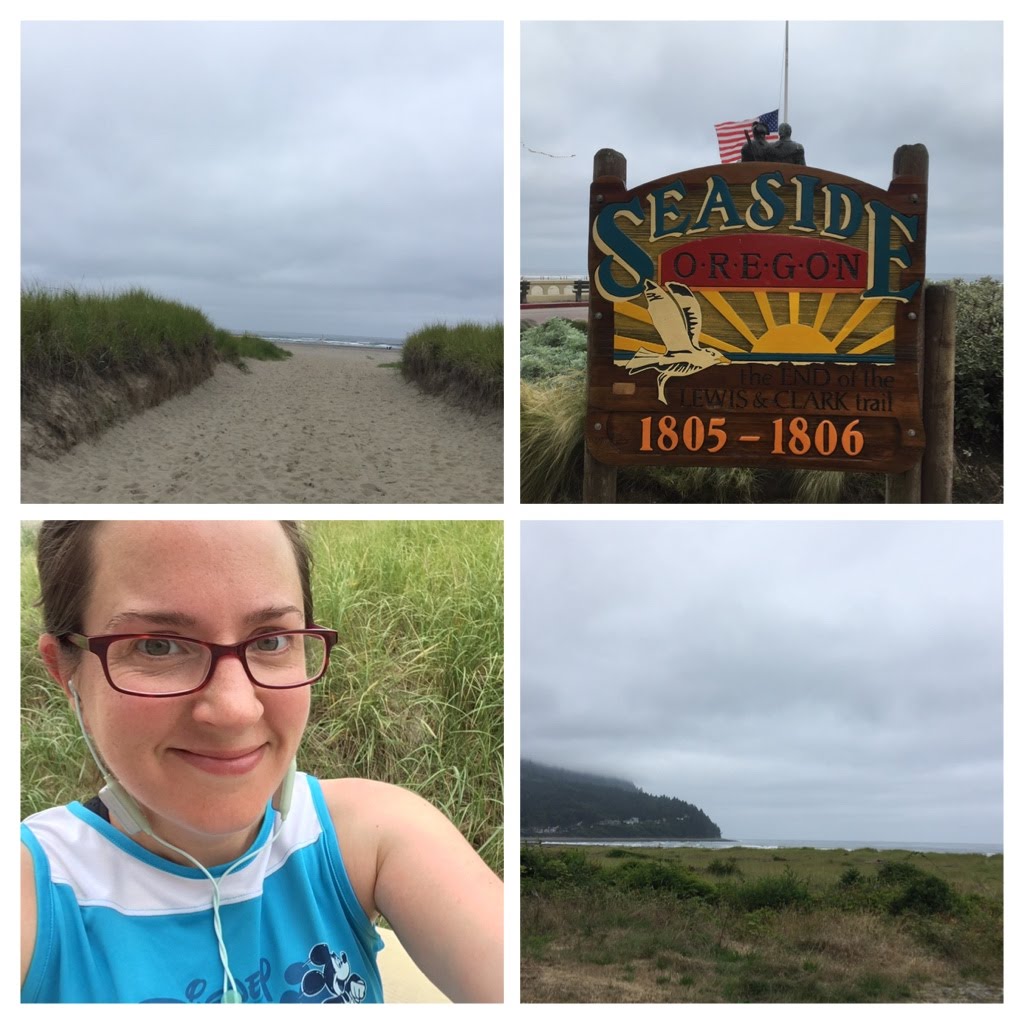 I really wanted to go to Cannon's Beach as it had the famous haystack rock on it, and also puffins live there. We drove to the town (which was a gorgeous place full of art shops and cafes- much more our style) and then along the beach. We saw some huge starfish (in the picture below I am crouched next to one to show the size)- beautiful purple and orange ones. One looked just like CJ from Nemo.
When we got to the haystack rock, there was a van set up with binoculars you could borrow and a telescope trained on the puffins. We queued up and had a look, then walked closer to the rock.
We started to see the puffins which really made me happy!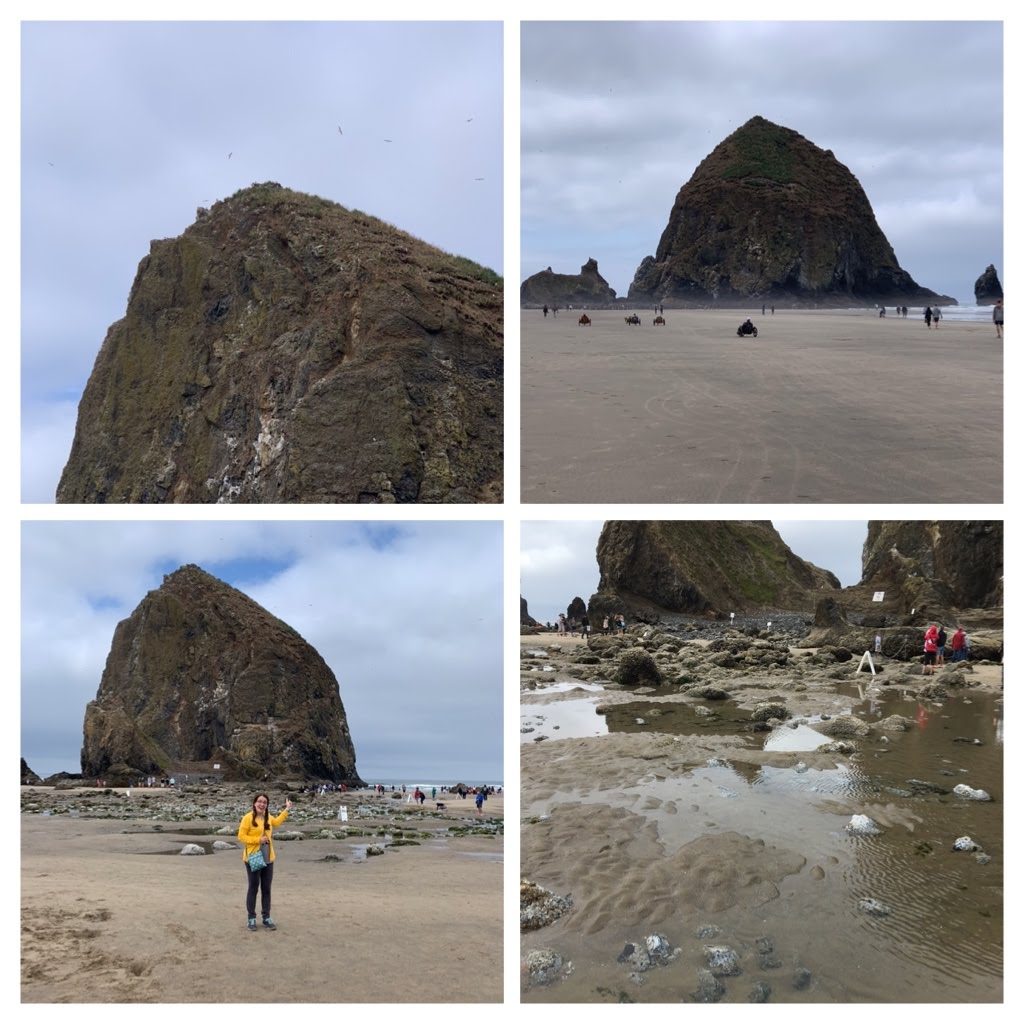 (I'm pointing at them here)- they were too far away to photograph but we could see their little wings and round bodies flying, and through the telescope you could see them on the rocks.
On the way back through town we passed an art shop with some gorgeous prints in the window, so popped in and ended up buying a picture of Mount Hood (where we had been a few days earlier) as a souvenir.
We then drove back to Portland. Our route took us briefly into Washington state and it amused me that the satnav said "Welcome to Washington" so I took a photo when we went back into Oregon. Also, no-one in the USA could get Andy's name right when he ordered a drink- after the third or so time I took a photo and then we decided that I would always do the ordering. (Here he asked for an iced chai with almond milk, and ended up with a coconut milk one for "Andrei"- close!
After checking in to the hotel close to Portland airport we popped to Wholefoods for an easy dinner, and then it was time to properly pack the cases as we were off to Hawaii the next morning.
Have you been to any of the National Parks?