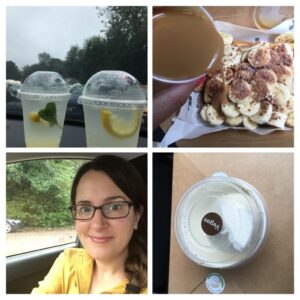 Andy had some time off work after we were back from Scotland, so we had some relaxing days, although the weather didn't really play ball for some of it. We got a takeaway from the Waffle House and ended up sitting in my car in the rain and eating it!
We also played this National Parks game which was fun (easier to play than the Disney Villains game) and had the most gorgeous pieces; carved wooden animals and amazing artwork for all of the USA National Parks.
Of course there were some runs (this one was a few hours after lunch and reminded me how much I prefer morning runs, but they are soon to be for weekends only), and then of course afternoon Disney movies. Big Hero 6 seemed like a great option- couldn't we all do with a healthcare companion right now?
We had a bit of time in Brighton- often we go down for the final weekend of the holidays, but I didn't fancy a weekend as I thought it would be super busy (and then we cut it short because it rained and then was super windy before and after…). Anyway, we fit in some things- mainly takeaway iced drinks from Bird&Blend, takeaway cake from Cloud9, takeaway acai bowl from Wolfox cafe (takeaway is the theme here).
The waves were crazily high on the beach and we watched the poor life guard traipse backwards and forwards telling people again and again to get back or get out of the water …
On Saturdays I've been going over to my parents and running a 5k with my dad and brother, and then doing a longer run on Sunday (above are some pics from a run through Brocket Hall, plus the most delicious vegan chocolate almond coconut croissant from the Flowerpot Bakery in Brighton).
I've been getting into the back to work vibe, sorting out my new diary (and getting this cute diary clip to save the right page from Enchanted Cozy Co), and sorting out my desk. Also, my cheese plant got it's first leaf with holes!
We did have some good weather for iced drinks in the garden.
I actually went to eat at a restaurant with a couple of friends (my best work pals)- we booked an outside table and thankfully it didn't rain. I also got a few more waffles- another lot for lunch (collected on my way home from when I went into work) and another time meeting a friend so we sat in the park and ate them. The Trussell Trust did quite well out of us, because we donated the money we had saved each time.
On a side note, the eating out did worry me with regards to the quarantine- eg we couldn't go to France because we would have to self isolate for 14 days, but if you go out to eat and then are contacted by track and trace, you have to have a test but even if that's negative you still have to isolate for 14 days because symptoms can take that long to appear. I am not sure going out to eat is worth it, but there doesn't seem to be that much made of it.
Also got this cute coconut print from Seashells and Magic on Etsy for our hallway.
I've been watching a few older Disney films- after listening to a recent Judge John Hodgman podcast where Peter Pan was discussed, I decided to give it a go. I didn't remember much from watching it as a child- I loved the mermaids and Tiger Lily- but it was really inappropriate (eg all the songs etc around the natives) and Tinkerbell was just horrible. Why is the queue for that ride so long???

As I didn't run in Scotland (well, on Skye) my August miles were a bit slack, and I fancied a run around Ellenbrook, so once day ran there, did the parkrun course and ran home to make it a half marathon. I had joined a challenge on Strava but didn't get a badge because they now have to be visible to all whereas I keep my runs only viewable to followers. Ah well.  I think I watched Pocahontas that afternoon- it was OK but Disney needed to up their catchy song game!
Instead of going to Brighton for the Bank Holiday weekend, we got a skip, so after a breakfast of french toast, we loaded the skip up in the rain. A hot chocolate was needed after that, and some evenings I've even got out the blanket!
After some less than successful Disney films, I treated myself to Frozen 2 last weekend (if Andy is watching the Grand Prix it means I can watch a Disney movie in the afternoon).
I keep seeing so many mushrooms and fairy circles on my runs now too, and some of the trees have a hint of change about them. I've been busy in the garden too and there are lots of autumnal colours appearing there too.
Cinnamon bun with cream cheese and marmalade to imitate a Starbucks one! Plus I harvested our pumpkins.
On the final day of the holidays I'd booked a massage, so walked into town. The weather was beautiful and I was there a bit early (I had to pick up a prescription too, and they were ready straight away whereas sometimes you have to wait or some back later, so I'd left lots of time) so I sat in the park.
A lovely end to a different but still mostly relaxing summer.
Are you worried about having to potentially isolate if you go out to eat or somewhere?
Favourite and least favourite Disney films? I am definitely never watching Pinocchio because it absolutely terrified me when I was little.
Is it feeling autumnal where you are?