The early May Bank holiday usually ends up being my birthday weekend too, and after being home from Ireland for a couple of weeks, of course we felt the need to make the most of the long weekend and head somewhere.
We got the train to Brighton on Friday evening, and came home on the Sunday.
On Saturday morning I headed to Hove Prom. Our hotel was slightly closer to here than to Preston Park, and I think I did Preston Park more recently. It turned out very lucky as I saw that Preston Park had to cancel with 5 minutes noticed due to a festival in the park being unaware of parkrun taking place each week.
I ran down to the start for a nice warm up- it was breezy but warm so I left my top in one of the boxes by the beach huts. When listening to the main briefing, they pointed out pacers for 27 and 30 minutes. Since the pause I have not managed to get a time under 28 minutes, so thought I would have a go at that. I don't often run for time, and usually if I am in Brighton I'd have a race the next day so would be parkrunning sensibly. But I thought if I could keep in between the 30 and 27 minute pacer then I could stand a chance of finishing in under 28 mins.
I kept the 27 min pacer in sight but I was a bit behind her. At the half way point you pass the start/finish area again, and on this occasion the timer was calling out times- I heard 13:42 so spent a bit of time calculating that if I maintained my pace I would be under 28 mins- excellent!
As we reached the final turnaround point, the pacer slowed and gave us some encouragement, saying "try to keep up"- I called to her that I was trying my best, and a guy in front also joined in. I was amazed that I was keeping pace, and for the final section just counted up to 100 over and over again to try and keep my breathing in time with my steps. The pacer slowed as she got close to the  line and cheered us in. I stopped my watch soon after getting into the funnel and was on just over 27 minutes- I was amazed by that and so had a brief chat with her and the guy in front- I was so thankful for her for running such a steady pace and for being so encouraging. When the text message came in, I had gone even better and got sub 27- a 26:59! I've only managed a time beginning with 26 on 7 other occasions! This was also a course pb so deserved extra celebrations! And of course it was a post parkrun pause pb too! All the p's!
Now that Ellenbrook Fields is gone, my local runs are not flat- either Panshanger or Jersey Farm- so I would not stand much chance of getting a similar time, and really I am usually happy to go around at an enjoyable pace and chat or enjoy the scenery. But it was nice to know that a couple of days before being a year older I could still do a fast (for me) time.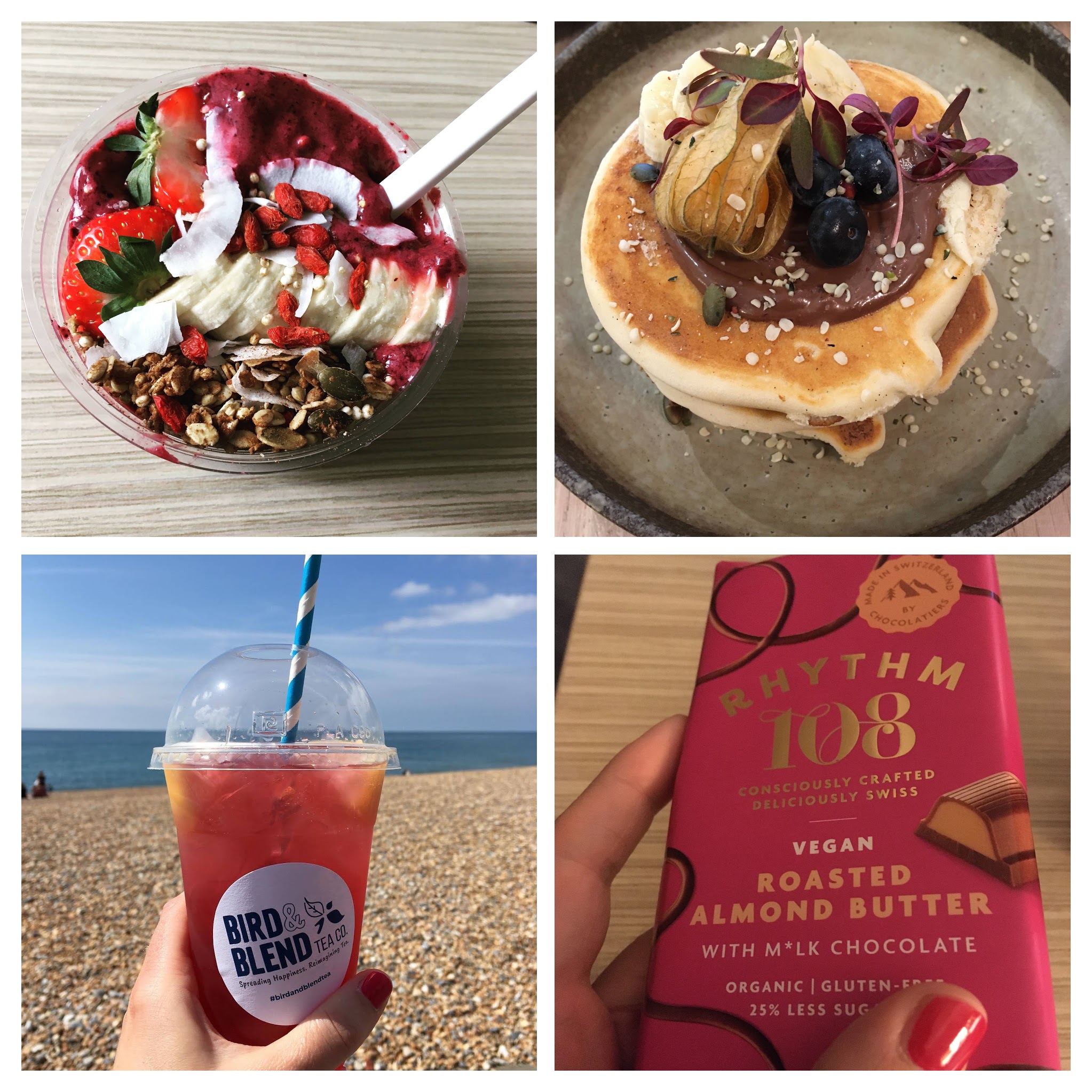 Acai bowl, pancakes, iced tea and delicious roasted almond butter chocolate
During the weekend of course we had some great food. Wolfox Café is becoming one of our favourite breakfast spots, with plant based pancakes or French toast (one branch is all vegan, but the other one has "onmi" food too), so I met Andy there after parkrun.
Of course we went to Bird and Blend- it was so warm I had an iced strawberry lemonade for a walk along the seafront to Hove. In the evening we got Purezza pizza which is just always delicious, and as it was so light we even had a walk after dinner along the seafront too.
The Sunday was a bit more overcast. I opted for an acai bowl for breakfast before another walk. We often have lunch at Leon when we are down there, as their Love burgers are so good, but I'd read lots of good things about the Vurger Co, so we tried something new. It was really tasty (loads of pickles- always the best bit) and I loved that you could get half and half fries (half regular and half sweet potato) but it was sooo messy! I am sure half of the filling ended up in the tray!
Time for a final Bird and Blend visit for a chai latte to take on the train to head home. A pretty perfect couple of days.
Do you have places that you like to visit often? Do you aim for specific times in races or at parkrun or are you happy to enjoy the experience in other ways? Do your local events often have pacers?