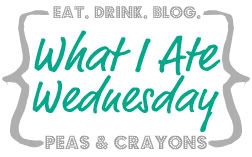 Hey! Doing WIAW does seem to make the week go by so fast- I say it every week but how is Wednesday here already?
Thanks as always to Jenn for organising the party.
This week I chose Monday as my day.
Breakfast;
Chopped pear, Rude Health muesli, almond milk.
Lunch and morning snack;
Hummus and red pepper sandwich, nectarine, nakd bar.
Pre-cooking snack;
Half a massive bar of rawr orange chocolate.
Dinner;
Autumn chilli (carrots, butternut, pepper, kidney beans, chickpears etc) topped with nutritional yeast and food doctor seeds.
Post baking snack;
Pumpkin spice cake (adapted from Sweet Vegan) and some Teapigs Spiced winter red tea.
I was still on antibiotics, so no running for me that day- normally I would have a run after work on a Monday. Instead I got on with baking some pumpkin spice cake, and some lovely chilli.
Not sure what my favourite thing was from that day- I might choose the pumpkin cake and tea? That combination was amazing.
Thanks for the suggestions for pimp my porridge too- I have had loads of fab ideas and cannot wait to have a bit of variety for my breakfast.
Do you tend to eat the same things for the same meals, or are you good at getting in some variety over the week?