Hey all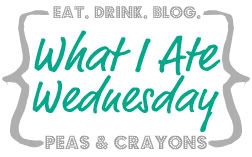 I am so glad it is finally Wednesday! All week I have been feeling like it is the next day (today I really thought it was Thursday). Hmm. On the way to the weekend now. Thanks to
Jenn
as always for organising the midweek party!
I chose Tuesday (last Tuesday) as that day I remembered to take photos of everything.
Breakfast:
Apple and Eldeflower yoghurt with chopped apple and rude health muesli.
Snack;
Shocking photo! Nakd cocoa orange bar anyway!
Lunch;
Warm salad (heated up at work)- roasted carrots, butternut and sweet potato with tomato, chilli, wholewheat giant cous cous and quinoa, plus a pear.
Pre aerobics snack;
Raisins, hazelnuts and milk chocolate chips from Graze. Mmmm.
Dinner:
Baked sweet potato with almond butter, plus some roasted veggies (pepper, courgette, onion, aubergine). Almond butter on a baked sweet potato is the best thing right now! Loving it!
Dessert:
Vegan pumpkin spice cake. Yum again 🙂
I realised I never include my drinks in WIAW- they are always the same though! Water with breakfast, water at work, one cup of rooibos or mint tea at work, real tea with dinner, plus more water, mint or rooibos or chamomile tea in the evening and water at bedtime!
What is your favourite flavour combination right now? Almond butter and sweet potato for me right now 🙂