What? Yup, that is right, for the fun that Jenn organises I actually chose a Wednesday. Last Wednesday. The only problem is that it was a week ago now, and I don't have a great memory!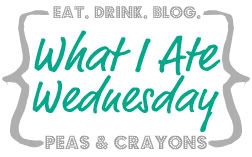 Breakfast:
Porridge with oats, chia seeds, Kallo soya milk, grated carrots and cinnamon. I left it to soak overnight as usual and it was very tasty.
Snacks;
Pecan pie for the morning, and lime raisins (these are zingy!) before my run. Both from giveaway prizes 🙂
Lunch;
Massive carrot hummus sandwich and a pear.
I had a run after work but I cannot remember how far I went- I will go for 4 miles- that sounds about right.
Dinner;
Pepper stuffed with giant cous cous, quinoa, chickpeas, squash, plus some more of the filling, a little Delamere goats cheese and some rocket.
Snack;
Greek yoghurt with honey and a little muesli (I have a lot of yoghurt that needs eating!)
Although with this colder weather I feel like I need warmer things as snacks too (to go along with all the teas)- what do you like to eat to help warm you up?