Hello. That time of the week already. This week I chose yesterday, mainly because I forgot on the other days to take photos!
Breakfast:
Gingerbread porridge with soya milk and peaches.
Lunch:
Sabre hummus with ryvita chilli crackers, cucumber and peppers to dip.
Plus satsumas (or clementines, never sure the difference or what I end up buying), a persimmon / sharon fruit and some Montezuma's dark chocolate snowmen. Which are very hard to eat- they are very very solid! I do not think I have had sharon fruit before (although I did have conditioner scented with persimmon so I thought I would like them!), but they were on offer when we did our shopping so I decided to try them. On the pack it said to eat them like an apple, so I sliced it up, but I did not end up eating the skin- it seemed too thick to be edible. The flesh was lovely and sweet though. Have you tried one before? If you do eat them, do you eat the skin?
Afternoon snack:
A soya chai latte made with a starbucks chai teabag (thought I would try it). I also found a little jug which can go in the microwave- easier to heat the milk than in another cup (well, easier to pour).
Dinner:
This is what I made for Christmas lunch (and it made 3 lots so still some in the freezer). I cannot remember exactly, but I think (?) I cooked a red onion and some red and yellow peppers, then added a carton of passata, some herbs and some lentils. I blended a block of silken tofu in the food processor with a few sundried tomatoes, and then mixed this with the tomato/lentil mixture. That got spooned into metal foil trays. Then I microwaved 2 sweet potatoes, scooped out the filling and mashed with a little almond butter, and used it to top them. I froze it once cooled (as it is all cooked) and it just needed to be re-heated. I had it with some rocket and piccalilli (yes that is the horrible yellow blob on my plate!).
Dessert:
Gingerbread tea (I only have 4 teabags left now!) and the last lebkucken.
Thanks to Jenn for organising the link up, and happy 50th!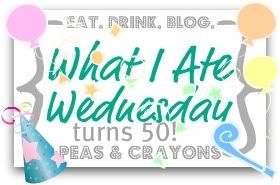 P.S. You still have time to enter my
Zalando voucher giveaway
.