So after parkrun and delicious pancakes on Saturday, we got the train to Portslade- a few stops along the line, basically on the outskirts of Hove. We wanted to look in a flooring shop (as you do) and then thought a walk back along the seafront would be lovely. At first the weather was great, but as we got closer to Brighton the clouds were really rolling in.
It did make for some dramatic scenery.
Of course we found more Snowdogs- I could not work out why I had not seen this one last time, but a lady taking a photo (she had been looking for them all, and only had 2 more to find) told me it had been in London until a couple of weeks ago.
I also got a bit over-excited seeing the km markers up for the race.
I also thought it was crazy when we got closer to the old pier- so much of it has fallen into the sea now.
As the clouds were fast approaching we headed up into town to the shopping centre, and got there just after it started pouring. We then mooched around the shops for a bit, before buying a few snacks (we shared some hummus and carrot sticks, crisps and mango) as we didn't fancy lunch, and went back to the hotel to have them as it was very wet outside.
As the rain eased off, we headed out for a wander around the lanes, and treated ourselves to a big pot of tea and some lovely chocolate mint cake in Catwalk Cakes- they do such lovely flavours in there. Our dinner wasn't until late (8.15- that's very late for us!) so we went back to the hotel yet again – I did my pre race prep of painting my nails, getting my kit out, putting my number on my vest etc. Dinner was so good- we went to Food for Friends as they do such good veggie food- I had lovely baby aubergines stuffed with various things and served with some sort of tomato and bean thing. I also had such a lovely drink, called a ginger zinger (maybe)- ginger and star anise and lime juice, warm, with probably some other things too (I think a slice of orange?)- anyway it was so warming and festive.
The race organisers had posted on facebook on Saturday about watching out in case the storm was bad, but I didn't really think they would cancel. I woke up on Sunday before my alarm and saw I had a text message from them- it said it had been cancelled, but also it said more news to follow. There was a similar message on facebook, but I looked outside and it didn't look too bad. I put my running things on, so I decided I would head out just in case- not sure what I was thinking.
The wind in town was fine, but as soon as I got along the seafront it was crazy.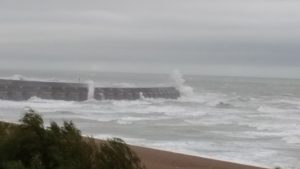 Huge waves were smashing up over the marina and groynes, and the trees were flapping wildly.
I thought I would prove I went running along the seafront, although not for long! I saw all the marshals for the race out, turning away runners that had not heard the message. It must have been so hard for them to decide to cancel, and the poor volunteers were still out in the bad weather although luckily it wasn't raining.
I ran along to the marina (seeing more Snowdogs) and then decided to cut in and run back through Kemp Town (where we stayed when I did the marathon). Normally I would not just make up a route, but I feel I know my way around Brighton quite well, plus I knew that I was heading back parallel to the seafront, and at each intersection I could look left and still see the sea.
I was originally planning on running for 6 miles but in the end I did 5 before calling it a day, stopping off at Pret to get us each a warm drink.
I looked on Strava after and could see where the wind was behind me- so much faster! (9.55 vs 11.12 minutes per mile!).
It was a shame to not run the race, as I don't think it would have been harder than the crazy wind they had last year, but I got to go out for more pancakes which is never a bad thing!
They sent an email later explaining their reasons- the race has always been along the prom before, but because it's getting bigger they had permission to close the road along the seafront. However, the police would not let them do this (I suppose because of access for emergency vehicles) plus the wind meant that they would not get the port-a-loos to the start/finish area (which would not bother me, but of course would bother a lot of people).  They have said we can get money off next years entry, as they can't find a date to hold it a second time, and seeing as it's fairly cheap (I think £14?) I don't mind too much. Although I wonder what they will do with the medals, as they have the date on them usually.
After breakfast and a quick walk along the pier to see yet another snowdog, we headed to the train station. Another lovely weekend in Brighton, although not quite the result I was hoping for!
Have you ever had a race cancelled? What is your hot drink of choice? We went for Earl grey tea on Saturday, because tea goes very well with cake, but on Sunday morning I went for a chai latte (hooray that Pret do them now) because there is something more warming about that sort of drink.