One more letter ticked off!
By the  end of the week I was feeling pretty tired (my phone alarm woke me up on Friday which pretty much never happens- the radio in the other room goes off a few minutes earlier and I usually hear that), but then this is our last weekend for a while where we don't have much on, so in the back of my mind I'd pencilled in some parkrun tourism. My dad was away and my brother wasn't well, so it would just be me, so I decided to see how I felt on Saturday morning. I was up bright and early before my weekend alarm, and so decided to head to Upton Court (which I confuse all the time with Upton Park) for the parkrun, to get another letter ticked off.
It's close to Slough, so it means heading around the M25- fairly quiet first thing on a Saturday but a bit of a nightmare once heading home (and I tell myself that driving on the M25 anyway is good for me because I am not a fan of motorway driving but it gets me more used to it). Ah well, the things we do for these challenges.
I left at around 7.45am and arrived in the car park at about 8.40 (which is free to use- the postcode was telling me to turn a little further up the road to where I think was the exit to the car park, so very easy to find). I ended up chatting to a guy who parked next to me (he was wearing a 100 top so I knew he was there for parkrun)- thankfully he showed me the way as it was a bit of a walk. I'd made my usual mistake of looking at where the parking was but not where that was in relation to the start, plus when I parked there were cones and things set out which turned out to be some sort of fitness thing and nothing to do with parkrun…
On the walk we chatted about various parkruns that we had both done- he's done around 30 different ones but hadn't heard of the alphabet challenge when I mentioned it. I think at first he thought it was a bit strange (maybe it is?) but then he started listing them- it seemed like he had a fair few letters.
Anyway, the parking was only around 1km from the start and once we had gone through the gates from the car park I could see lots of runners heading in the same general direction, and then the finish funnel etc. Just as I got there, they called out for the new runners briefing. Again, I had not even read the course description! I turned out to be a two lapped course, with the first lap containing a little extra bit (by the conker tree I think the guy said). They asked where we were from and the guy next to me said "Ellenbrook Fields" so I replied "me too"- what a coincidence. When he asked me why I was here and I said "getting my U" he said "me too"- at least he understood my madness! He had around 5 letters left- very impressive.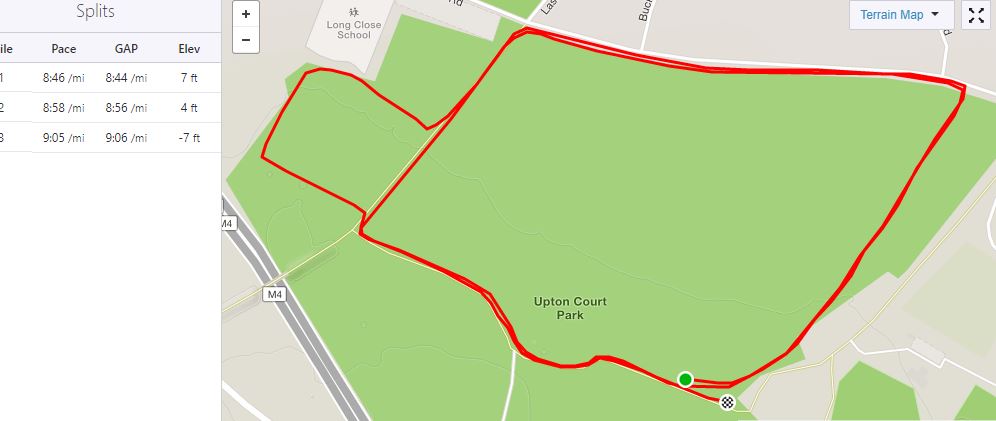 The main run briefing then took place and it was very hard to hear as big planes kept flying over (it's near to Heathrow) but I could just about make out the volunteer thanks and a milestone mention. They asked to find the tourist who had come the furthest- the lady from Cape Town won that one hands down!
Then we were off. The start was up a gentle hill (basically the field was on a small slope)- it wasn't much but suddenly the sun came out and I was boiling. It seemed there were lots of fast runners there too as it felt fast for me (I didn't look at my watch while I was running, but when I looked on Strava after I had an impressive positive split of 8:46, 8:48 and 9:05- whoops) and I struggled with my breathing for some reason.
Anyway, the route was really enjoyable. They had permanent km markers on the way around, a few marshals out on the course, and the route was varied enough. It went around a field, across the top (near to where I had parked) then around a wooded area to make the first lap longer. There were lots of lines of trees to run past, so you couldn't see the rest of the course. At around 3km I passed through the finish area before starting my second lap, and I think they were just getting ready for the first runner to come in- incredible as I think it was around 15 mins)- I like this element of lapped courses as you get a little mid-run cheer from the token people.
The second lap seemed to fly by (although I was finding it tough and all I could think about was my t-shirt and how hot my arms were).
I finished with position 85, with 27:35, so a fairly speedy time. If only I had paced myself better I am sure I could have been faster- it seems like a fairly fast course.
The scanning took place in the little rugby clubhouse- I saw a few people with bacon rolls and things, but annoyingly I'd left my purse in the car so couldn't buy a cup of tea or anything.  It seemed like you could leave bags etc inside too which would be handy in the winter if you wanted to leave a jumper or something. I made use of the toilets (including washing my face because I had also forgotten face wipes) before walking back to the car as a cool down. I'd brought some water and a blueberry nakd bar with me so I had something to eat before tackling the drive home (where I managed to get a bit lost by thinking I knew better than the satnav…).
I really enjoyed this course- I think in the winter it would be tough as most of it was on grass so it would get very boggy, but it was a really friendly event.
Now the letters left for me: D, I, J, K, Q, V (and I suppose Z if I count international ones). I have loose plans for Queen Elizabeth Country parkrun (I did try to do that before but ended up at Portsmouth Lakeside), and possibly Victoria Docks when we are in London in July, but I am not sure about the other letters. Any suggestions? Do you mind driving to new places? I'm much better with a satnav now, but I still prefer to be able to picture most of the route before I leave as otherwise I can get a bit flustered if I get lost.